The computer has been one of the necessary parts of human daily life. People store important data on it including but not limited to work/study documents, family photos, favorite songs, as well as meaningful videos.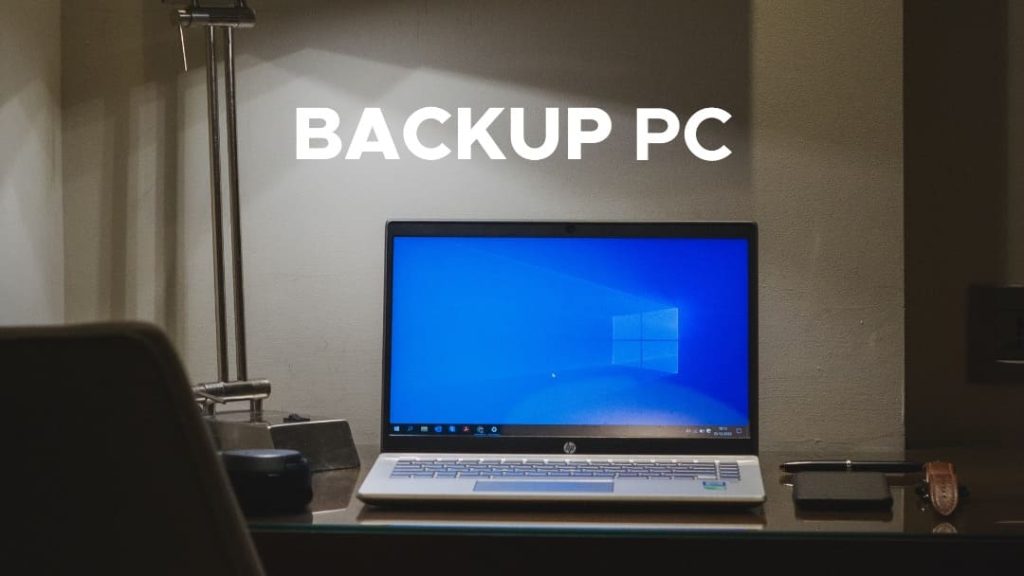 Are those files completely safe if you treat them carefully and don't let others touch your PCs? Not really! As the Internet environment becomes more and more complicated, all computer files are at the risk of malware or virus attacks (such as Pegasus spyware) that may result from a downloading of an unknown app or a click of a malicious link.
Therefore, it is of great necessity to take further actions to protect your crucial data from damage or loss. The most popular and reliable way is to make a backup and disaster recovery plan. Thus, you need a professional tool to assist you to complete the task like MiniTool ShadowMaker, which is good at backing up files/folders, operating systems, partitions/volumes, as well as the entire hard drive.
In this article, we are going to teach you two simple methods to backup your Windows PC. The first method is by using the native backup tool that comes pre-installed in Windows. If you need more advanced backup, you can use the second method which uses a third-party software to create a complete backup of your PC. Now without further ado, let's get started!
Backup your PC using Windows built-in backup tool
Windows has a built-in feature in the Control Panel that allows you to backup your computer for free. If you are looking for a simple backup solution, this method is all what you need. You can create an exact copy of your PC and save it in the form of a backup using the system image tool. Below we have shared a detailed step-by-step guide for taking a full PC backup with the built-in backup feature that comes pre-installed in Windows. The steps are exactly the same for all Windows versions including 7, 8, 8.1, 10 and later.
To take a backup, first go to the Control Panel on your PC. If you do not know how to open Control Panel, simply press the Windows button from the keyboard or tap the Start button at the bottom-right corner of the screen to open the Start Menu and then type "Control Panel" in the search box.
Go to the System and Maintenance > Backup and Restore section in the Control Panel.


On the left-hand side, you will see Create a system image option. Just click on it. The backup we are going to take will create the exact copy of the selected drive which is called a system image. You may be asked to for an administrator password or confirmation. Simply, type the password or allow access by.


Now select the drive where you want to store the backup. If you have an external hard drive connected to your PC and you want to backup your data on it, simply select the drive name of your hard drive. You can also take a local backup on your PC and then later transfer it to your hard drive or any other external storage. Tap the Next button to continue.


Select the drive you want to back up and tap the Next button again.


Confirm whatever drive you have selected and click on the Start Backup button.


After performing these steps, Windows will start the backup process. This may take some time to complete depending on the size of your backup. Once it is finished successfully, you will be able to find your backup file in the selected location/drive where you have saved it.
Backup your PC using MiniTool ShadowMaker
Now, let's see how to make a data backup plan with MiniTool ShadowMaker, which is one of the most advanced backup software for Windows. It is an all-in-one solution for your backup and disaster recovery plan. This tool has made the whole process a lot easier and faster even for non-technical people. You can take a full backup of your system, or choose particular hard drives or files and folders as per your choice.
Along with the backups, you can quickly restore your system, drives or files to the same state as they were previously in case if something goes wrong. The user-friendly interface of this tool makes everything very simple and easy. Another useful feature of MiniTool ShadowMaker is an automatic backup schedule that allows you to set regular backups of your PC.
Step 1. Get into the Backup Page
Download the MiniTool ShadowMaker from its official website and install it on your computer. Open the app once it's installed successfully. You are free to try all features with its Trial version; just click the Keep Trial option when you launch the program. On the main interface of MiniTool ShadowMaker, click the Backup option from its top menu to go to its Backup screen.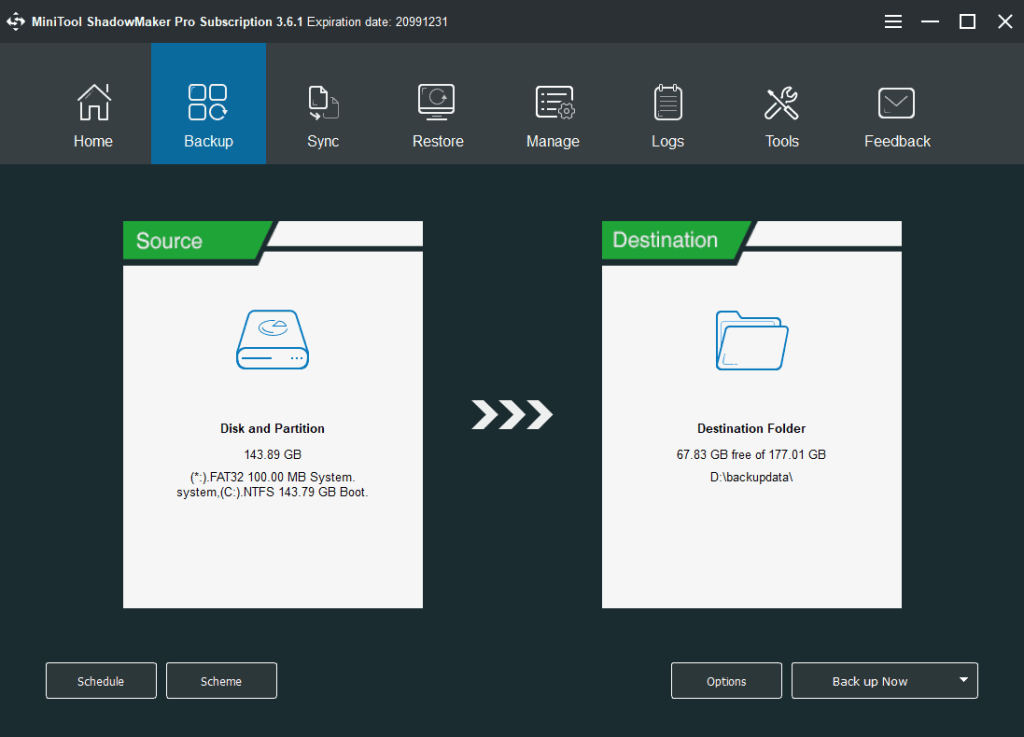 Step 2. Specify Backup Source
In the left Source section under the Backup tab, the system-related partitions are selected by default as the backup source. If you want to build a copy of your OS, just move on to the next step of the data backup strategy. If you'd like to back up other types of data, just click the Source module and make your choice in the new window.
Disk and Partitions: First determine the hard disk you plan to back up and then the specific partition(s).
Folders and Files: All files on your device are available. It lists out the most common user files and library files to make it convenient for you to choose from.
You are able to pick up multiple partitions or files/folders as the backup source. Yet, for disk backup, only one disk can be selected within a single backup task.
Step 3. Customize Backup Destination
Still, on the Backup screen, click on the Destination module to decide on a location for saving the backup image file. MiniTool ShadowMaker classifies the supported destinations into four groups: user folder, libraries folder, computer, and shared folder. Actually, you can back up to the following destinations.
Internal hard drives
External/removable devices (recommended)
Remote shared storage space within the same LAN
Just choose one location as your backup destination.
Step 4. Set up Backup Type and Backup Schedule
Then, it comes to the advanced settings for your backup plan. If you want to automatically back up those files in the future for new changes and manage old backup images to save storage space, you shouldn't miss these settings.
1. Schedule Settings
Create a backup schedule to let MiniTool ShadowMaker carry out this backup task automatically in the future at a set frequency, daily, weekly, monthly, or on event. Just click on the Schedule button from the bottom left, switch on the schedule settings in the popup, and configure a proper schedule.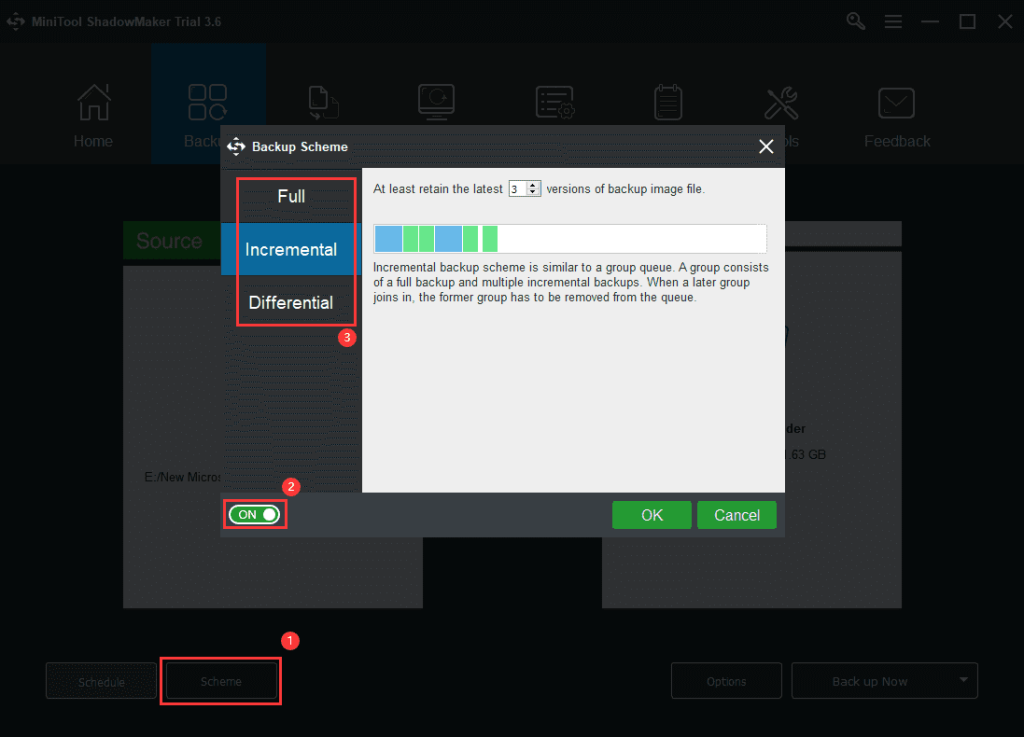 2. Backup Scheme
Choose a backup type to let MiniTool ShadowMaker make a selective backup (e.g. only backup changed or newly-added files) as well as manage destination storage space by deleting old backup image versions. Generally, there are three kinds of backups.
Full backup: A backup contains all the source files.
Incremental backup: A backup only includes the edited or new files compared to the very last backup.
Different backup: A backup only contains the changed or new-added files based on the last full backup.
Similarly, click on the Scheme button in the lower left, switch on the scheme settings, and choose a backup scheme.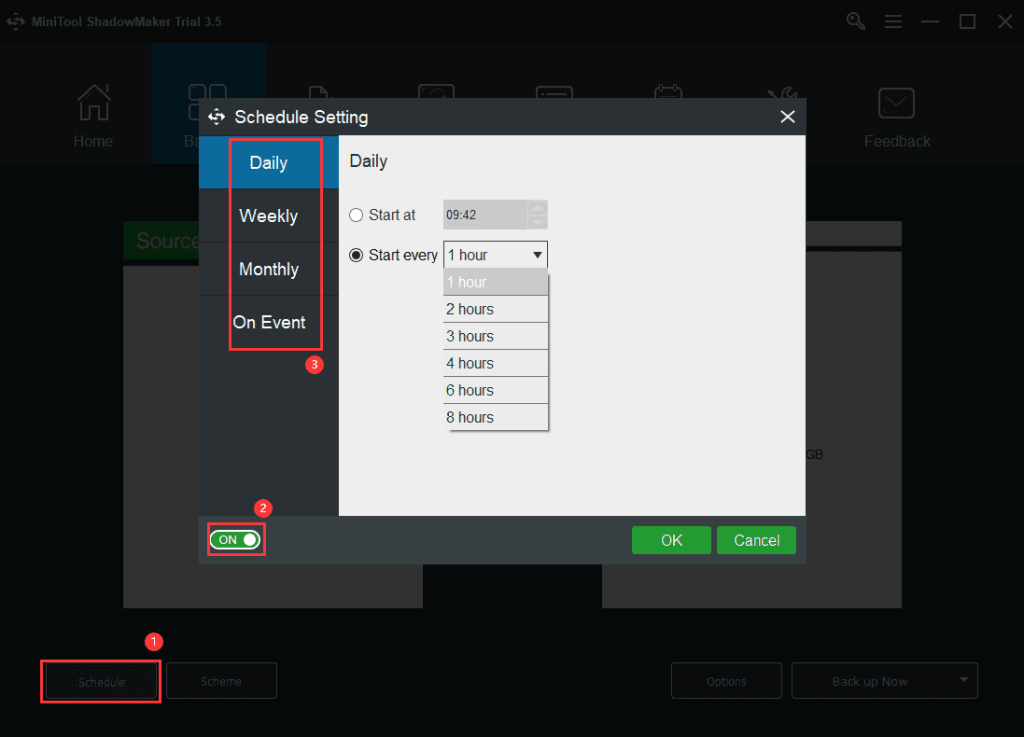 3. Backup Options
In addition, you can do some settings to the backup images. Just click on the Options button from the lower right and make your personalization within the new window.
Image Creation Mode: Specify to back up only used disk sectors (save backup time and storage space) or all sectors.
File Size: Customize the way of splitting a large image file into multiple smaller image files during the process of backup.
Compression: Compress the backup image in three levels (medium, none, or high) to save storage space, but it may increase total task time.
Comment: Add comments to images to help you identify a specific image file among the others.
Email: Order email notifications informing the task result, success or failure.
Excluding: Exclude unnecessary files to be backed up like Windows Page File and Hibernation Files.
Shutdown: Let MiniTool ShadowMaker turn off your computer when it completes the task.
Password: Encrypt the backup image to prevent others from accessing it.
Verify: Check the integrity of the backup image. This will cost more time to complete the task.
Step 5. Start Backup Process
Eventually, click on the Back up Now button from the bottom right corner on the main backup screen to start the backup plan. Then, all you need to do is to wait for the success of this initial backup.
If you have already set up the computer shutdown service, you can leave as you like for other business. And, in the future, you don't have to go through all the above steps anymore. MiniTool ShadowMaker will automatically back up the selected source files at the set schedule and manage backup images according to the backup scheme.
If unfortunately, you are infected by a virus or ransomware someday, don't worry! You can immediately get the important data back after killing the virus by restoring it from the backup image using MiniTool ShadowMaker. This is the recovery plan.
Besides data backup, MiniTool ShadowMaker is also an excellent choice for file/folder synchronization, disk clone, bootable media creation, LAN client startup, etc.
All in all, within a complex network environment that is full of cyberattacks, it is of great importance to create a second copy of the valuable data and build a backup and recovery plan in case of data damage, loss, or unavailability/inaccessibility.
We hope this guide has been helpful for you to set up a free backup and disaster recovery plan for your Windows PC. The built-in backup tool on Windows is enough for a normal backup but if you are looking for a more advanced backup solution, third-party software like MiniTool ShadowMaker is all that you need. If you are facing any problem with this tutorial, let us know in the comments below.