Facebook (now named as Meta) regularly gives us new features and options that are designed to increase audience engagement. Instant articles have become one such tool. They are aimed at publishers who want to quickly promote their articles on Facebook and Messenger apps.
Today, such a tool as the essay is widely used in many fields and has many applications. Students, managers, and job candidates send in their essays about themselves and their vision of a particular point of view on a free topic so that the employer can determine the person's interest in the position.
For students, writing is mandatory throughout their studies. Writing an essay about yourself can be effortless, while a research paper, for example, will be a challenge for a student. We recommend expert help in this matter. Nowadays, аs a student, it's easier for me to find a good service online in order to edit my paper to avoid mistakes in the assignment.
If you have mastered the skill of writing, these are instant articles that give you and your business a chance to become a new stage of development and monetization.
Their main trick is fast-loading, thanks to which pages open 10 times faster compared to browser versions. They are published on behalf of the business page and appear in subscribers' news feeds without creating a separate post. Let's take a closer look at what this tool can do and how to get started.
What should you know about instant articles?
Instant articles have 5 main advantages, which are worth discussing in more detail:
Fast loading speed. I said earlier that the launch speed of instant articles is 10 times faster than mobile-optimized website articles. Since social networks have high competition for the reader's attention, such a feature will be just as useful. A subscriber will click on the article, and it will load quickly. This increases the likelihood of reading the material.
Monetization of Instant Articles on Facebook. In instant articles, publishers can sell ad space and make a 100% profit. There is also the option of showing ads from the Audience Network on Facebook. This service is designed for Facebook app developers to show videos, animated images, and banners in their apps.
Control the publishing process. Choose the articles you like from your blog and publish them as snapshots. There is a choice to make all posts instant articles or send a few favorites to FB this way. It's easy to control the process in the instant articles Library.
There is no separate post on the page. The principle of publishing here is much different from creating regular posts. The article opens as an instant article in a case when a person clicks on the link through the Facebook application. The process of replacing a regular link with an instant article is automatic.
The option to add an email newsletter form in the instant articles. The lack of this option has been a major problem with the popularity of instant articles. Adding subscription forms to them allowed content managers to expand their audience through social media and attract new readers to their site or blog.
What does it take to launch instant articles?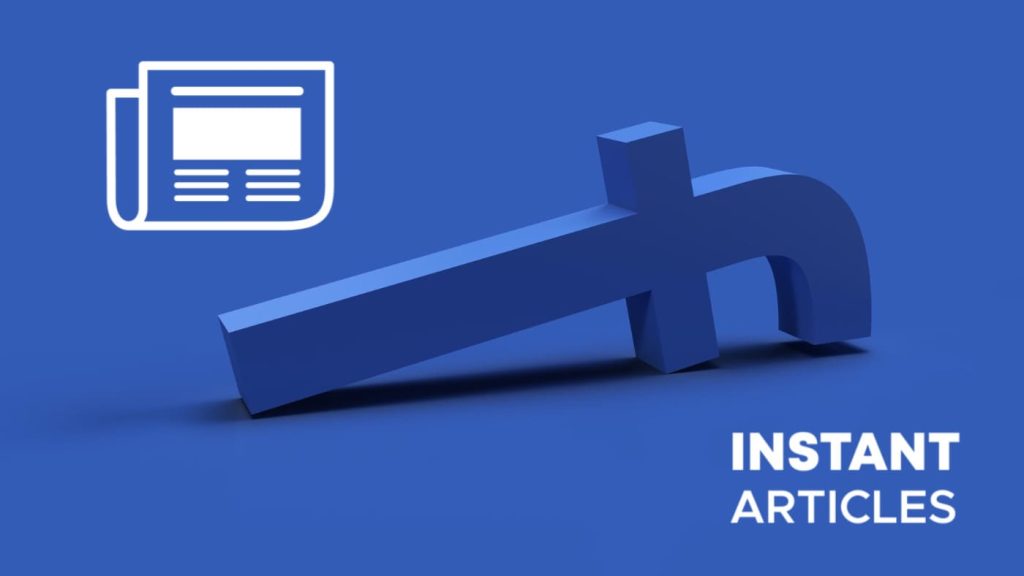 Before you get started with instant articles, go through the list below and make sure you have everything ready to go:
A working business Facebook page.
Facebook Pages: app – for previewing published content on mobile devices.
RSS feed or Instant Articles API to display articles in case of automated publications.
Instant Articles widget added to your blog or website.
10 posts ready to submit for testing in Instant Articles.
Facebook Business Manager – for communicating with customer support.
How do I set up Instant Articles?
Next, I'll share step-by-step instructions to help you launch your first Instant Articles campaign.
Step 1: Sign up for the Instant Articles Facebook platform. You must have admin or editor rights to an existing business page.
Step 2: Identify a business page on Facebook. This step will be suggested after you complete your registration. The business page settings have instructions on how to post.
Step 3: Enter the URL. For the published links to become instant articles, the URL should be stated. To do this, you need to add a head meta tag on the main page of the site. Copy the meta tag to the page, place a link to the site after it, and click Claim URL.
Step 4: Developing a content plan, and preparing the article for publication. According to instant article testing, Facebook has found that publishers need a tool to use within their CRM. There is an official Instant Articles for WP plugin for WordPress users. There are also partnerships with third-party services like Atavist, Adobe Analytics, and more. Instant Articles can be connected via an RSS feed or API, and processed within your CRM.
Step 5: Submit the article to Facebook for review. This is necessary to get approval from the social network for your publications. To do this, you need to prepare 10 articles that are written and designed like your planned future posts. Once submitted and verified, you will receive feedback from the reviewer.
Step 6: Start publishing. But how do you add an article to Facebook? For WordPress-based sites, use the Instant Articles for WP plugin to do this. If you start instant articles through the RSS feed, you will get an automatic publication.
Instant articles have several advantages that will allow you to greatly expand your audience and attract more readers to your resource. First of all, the high download speed will help you do this. In addition, instant articles are interactive, play automatically, and display a variety of media content, so you can diversify your feed for readers.
These features also lead to increased engagement and willingness to share your content with others. But it's important to understand that articles need to grab the reader's attention. High school students often wonder how to write an essay, but they do it for a grade. In adulthood, the skill of writing can make good money.
Using Google Analytics for Facebook Snapshots, for example, you can process user data. And the ability to monetize allows you to promote your product, add advertising from the Audience Network or offer space to other companies.
Among the disadvantages are limitations on the variety of content. While you can publish articles and media content, you can't promote landing pages here. Also, not all reader actions are tracked, which deprives us of information about what is worth improving in instant articles.
Despite the disadvantages, the convenience of instant articles appeals to marketers, and they make it a full-fledged marketing tool. So that's pretty much everything you need to know about Facebook Instant Articles. If you have any questions in your mind, feel free to share them in the comments below.