WhatsApp is the most popular instant messaging app which is used not only to chat with others but also to share media and files with them. You can share photos, videos, GIFs, and even documents. However, the drawback of sharing your media on WhatsApp is that it reduces the quality of your photo or video a little bit.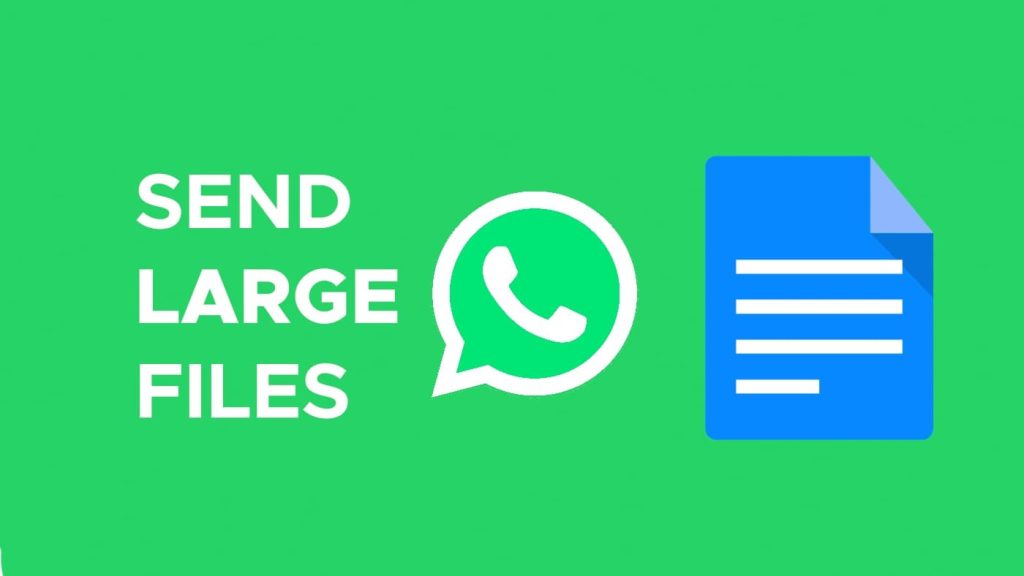 You may already know that WhatsApp applies compression on media before uploading them to its servers. This was done to reduce the size of the file and make the sharing process faster even on a slow internet connection. Some people don't like to compromise on the quality of their photos and videos and for that purpose, you can send them as a document on WhatsApp.
WhatsApp document feature comes to rescue you when you want to share your photo or video in its original quality without applying compression to it. You can send any type of file on WhatsApp by attaching it as a document but the condition here is that it should be under 100MB in size. If you will select any file which is larger than 100MB, WhatsApp won't allow you to add it to the chat.
Nowadays, most smartphones have a full HD camera with the capability to record a video up to 4K resolution. Even if you record a video of a few seconds in 1080p, it will easily cross 100MB size. In today's tech-growing world, data and storage have become a great necessity for all of us. Sometimes we are in a situation when the size of our file is larger than 100MB and we are unable to share it on WhatsApp.
Share large files on WhatsApp via Google Drive
Google Drive is a popular cloud storage service which provides you 15 GB of free storage attached with your Gmail account. If the size of your file is larger than 100 MB, you can upload it to your Google Drive, make it public via sharable link and then send it to the recipient on WhatsApp.
This way, you will be able to send your photos or videos in their original quality without letting WhatsApp compress them. Not just media but you can share any type of file or document with this method and the good thing is that there is no file size limit. This step-by-step guide will show you how to upload your files on Google Drive and then share them on WhatsApp –
Download and install the Google Drive app on your smartphone. It's available for both Android and iOS. Go to the respective app store of your phone and search for its name. If you don't want to use the app, you can visit the web version of Google Drive at drive.google.com address.
Open the Google Drive app and log in with your Google account. If you are already logged in, then skip this step and move to the next one.
Tap the + (plus) button at the bottom-right corner of the screen and then choose the Upload option from the pop-up menu.


Now you will be asked to select the file you want to upload. Locate the file in your gallery or file manager and select it.
Google Drive will start uploading your selected file to its servers. You can see the uploading progress in the notification bar. This may take some time depending on the size of the file and your internet uploading speed.
Once the file is successfully uploaded, locate it on your Google Drive account and click on the three dots button next to it. After that, enable Link Sharing and then select the Copy link option.


Now open WhatsApp on your phone and select the chat where you want to send the file. Paste the copied link in the message box and send the message. The recipient will get the Google Drive link of your file from where they can download it to their phone easily.

Send large files on WhatsApp via Dropbox
Dropbox is another option that you can choose to share your files which are larger than 100 MB on WhatsApp. Dropbox provide you 2 GB of free storage which can be used to upload any type of file. Like Google Drive, you can make your file public and share it with other via link. Follow the steps below to upload your file on Dropbox and share it on WhatsApp –
Download and install the Dropbox app on your smartphone. You can find it on Play Store (Android) or App Store (iOS/iPhone) for free. Alternatively, you can also visit the Dropbox website using any web browser on your device.
Log in to your Dropbox account. If you are new to Dropbox, you can create a new account. For that, you will be asked to provide your first name, last name, email address, and password.
Next, tap the + (plus) button at the bottom or Upload button (if you are using Dropbox website) and then choose Create or upload file option. Locate the file on your phone and select it to upload. Dropbox will start uploading it to its servers.


Once the uploading is finished, tap the three dots button next to the file you have uploaded and choose Share option. After that, select Copy link and this will copy the shareable link of your file to the clipboard.


Now head to the WhatsApp chat where you want to send your file and paste the link you have just copied from the Dropbox in the message box at the bottom. Tap the send button and you have successfully sent your file to the recipient. That's it!

Additional methods
Here are some alternative methods that you can use to send files larger than 100MB to someone without using WhatsApp.
Use Telegram app
Telegram is an instant-messaging app like WhatsApp where you can chat with your friends, join Telegram channels of your choice, and do other things like sharing files and media. The file size limit of Telegram was previously 1.5GB which has now been extended to 2GB. This much size is way bigger than the 100MB size offered by WhatsApp and it is enough to send any kind of large file including HD videos.
As Telegram is a popular app, it is most likely that your friend to whom you want to send the file will already be using Telegram. Even if not, then it is very easy to create an account on Telegram with just your phone number. The steps for sharing files on Telegram are pretty much the same as in the case in WhatsApp. Just open the user's chat on Telegram and tap the attach icon followed by clicking on the File option.
Compress files to a ZIP archive
If you have multiple files and they are very large in size, you can collectively compress them and create a ZIP archive. This will reduce the size of your files significantly and you will be able to send them on WhatsApp or Telegram more easily. For compressing files to a ZIP archive, you can use any ZIP compressor tool on your iPhone or Android device which can be found on their respective app store. If you are trying to send a video which is slightly larger than 100MB, you can compress it or lower the resolution to reduce its size. For more details, check out our detailed guide on how to compress videos on Android without losing quality.
Conclusion
WhatsApp being the most popular messaging app is really convenient to share files with our friends but the 100MB file size limit is not justified. It is being reported that WhatsApp is planning to increase this file size limit up to 2GB in the future. Until then, you can use the alternative methods we have shared in this guide to send your files which are larger than 100MB. Out of all these methods, we personally find Google Drive as the best option to send your large files with anyone. There is no file size limit on Google Drive and it is very easy to upload and share your files through this platform. Please share your valuable feedback in the comments below.