Gamers can never thank Discord enough for creating a community that can help them communicate with their friends and other gamers from all around the world. Although the app was not created only for gamers, the amazing features of Discord like chatting, voice calls, video calls, and public and private servers make it popular among gamers so much that millions of people use Discord daily to watch the streaming of their favorite gamers.
To savor the Discord app at its best, people join multiple public and private servers where they can meet new people, talk to have, have discussions of their interest, and keep themself updated with new announcements. But if you are a new member of the Discord community, you won't easily get an option to join the Discord servers. But here we are to help you out and guide you on how to join the new exciting servers on Discord while using the app on your PC or your phone. Moreover, we will also guide you on how to leave the joined servers. So let's get the ball rolling.
1. Joining Discord servers with link
If your friend has sent you a Discord server link then it can never be easier to join it. All you have to do is, click on the link you got and you will be redirected to the Discord app if it is already downloaded on your phone or PC. If you don't have a Discord app then you will be redirected to its website and further redirected to download the app on your phone. You need to be logged in to your Discord account to accept the invitation link. Once after that, simply click on the Accept Invite option. With this, you have successfully joined the desired server via a link.
2. Joining Discord servers manually
By clicking on the link getting redirected to the Discord app and then joining the group is not the only way to go. You can manually join the Discord server by copying the link and pasting it. To do this, reach the received server link and copy it and then follow these given steps.
Go to the Discord app on your smartphone and click on the green plus icon that you see on the left side on the home screen.

On the next page, you will see an option Join a friend on Discord, select it.

Now, paste the copied link in the given box and tap on the tick icon on the keyboard or select Join option.

Simply tap on Accept Invite option now.

This workaround is good for those who want to join the Discord server without installing the app because if you tap on the link to directly join the server, then you are redirected to the Discord app which you need to download first. So if you prefer using Discord web version, then this trick is best for you.
For joining the server manually on your PC, the steps are almost the same. You need to click on the plus icon first, then click on Join a Server, next paste the link in the given box and click on Join Server. Both these methods will work on the private servers as well as public Discord servers.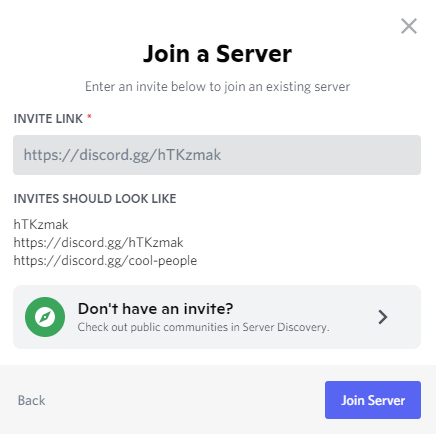 3. Joining Discord servers using explore feature
Discord gives you an option using which you can join thousands of amazing servers. But all you need to is, explore them manually. Here are the steps that you need to follow to join the desired servers on your PC.
From the home page of the app, select the explore icon given at the left side. It looks like a green compass.

Now simply search for the keyword the servers related to which you want to join. For instance if you want to join the anime groups, search anime.
Open the desired server now and click on the Join Server option at the bottom.

Unfortunaltely, the mobile app of Discord don't have an option to search for new servers at all. You can only engage yourself with the ones you joined with a link or joined with the explore option while using Discord on PC.
4. Joining server without invitation link
Joining the servers with invitation link is only possible if it is a public server. You can also join them directly by searching the name through Explore tab. But when it comes to the private servers, it is not at all possible to get access to them if you don't have their invitation link. So basically, joining servers without invitation only means joining public servers.
The validity of the invitation link of Discord servers can either be permanent or for a certain period of time depending on what option has been chosen by the admin. The link might expire within 30 minutes, 1 hour, 6 hours, 12 hours, or after one day. If the link to the private server has expired and you are unable to join it, you can request for the fresh link again by the sender.
5. Exploring servers with third party websites
There are a few third party websites available that can help you join the best servers based on the categories you select.
Disboard
Disboard suggests you a plenty of tags and categories for which you can find popular and active Discord servers. You can search for a particular category using the search feature at the top. This website is totally free for use and you can run it in multiple languages.
Top.gg
Top.gg is another website that has a stack full of Discord servers to offer you. Be it from any category like anime, gaming, movies, TV shows, or anything that you like, Top.gg will suggest you the best active servers to join. Other than joining the servers of other people, you can add your own servers on the website. Anyone who searches for servers might notice yours and join it too.
How to exit a server on Discord
We have learned how to join a server but it's equally important that we know how to exit them if we don't like them anymore. Use these steps if you use Discord on smartphone.
Open the Discord app on your phone and select the server that you want to exit. All the servers appear on the left side.
Now tap on the three-dot icon at the top.

Scroll down to the last and tap on Leave Server option. Finally confirm your decision by tapping on Leave Server again.

To leave the server while using Discord app on your PC, the steps that need to be followed are almost the same. Instead of the three dot icon, you will see a drop down menu.
Wrapping up
Joining a server on Discord seems to be an easy task but it's little tricky specially for private servers when you don't have their invitation link. If we talk about public servers then you have various options to join them such as through direct link, adding the server manually, using the explore feature, or from third-party websites.
Another problem with joining Discord servers is that the explore feature isn't available on the mobile app so you can't find and join new servers on it. You have probably faced this issue if you just started using Discord on your smartphone. Sometimes the invitation link also doesn't work and the reason for that is it has expired.
In this guide, we have shared all possible ways to join both public and private servers on Discord with or without invitation link. We hope you find this guide helpful. If you still have any question in the mind, feel free to share it in the comments below. Let us know why you love Discord and which are your favourite servers.