Some people are more than ready to spread hatred wherever they go. These people can't appreciate anything going on in their own life and try to pull down people by spreading hatred in other's life. The live example of this can be easily seen on Instagram. If you pick up any random pic from your Instagram feed that seems a little debatable, so will find a huge flock of people criticizing each other or getting offended over a petty thing.
Such people are ready to start an argument whenever they get a chance, and you can't win an argument against them, that's for sure. So if you are about to post something on your Instagram feed that might seem offensive to such low IQ fools, then it's best to disable the commenting feature for them in the first place. You can do that in your existing posts, and also the new ones. It's possible to select the people too for which you want to disable or enable the commenting option and also filter the words that should be removed immediately when used in comments. Let's see how the commenting feature can be customized on Instagram.
1. Turn off comments on existing posts
After posting something on Instagram, you might realize that some people aren't that happy to see your post and now you're receiving hatred on that post which you definitely want to stop immediately. Instagram allows you to stop people from commenting on the existing post by removing the comments feature. Here's how you can do that –
Go to the Instagram app and tap on the profile icon at the bottom left side of the screen.
Now select the post on which you want to stop the people to comment.
On the top of that post you will see a three-dot icon, tap on it and then select the Turn Off Commenting option.

With this, you have stopped people from spreading hatred on your Instagram photo. After turning off the comment feature, people who use the Instagram web will also be restricted from commenting on your post. In order to enable this feature again, tap on the three-dot icon and select the Turn On Commenting option. As of now, you cannot enable or disable this feature using the Instagram web.
2. Turn off comments on a new post
Sometimes you already know that the post you are about to upload is not going to be appreciated by some people. So you want to disable the comments option from the starting rather than disabling it in the future.
After selecting the post that you want to upload on Instagram, reach the last page just before posting the photo where you see the option to tag people, add location, etc. On this page, you will see the Advanced Settings option, select it.

On the next page, you will see an option that says Turn Off Commenting, enable this option by toggling on the button.

Now no one will be able to comment on your post from the start. Later you can enable the commenting feature using the method we explained in the starting.
Turn off comments using PC
If you prefer using Instagram on PC and posting images through PC only then it's possible to enable this feature from desktop too. After selecting the photo that you will post when you reach the last page just before posting, you will see the Advanced settings feature. Select it and then toggle on the Turn off commenting option.
3. Blocking or enabling comments from certain people
If you have someone in your follower list who is always up to make joke whenever you post something on Instagram then it's probably best to restrict them from commenting on your post. It's the best choice to make if you can't block them, maybe because they are your good friend.
Open the Instagram app and tap on the profile icon at the bottom right side of the screen.
Now select the hamburger icon at the top-right.
Next you have to go to Settings and then select the Privacy option from the list of options available.
Under the Interactions heading, you will see the Comments option. Just click on it.
Next, you will see two options named Allow Comments From and Block Comments From. To restrict only a selected few people, select the Block Comments from option and search for the people who you want to block from commenting on your posts. Once added to the list, those people will never be able to comment on any of your post unless you remove their name from the list.

Similarly you can add people to the Allow Comments From list if you want only a few people to comment on your post and not every random person from your follow list.
4. Hide offensive comments
Limiting people from not commenting might feel a bit harsh from your side. But you can still save others from reading those comments by simply hiding the offensive comments. To do that, launch the Instagram app and go to your profile page. Now tap on the hamburger icon at the top-right side and then select the Settings option. Go to the privacy section now and choose Hidden Words section that falls under Interactions heading.
Under the Offensive words and phrases heading, you will see Hide comments option, simply toggle it on. Once done, the comments that Instagram finds offensive will automatically be hidden in a separate section of your posts. Here the AI of Instagram will smartly work on its own and you don't need to do anything manually.
5. Customising settings for comments
The feature to customise the settings for comments is available right under the Hidden Words page under Custom words and phrases heading. To add the word that you want to block from appearing in the comments section, tap on Manage list option and add all the possible words that sound offensive to you. After you have created a huge list of words, simply toggle on the Hide comments button just below the Manage list. With this, you have applied the desired settings and now whenever someone will comment any of the words in the list, that comment will get removed automatically.
6. Limiting comments from groups
Instagram recently came up with a new feature that will let you limit comments if you find them offensive. But instead of individuals, this feature works in groups. The comments that Instagram think are offensive will automatically be hidden unless you review and approve them yourself. This feature is available in the Privacy settings page by the name Limits. When you turn this on, it will temporarily disable comments and messages from your recent followers and people who aren't following you.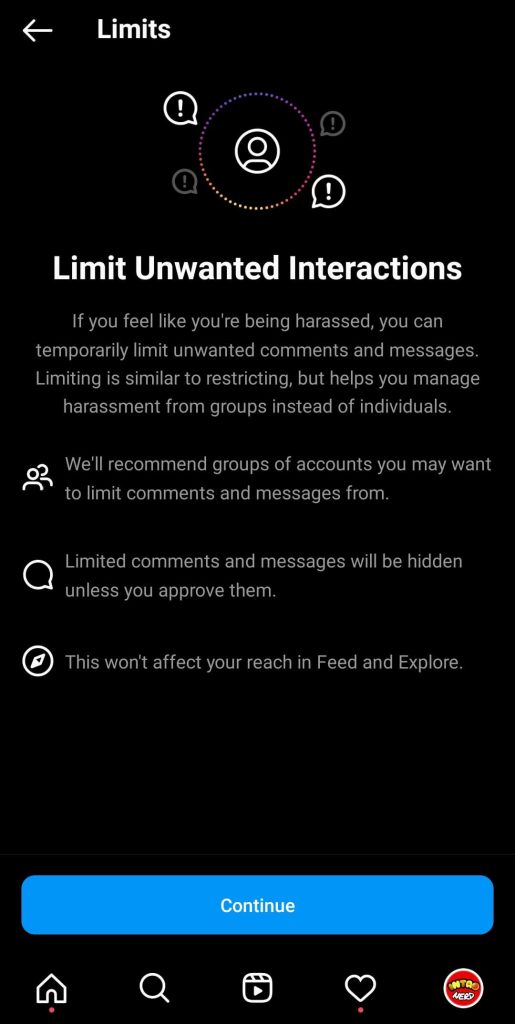 Wrapping up
Offensive comments are something which you have to deal with on daily basis as Instagram is a public social media platform where anyone can comment on your posts if you have a public account. Fortunately, Instagram knows the importance of this matter and that's why it provides various features to let you manage your comments as you want.
You can either hide/delete comments from your posts or turn off further commenting. Apart from that, you can also restrict certain people from commenting on your Instagram or allow only specific ones to do that. Other features include filtering your comments based on offensive words and phrases, limiting unwanted interactions, and enabling comments approval before they appear on your posts. We hope this guide was helpful. If you have any questions, let us know in the comments below.