If you own a Discord server then you already know how hard it is to do everything on the server on your own. In fact, it is nearly impossible to maintain a server manually as there are a plethora of things that need to be done on a server. You need to greet every member who joins the server personally, keep the members active with giveaways, increase the XP of active users, organize games and events, maintain a good ambiance in the group, and there is so much more to do. How do you expect yourself to handle so much work manually? It's next to impossible, isn't it?
This is where the bots step in to help the server owners. There are thousands of bots available at your service that can do all the work with a blink of an eye. But now the question arises, which Discord bots are the best and should be added to your server to give your members the best user experience? And most importantly, how these bots can be added to your server? We have listed out the best ones that will not only maintain a healthy environment but keep your members engaged at all times. Also, how the bots are integrated in the servers.
1. Dank Memes
These days memes are the best way to keep people active in a chat. People always want the moments of laughs and happiness and that's what memes provide. By adding the Dank Memes bot to your server, you can create your own memes and share them with other members in the chat. You can set to send a particular meme with a special command set for that meme. Dank Memes also offers a system where you can earn coins and use them to purchase items from the Discord shop.
Add Dank Memer bot
2. Rythm
Servers related to music should never miss adding the Rythm bot. By integrating this bot into your server, the members of the server can listen to their favorite melodies while enjoying Discord or doing some other work. The Rythm bot fetches the songs from the best streaming services like YouTube, Twitch, and SoundCloud. You will get the lag-free experience of songs with minimal data usage. The bot also supports lyrics for a better experience.
Add Rythm bot
3. Freestuff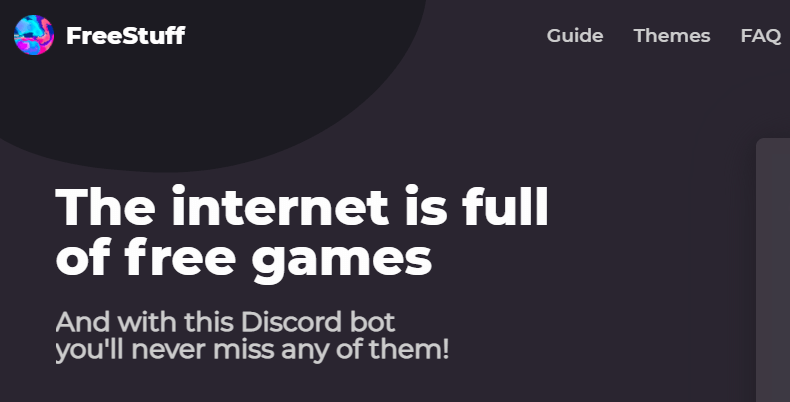 Most of the users on Discord are gamers and they love to play, discuss, join the games servers, and do everything related to gaming. If you want to keep the members of your servers active and enjoy their time in the group, the Freestuff bot can be a helping hand. This bot fetches the free games and gives constant information about them to the user. As it does not fetch the old games and only the new ones, you will be playing the ones that are new in the market.
Add Freestuff bot
4. Tip.cc
Whenever someone treats you in a good way or helps you out somehow, we just want to do something in return for them. With the Tip.cc bot of Discord, you can send the cryptocurrency tip to other users. No fee will be deducted for spreading the happiness and they can even receive your tip if they do not have a crypto wallet. With support to more than 316 currencies, this bot is making tipping easier than ever. The withdrawals and deposits are not a pain as they can be done from within the Discord app.
Add Tip.cc bot
5. Mudae

Every gaming and amine server should definitely have the Mudae bot. This popular bot will make the server more enjoyable by letting you customize your gaming or anime character and then you fight along with the characters of other members. Mudae has a database of about 65,000 anime and gaming characters that you can customize. 400 commands, auto-generating anime quotes, and other exciting options are also available for giving you the best time on a server that you can ever have.
Add Mudae bot
6. GAwesome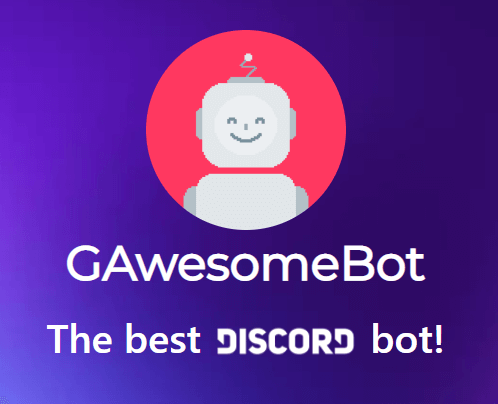 When the Discord server is highly active, it cannot be run without a moderator. GAwesome bot will help you in moderating chats by making sure the ambiance of the server is healthy. If someone tries to cross the line, the GAwessome bot will temporarily ban that user and can even kick them out of the server permanantly. This bot is easy to use and is highly customizable. Keeping aside its moderating activities, the bot will also help you organize polls, giveaways, events, and other engaging activities.
Add GAwesome bot
7. pokétwo
Pokétwo brings the fun of Pokemon to your Discord server. This is a pretty good bot to keep your members active on the servers. The Pokemon will randomly appear on the server and you need to catch them by guessing their name and typing p!catch <pokémon>. You will be informed by the bot itself if you are able to catch the pokémon. With every message you send to the group, your selected pokémon will be leveled up. Your pokémon are not just for the showcase purpose, you can actually battle with other members and win rewards.
Add Pokétwo bot
8. Arcane
Better server engagement can be easily achieved if there is a leveling up system introduced in the server. The Arcane bot will upgrade the level of the member the more they are active in the server. The level ups can further be a determination for the rewards that each member owns. The best thing about Arcane is that the XP can also be increased with voice chats. This bot can also be used as a moderator and can ban the spammers, kick out the offenders, and do much more. It's a great bot to send notifications as well.
Add Arcane bot
9. EPIC RPG
Here is another addictive bot that will be loved by gamers. EPIC RPG brings the epic battle game to your server where you will see RPG features like gambling, loot boxes, dungeons, and much more. By increasing your level in the game, you can win new swords and armor. Beat the bosses of the game and unlock a completely new set of commands. The game is simple and easy to play with an attractive user face. To see the list of commands, "rpg start" command will help.
Add EPIC RPG bot
10. IdleRPG
IdleRPG is another RPG game bot that you can add to your Discord bot and give quality time to your server members. Create your personalized characters, go for battles and raids, trade items, buy stuff, join clans, interact with the gods of the game, marry other players, and do many exciting things. With the availability of the game in more than 10 languages, people from around the world can easily enjoy the game. The bot is free to use but you can make small donations and unlock exciting prizes.
Add IdleRPG bot
11. PollBot

The name of this bot suggests what it does. Organizing polls in the server is not just a perfect way to keep the members engage but also you can get suggestions and feedback on things you are not sure of. PollBot is not just limited to conducting a specific style of poll, you can ask for yes and no as an answerand also customize the options. It's even possible to set the time for the poll. By getting suggestions from the members regarding certain things using polls, you can manage your server in the best way possible.
Add PollBot
12. Hydra
Music is like oxygen to the music lovers and Hydra bot of Discord provides this oxygen by managing to stream your favorite songs from the best streaming services like Spotify, Deezer, Soundcloud, Bandcamp, and YouTube. With planty of music features available like play, pause, loop, skip, replay, shuffle and more, you have total control over your music. If you are using Hydra bot as a server owner, you get additianal features like restricting selected users from using the bot, changing language, and limiting the song use.
Add Hydra bot
13. Skyra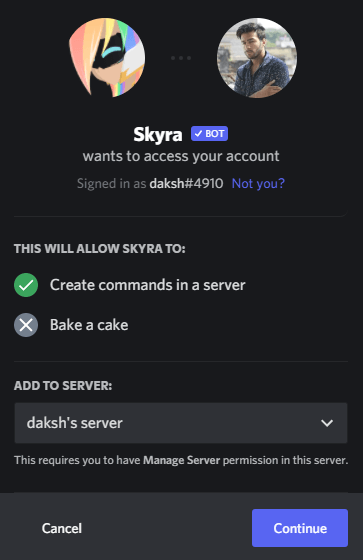 Skyra is one of the most powerful Discord bots. The capability of this bot to perform multiple tasks at once make it so much powerful and useful at the same time. We often find bots made for music, games, moderations, memes, level ups, and so on. Skyra is one bot that can do everything alone. For a music lover Skyra can play songs, for a gamer Skyra can organize games, provide memes to a meme lover and can ban or kick people out of the server when necessary with its moderating skill.
Add Skyra bot
14. Confessions
Everyone loves to share their darkest serets with others but only if their identity is kept under the veil. Confessions bot of Discord will let your server members make confessions about whatever they want. Their likes, dislikes, mistakes made in past, awkward moments, talking about their love, their crush, the members can say anything they want while keeping their identity as a secret. This bot can also be turn into an interesting where where one member will make the confession and the others will guess who the member actually is.
Add Confessions bot
15. Tatsumaki
Calling Tatsumaki bot as a fun bot won't be an exagerration. This bot is fun to be with as it gets engagement from the members by sharing amazing facts and memes. Tatsumaki bot brings YouTube search right inside Discord, and introduce the members with fun games. Keeping aside its enjoyable side, Tatsumaki can very the role of a moderator very well. The bot can help members increase their XP accrding to their engagement, ban or kick the offensive users, and can do everything needed to maintain a good decorum in the server.
Add Tatsumaki bot
Finding more Discord bots
The list of Discord bots doesn't end here. There are thousands of more bots available and new ones are also created every now and then. Below we have shared some sources from where you can find and explore more useful Discord bots for your server.
Top.gg – This website has a collection of over millions of Discord bots and servers. They are displayed in two sections named Top and New. The Top section will display you the most popular bots based on user votes. On the other hand, the New section will display bots which are recently added. There are different categories you can explore such as trending, moderation, gaming, social, fun, anime, meme, music, etc.
DiscordBotList.com – This is another third-party website which has diverse range of Discord bots. You can search for a bot manually, explore by tags, browse the top rated, trending, and featured bots, and also vote for your favourite ones.
Discord Bots app – There is also an app available for Android and iOS which comes by the name Discord Bots. This can be installed from the Play Store or App Store on your phone directly. With this app, you can explore thousands of Discord bots, find their detailed information, and add them to your server.
How to add bots to your Discord server
A server without a bot cannot be maintained as professionally as it can be done with the integrations of the bots. But for using a bot, you should know how a bot is to be added to a server in the first place. It is not that easy to do that, so here's a guide guide that will show you how it's done.
Let's say we need to add the Skyra bot to our server. Go to the Skyra website for that and click on ADD SKYRA TO SERVER option. Thiss option will change according to the bot you have selected.

On the next page you need to select the server where you need to ad this bot using the drop-down menu under ADD TO SERVER option and then click on Continue.

Next you have to give the certain permissions to your bot. You can uncheck the box for the permission that you don't want to give and then tap on Authorize option.

By checking the box confirm that you are not a robot and now the bot is added to your server.
These are the basic steps that you need to follow for adding a bot to a server. But the initial steps and steps that you need to follow after adding the bot to the server can be different. For instance, if you are adding the MEE6 bot to your group, you need to select what kind of roles do you need the bot to perform on the server. Like you can use MEE6 for sending a welcome message, use it to give commands, act as a moderator, or perform the reaction roles. Similarly, when you scroll down, you can toggle on or off the utilities that you need in the server, social engagement, and also add or remove fun features like music, level ups, birthdays, and so on.
Conclusion
There are various benefits of adding bots to your Discord server. They can make your server management easy and perform various automated tasks from welcoming new members to blocking spammers and engaging users. You may not available all the time to look after your server but the bots will keep doing their work in the background even when you are not around. There is a long list of Discord bots on different categories and tasks but we have listed some of the best ones in this guide. If you have any question in your mind, feel free to share it in the comments below.