Discord is one of the greatest platforms to chill, gather information, for discussions, voice and video calls, gaming, chatting and basically everything. Whatever you like or love to do, you can meet people with the same interest on Discord and have a long discussion over those topics. But whatever you want to have a conversation about, you can only do that if you are a member of an active server made especially for that activity. And believe me, it's not that easy to find the best server for your interests.
A hell lot of servers on Discord have minimal to no conversations, some don't have a healthy environment, and some are carrying completely off-topic conversations. But after good research, we have come up with the best servers that you can join on Discord. These servers are based on plenty of interests like anime, gaming, music, cars, education, technology, and a lot more. So whatever you like, just grab your smartphone, join the server on Discord, and meet people with the same interests as yours.
1. Anime Soul Discord
Does your mind always revolve around anime? You get to check the Anime Soul Discord server made for amine lovers. With more than 550,000 anime fans already in the group, you will definitely enjoy every moment spent on this server. Anime Soul Discord is a highly engaging server so you don't need to worry about people not participating in chats, contests, or whatever activities that take place in the group. Weekly giveaways are also organized here, so basically you will enjoy chatting and earn the prizes at the same time.
Join Anime Soul server
2. MrBeast Gaming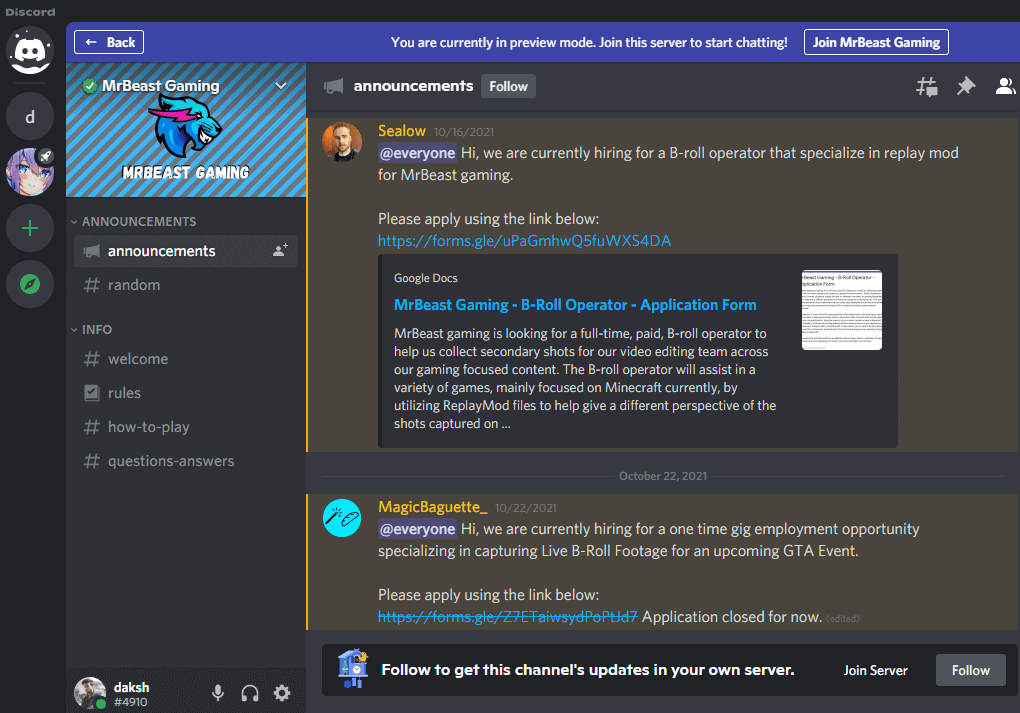 Who doesn't know about the popular YouTuber MrBeast? As popular as his YouTube channel is, his server is no less of a star on Discord. MrBeast Gaming server mostly remains full but if you come again and again to join the server you can easily get a free slot. Multiple announcements are done on the server related to different challenges, giveaways, and even job hiring for MrBeast. So if you are looking to work with the MrBeast team, this could be your shot.
Join MrBeast Gaming
3. Movies and Filmmaking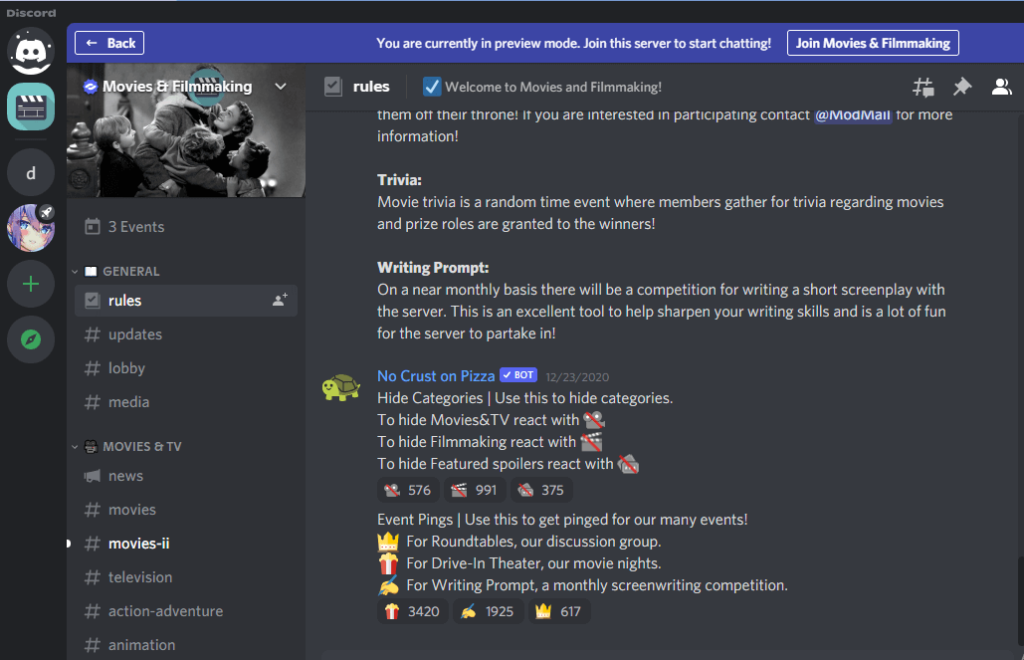 If your love for movies is never-ending, then don't forget to check out this amazing Discord server. The server has some rules that all the members need to adhere to, and any person who doesn't stick to the rules might get banned. Discussions related to movies and cinema are carried out here. You can be a part of exciting contests, and sometimes the job opportunities are also announced in the group. With 24,000 members, you will never miss having great chats.
4. Apple
Crazy about Apple and its products? Here's a server for you to carry on your discussions with other Apple aficionados. This is probably the best service related to Apple that you can find on Discord with more than 64,000 members who are antsy to jump into Apple related discussions. This server will keep you updated about new Apple products, announcements from the official company, or the events that are about to take place.
Join Apple server
5. Fantacy Football Chat
Get yourself engaged with everything football. Meet hundreds of football fans from around the world with the Fantasy Football Chat server and get yourself engaged in chats about your favorite teams, players, and upcoming league. Fantasy Football Chat is one of the best football related servers on Discord where people share memes, chat with each other, participate in contests, and do much more. With more than 13,000 members, the group is already popular and new Discord users are joining every day.
6. The Car Community
Cars are classy and car lovers are even classier. For the classy car fans like you, Discord has a super amazing and super engaging car server called The Car Community. This server is jampacked with photos and discussions about supercars from around the world. If you have any queries related to cars or have an abundance of knowledge to share, you are welcomed in this group. Apart from casual car discussions, you will be told to rate the car from 0-10, guess the cars, and can be a part of other cars related contests.
Join The Car Community server
7. Angel
Another great community to be a part of for anime lovers. Angel has a huge member base of more than 180,000 with a lot of active members always ready for an anime discussion. The community usually announces giveaways with exciting prizes like free Nitro giveaways. To keep the members in the server engaged, the members are assigned roles that they need to perform. This server is completely healthy for discussions regarding anime and meeting new anime fans.
Join Angel server on Discord
8. Study Together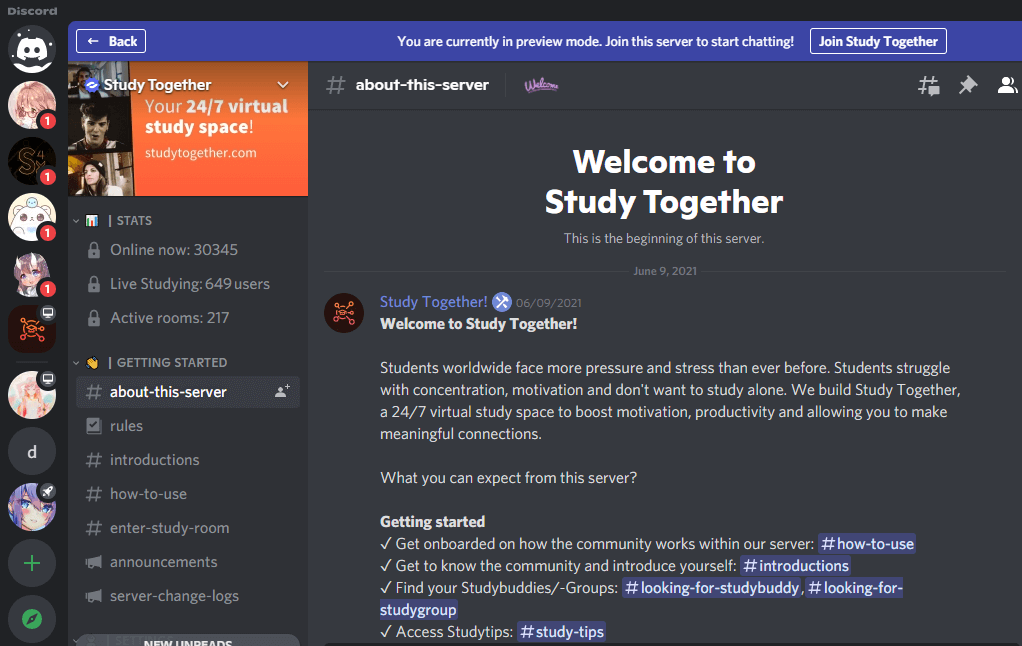 Student, don't lose your hope and keep yourself motivated with the best Discord server for students where the teens from around the globe meet, motivate, and help each other to get the best out of their academics. Studying alone can be boring and you might start losing hope as soon as some obstacle appears. By joining the Study Together group, you can discuss your queries and studies-related problems with other students and also help them in return.
Join Study Together
9. ChillZone
Nothing specific in mind and looking for a random chat with people? ChillZone got you covered. Get started with people about anything you have in mind, socialize yourself, and make new friends. Not being limited to a particular thing makes ChillZone one of the best Discord Servers to join. Free Nitro Classic giveaway makes the ChillZone server perfect for people looking for a random place to join.
Join ChillZone server
10. Minecraft

Minecraft has a crazy fan base whether we talk about the game or the Minecraft Discord server. If you are a Minecraft player and want to join a Discord server to chat with other players then this server is best for you. 800,000 members are already a part of this server, making the room full, but if you try again and again, you can join when someone leaves the server. Huge giveaways, events, announcements, and healthy discussions make this server even better. Just follow the rules of the server and enjoy every second spent here.
Join Minecraft server
11. Moon cafe
Looking to hang out and do chitchat with some random people on Discord? Moon cafe is the best server for this purpose. With hundreds of members being active online all the time, this server has built up a good social community of people to exchange conversations on different topics such as art, writing, astronomy, gaming, anime, and other random stuff.
Join Moon Cafe server
12. The Gamer's Garage
Here comes another amazing Discord server that you should definitely join. The Gamer's Garage is specially made for people who are interested in gaming. It's a very unique and attractive name in itself. As their tagline says, it's a go-to community for finding teammates and playing fun games. This server has a large community of gamers with no restrictions on the games you can play. Another good feature is Dynamic Voice Channel systems which allow you to create and manage your very own voice channel.
Join The Gamer's Garage
13. ChillBar
With over 250k+ members and around 60k+ online users all the time, ChillBar is one of the most popular and active servers on Discord. It has everything you need to get the daily dose of your internet. Meeting new people, 24/7 voice calling, custom bots, 500+ emojis, and a relaxed atmosphere are some of the perks of joining this server. There are various topics that you can discuss from gaming to anime to art and other stuff. It's an all-in-one place where you need to hang out and socialize on the internet.
Join ChillBar server
14. Marvel Studios
Are you a Marvel fan? If yes, then this Discord server is made for you. It has around 50k+ members as of now who are hardcore Marvel fans from all over the world. You will get to discuss everything about Marvel including the movies, comics, TV shows, games, and much more. There are hundreds of custom emojis that this server offers based on your favorite Marvel superheroes. Another benefit of joining this Discord server is that you will stay up to date on all the Marvel news & rumors and get exclusive updates.
Join Marvel Studios server
15. Dank Daily
Last we have this amazing server in our list of best Discord servers named Dank Daily. As the name suggests, Dank Daily is dedicated to memes and all the funny stuff. It's the fastest-growing memer's community on Discord which has around 50k+ members as of now. The server is active 24/7 and exchanges thousands of messages every day. There are some other benefits that you will get on Dank Daily which include fun events, giveaways, unique emotes, and so much more.
Join Dank Daily server
How to join a server on Discord
So as of now, we have only recommended some of the best Discord servers but you might be wondering how to join them. There are various ways you can join a server on Discord such as joining via the link, manually adding the server, using the explore feature, from third-party websites, etc. Below we have explained all these methods in detail –
1. Join a server via invite link
This is one of the easiest methods as you don't have to do any manual work. If you have an invite link of Discord server, you simply need to click on that link and it will redirect you to the Discord app on your phone. Then you will see an option to join the server. Simply, tap the Accept Invite button and that's it.
The invite links are created by the server admin and they have either permanent or time bounded validity. For example, the link might expire within 30 minutes, 1 hour, 6 hours, 12 hours, or after one day depending on what option has been chosen. In this article, we have also mentioned the invite link of all Discord servers so if you want to join them, simply follow their link.
2. Add a server on Discord manually
This method is quite similar to the previous one as you need an invite link of the server but you have to add it on your Discord manually. So once you have copied the invite link to your clipboard, open the Discord app on your smartphone and click on the plus + button from the menu on the right side.
After that, tap the Join a Server button and then paste the invite link on the next screen. Once you have done that, simply click on the Join Server button again and you will be added to the server. If you are using Discord on your PC via app or website, the steps are almost the same.
3. Use the Explore feature
Another method to find and join a server on Discord is by using the explore feature. This will work on the desktop version only as Discord doesn't provide explore feature on its mobile app as of now. So what you have to do is first go to the Discord website and click the compass icon from the left sidebar menu. This will take you to the Explore Public Servers tab where you can discover public servers on Discord. There is a search feature available using which you can find a particular server by its name, category, or tag.
Finding more Discord servers
You might be looking for more interesting servers other than the ones we have shared in this post. So we are telling you some methods by which you can find and explore new public servers on Discord by yourself.
Use Disboard.org – Disboard is a third-party website where you can find popular and trending Discord servers and search them by your interest like gaming, anime, music, etc. There are over 1.3M+ servers listed on Disboard as reported by the website itself. You will get an option to join the server directly which will redirect to the Discord app and then you can accept the invite link right away.
Use top.gg – Top.gg is another popular Discord servers listing website. It has a collection of Discord bots as well. You will find some of the best and trending servers on Top.gg as it rank them based on user votes. By switching to the New tab, you can also explore servers which are new and recently added. Disboard and Top.gg also allow you to list your own server(s) on their websites for free.
Use Explore feature – The web version of Discord has this built-in explore feature using which you can find and search public servers by their name, category, or tag. This can be accessed by clicking the green compass icon from the menu at the left sidebar. Unfortunately, you can't use this method on the Discord mobile app as it doesn't have explore feature yet.
Conclusion
Discord is all about joining servers, chatting with new people, and playing your favorite games. There is an endless list of servers on Discord but we have picked some of the best ones for you. Whatever category you like, be it gaming, anime, memes, music, cars, technology, or anything else, we have selected the most popular and active servers from each category. If you know any other server that is worth including in this list, let us know in the comments below. Don't forget to share this post with your friends on social media.