We all have been in this situation at least once in a lifetime that we order something from Amazon and then later regret it. Amazon is one of the most trusted e-commerce websites on the internet and the reason why it is trusted so much is because of the company's user-friendly policies.
Amazon always keep customers as their first priority and the company do every single thing to make their customer experience better. One of the live examples can be seen in the cancel order and return policy of the Amazon. If for some reasons you don't need a product, you can cancel the order anytime and request your refund.
There is still some confusion among people on how to properly cancel their order on Amazon and get back their money if they have already paid for the product on checkout. Some people have also complained that they are unable to find cancel order option on the product they have ordered. We have came up with this article to help you fix all sort of issues related to cancelling Amazon orders.
How to cancel your order on Amazon
Before we start, we would like to mention that you should only cancel your orders for genuine reasons. Don't misuse this feature to random purchase items and then cancel them. Here's a step-by-step guide:
Open the Amazon app on your smartphone. If you are on desktop, launch any web browser and visit the Amazon website. Make sure that you are logged in to your account.
Go to the profile tab by clicking on the profile avatar icon from the bottom navigation menu on the Amazon app. If you are on desktop web version, then tap Account & Lists option at the top-right corner on the navigation menu.
Now click on Your Orders option at the top. This will open up a new page where you will see a list of orders you have placed on Amazon.

Select the order you want to cancel.
Next, click on the Cancel Order option.

Amazon will ask you to choose a reason why you are cancelling your order. Select any of the suggested reasons or write your own. This step is optional so you can skip it as well.
Finally, tap the Cancel Checked Items option and that's it.

In most of the cases, you will directly find the cancel order option for the product or item you have purchased on Amazon with the above steps, however, this may not work always. Let's discuss what you need to do if this option is not available in your case.
Why Amazon not showing cancel order option?
There are basically two cases when this happens. If the item has already been dispatched or the product is directly shipped by the Seller instead of Amazon, then in such cases you may not find an option to cancel your order with the previous method.
What if the items has already been dispatched?
Luckily, you can still request to cancel your order and the steps for that are almost the same. When you open the Amazon app, go to the profile tab and click on Your Orders at the top. Next select the order you want to cancel. You can check the delivery status of the item to find if it has been dispatched or not. If it has already been dispatched, then you will see Request Cancellation option. Click on it and then follow few more steps. You will be asked to provide the reasons for cancelling your order.
If you have already paid for the item, Amazon will initiate the refund process and you may get it in your original payment method within 2-4 business days. Sometimes the delivery guy will still come at your doorstep to deliver the product that you have already canceled. If this happens, then simply refuse to accept the order. This usually happens when you cancel your order at the last moment and the item has almost reached your address. The delivery guy may not have the information that you have canceled it.
Cancel Amazon order when there is no option
In case you have ordered an item which is being shipped by the seller directly instead of Amazon, then you may not see the cancel order option. In that case, you have to contact the seller directly and request them to cancel it.
This can be done from the item delivery details page in the Your Orders section. Simply open the Amazon app, go to the profile tab, click on Your Orders and then select the order you want to cancel. Under Need help with your item heading, click on Contact Seller option.
Now simply write a short message that you want to cancel your order and send it. Also make sure to provide a valid reason why you are cancelling it. Upon your request, seller will cancel your order and that's how it is done in this case.
How to get refund of your cancelled order
Once your order has been cancelled successfully, Amazon will automatically initiate the refund process. As from the official information, you will usually get your refund within 2-4 business days but it can also take up to 10 business days as well. The money will be sent to your original payment method. If for some reasons you didn't get your refund, directly contact the Amazon Customer Support.
How to return if you have received the item
If you have already received your item and for some reasons you don't need it, there is still some hope left for you and you can get your money back. So basically what you have to do is just request to return the item. Amazon allow you to return items under their return policy. Here's how you can return your orders:
Open the Amazon app and go to Your Orders. Choose the order that you want to return. Next tap on Order Details and then click on Return button under the Shipment Details section. After that, you have select a reason why want to return the item, you can add an additional comment (optional), and then click on Continue. Choose the refund mechanism, pick up your date and slot, and then you have successfully scheduled a return request for your item.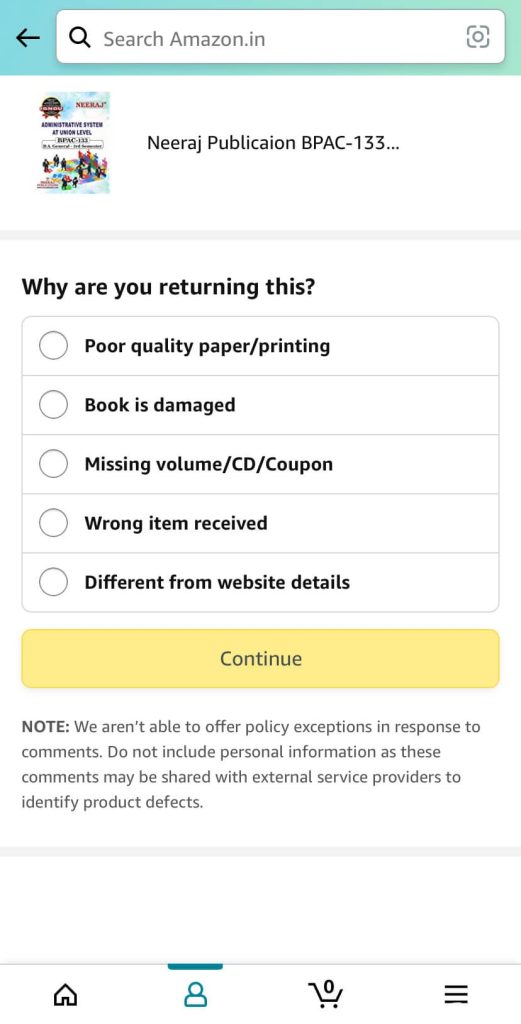 Please note that there is a certain time period for every item under which you are allowed to return them. When this time period finishes, the return window will close and then you won't be able to return your item. So make sure to do it as soon as possible. Also, return policy doesn't apply on all products available on Amazon. You can check and confirm this from the item page itself where it's mentioned whether it can be returned or not.
Conclusion
So that's how to process of cancelling the Amazon order goes and we hope you have find this guide helpful. Again we would like to mention that you should return your items only if you have some valid and genuine reasons. Let us know in the comments below what are those reasons for you. If you are facing any problem related to this topic, feel free to share it in the comments below and we will help you out. Don't forget to share this article with your friends so they will also get to know how to cancel orders on Amazon. We have shared all possible questions that can arise in anyone's mind related to this topic. If still there is something we missed to discuss, do let us know.