Do you feel depressed? There are songs to help you overcome anxiety. You feel off, listen to the songs to cherish your mood. Feeling like a party animal? Go for the pop songs. Feeling sleepy? Listen to the calming songs. There are songs for every mood and occasion and that's why people can live without anything but not without listening to songs. And when it comes to songs, everything boils down to Spotify. It's the best app for listening to more than a million songs from around the world and in different languages.
Spotify can be your best companion whenever you want to listen to your favorite songs. But what if you are stuck in a situation where there is no internet connection? With the offline downloading feature of the app, you can get your ears filled with melodies no matter where you go. So don't let the internet stand in between your love for music and learn how you can download and listen to Spotify songs offline with or without the premium subscription.
Listen to Spotify music offline with Premium
If you have the premium subscription of Spotify then there are very straightforward methods available for you within the Spotify app that can help you to listen to your favourite songs offline. Let's see what are those methods!
1. Download songs on Spotify offline
Be it a premium member of Spotify or a free user, if you try to download songs on Spotify, you won't see an option to do that. The obvious reason for that is, Spotify doesn't allow its users to download single tracks in the first place. Users are only allowed to download the complete playlists. So it doesn't matter if you want to download a single song or a few songs, you need to create a playlist for that.
You can create a new playlist by going to the Your Library section, tapping on the plus icon, and then add songs to the playlist. Alternatively, you can select your desired song, tap on the three-dot icon at the top and then select the Add to Playlist option. In the next step, you will see an option to either create a new playlist or add to the existing one.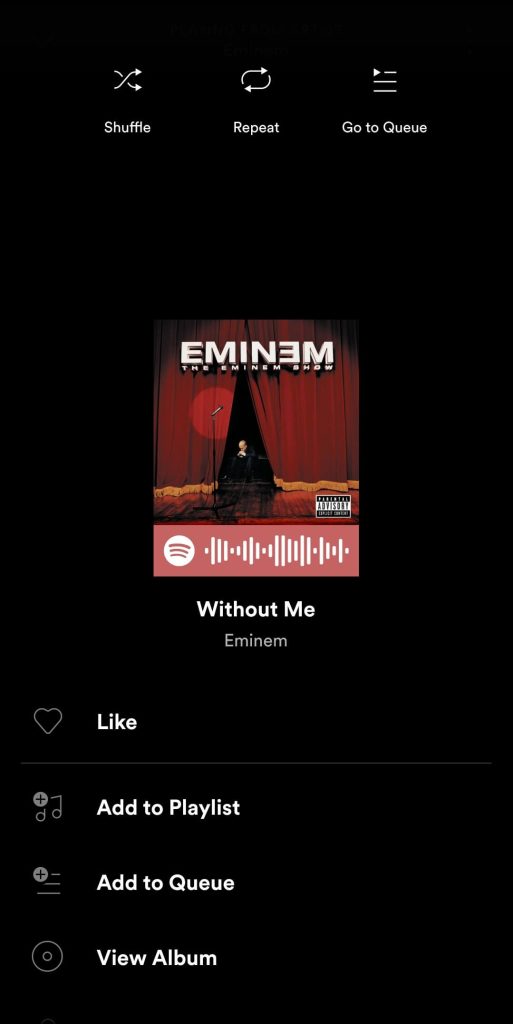 2. Use offline mode on Spotify
When you are low on data and don't want to spend any MB on Spotify, but still want to listen to your favorite songs, this is where the offline mode of Spotify will come in handy. When you switch to the offline mode, you can listen to all the songs that you downloaded on Spotify.
Open the Spotify app on your smartphone. Make sure that you are logged in to your Spotify account.
Tap on the settings icon at the top right side of the home page.
Here you will see a plenty of options appearing. Locate the Offline mode option under the Playback heading.
Toggle on the button next to the Offline mode option. That's it.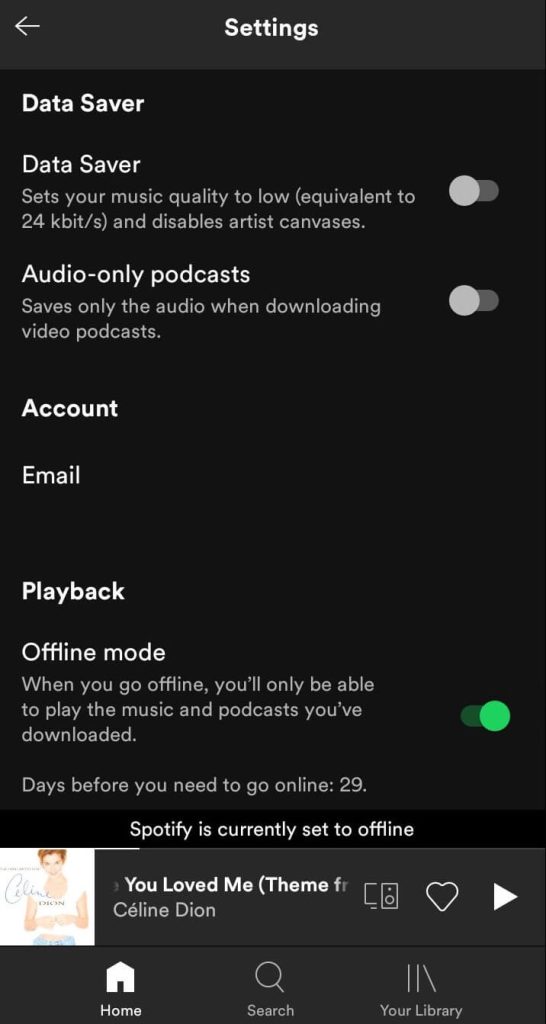 Using offline mode is also useful because you don't need to turn off your internet connection to stop Spotify from using any data from your device. If you can't find this option then it is probably because you are not a premium Spotify member.
3. Enable Spotify offline mode on PC
If you love to use Spotify on your Windows PC then also you can listen to your favorite songs in offline mode. But the method to do that is different from the phone. You need to open the Spotify app on your PC and click on the three-dot icon given at the top left side of the screen. Now hover on the Files option and select the Offline Mode. If you use a Mac then select the Spotify option from the Apple menu at the top and then select Offline Mode.
Listen to Spotify offline without Premium
Spotify has more free users than premium members. Just like the premium members, free users also want to listen to the songs offline, but Spotify doesn't allow them to. So here are a few tricks that can help you get Spotify songs offline without being a premium member.
1. Load a song and turn off Internet
This trick can help you listen to any Spotify music offline for free. You just need to load the music fully and keep the selected song on the repeat mode. Once the music is fully loaded, turn off the internet. Now you can listen to that song without the internet as many times as you want. But with this trick, you cannot listen to any other song before you get access to the internet again.
2. Use screen recorder or voice recorder
It is too boring to listen to one song on the repeat mode, that's why the above method is not the best solution. The easiest way you can listen to an endless number of Spotify songs offline for free is by recording them on your phone. You can either use a screen recorder for that purpose or a voice recorder app.
While using a voice recorder, you need to make sure that the mic is turned off and only the sound from the phone is recorded. While you are using an Android device, an inbuilt screen recorder, as well as a voice recorder app can work. But if you are an iPhone user, only the screen recorder will work, the voice memos app is not capable of recording Spotify songs.
There are plenty of other working methods also that can download your favorite Spotify songs for offline listening. These include the use of Spotify bot on Telegram, the use of the Audacity app, and a lot of other useful tricks. We have covered all those tricks in a separate article, feel free to check it out anytime you want.
Conclusion
Although we are living in a 21st century where we are connected to the Internet almost every time but still there comes a time when we are off from the internet world. In such times, you would want to listen to your favourite songs on Spotify offline. For those who have premium membership of Spotify, it's easier for them to download the songs they like but the main problem arises with free users.
Luckily, we found some workarounds to download Spotify songs offline even if you don't have premium subscription and shared the same with you in this article. So that's pretty much everything you to know. If you have any questions in your mind, feel free to share them in the comments below. What's your favourite method by the way? Do let us know!