We have already seen a lot on Discord like how to change the background image, changing the dark theme to light, getting free Nitros, and a lot more hacks to make our experience on Discord splendid. But it is not even the one-tenth of what more Discord holds under its sleeves. Another great feature of Discord is the ability of the user to change the nicknames to their desired ones. When you chat on Discord servers, people from around the world can see your name appearing with your messages.
While setting up your Discord app, if you choose a really bad name for your Discord account, you probably don't want others to notice it and point to your lame username. But we guess Discord programmers were really foresighted and they knew that unlike in their real life, people would love to change their names on Discord. And it is not just the one-time thing we are talking about here, you can change your nicknames on the servers as frequently as you like and for as many times as you want. Let's see how this is done!
1. Change nickname from text channels
One of the easiest ways to change your nickname for a particular server on Discord can be done from within the text channels in the server. All you need to do is, follow some simple steps given below –
Open the Discord app on your PC and login to your account if not already.
From the left panel, select the server where you want to change your nickname.
Now you need to click on the drop down menu that appears along with the server name.
From the list of options that appear, select the Edit Server Profile option, the one with the pencil icon on it.

Here you will see all the options available for you to edit your profile on that particular server. Under the NICKNAME heading, change your name to whatever you like and finally click on the Save Changes option that pops up at the bottom.

With these few steps, you have successfully changed your nickname on the selected Discord server.
2. Change nickname from server member list
The method to change the nickname on your favorite Discord servers has not ended yet. If due to any reason you don't find the above method suitable, here's how you can do it from within the server member's list.
Choose the Discord server from the left panel in which you want to change your nickname.
After you have selected the desired server, you will see the list of online members on the extreme right side. Simply click on your name and then click on the edit option that appears on the top of the pop-up.
This will open an another pop-up where you need to select the Edit Server Profile option.

The same page will open now where you can make all the necessary changes regarding your profile in that server. Just change your nickname now and then click on Save Changes once it's done.
3. Change nickname using slash command
Another easy and go to try method for changing your nickname on any Discord server includes the use of the slash command. For those who don't know what slash commands are, they are basically text codes which provides you a simple way to interact with bots on Discord.
All you need to do is type / in the message box and it will bring up a list of commands that you can use. For changing your nickname on a Discord server, there is a special slash command called /nick. Let us see how it works –
Just like in the above two methods, select the server from the left panel where you want to give an attractive nickname to yourself and then go to any of its text channel. In the message box below, type the command /nick and press the space button on your keyboard.
Now write your nickname that you want to use in that selected group. The final text will look something like this:
/nick Thanos
From the above example, make sure to change Thanos to anything you like. Press the enter button to confirm the name change and you have done it. With these easy to go steps, your name on any server can be changed using the slash command.
4. Change nickname on server using smartphone
A lot of people love using the Discord app on their smartphone rather than on PC. In fact, the phone users will definitely be more than the PC users. So this makes it necessary for us to find a workaround for changing the nickname on a Discord server using smartphone. Well, here's how you can that –
Open the Discord app on your smartphone and select the server from the left side where you want to make changes with your name.
Now tap on the three dots icon that appear on the top, adjacent to the server name.

This will open the settings page and here you need to select the Edit Server Profile option.

On the next page you will see the Nickname box, enter your desired nickname here and finally click on the save icon given at the bottom-right side.

Following this quick walkthrough, you have successfully changed your nickname on any server using your smartphone.
Change username for all servers at once
This catch is for those people who do not want to create a separate identity for each server. Rather, they would love to keep the same username on all the servers. Hence, this method will help you change your name for each and every server at once by changing your primary username.
Open the Discord app and click on the settings icon given at the bottom. On the page that opens next, click on the Edit option adjacent to the USERNAME option falling under My Account heading. Now erase your current username and change it to whatever name you want to give to yourself in the servers. Click on Done after that and your username for every server has changed now.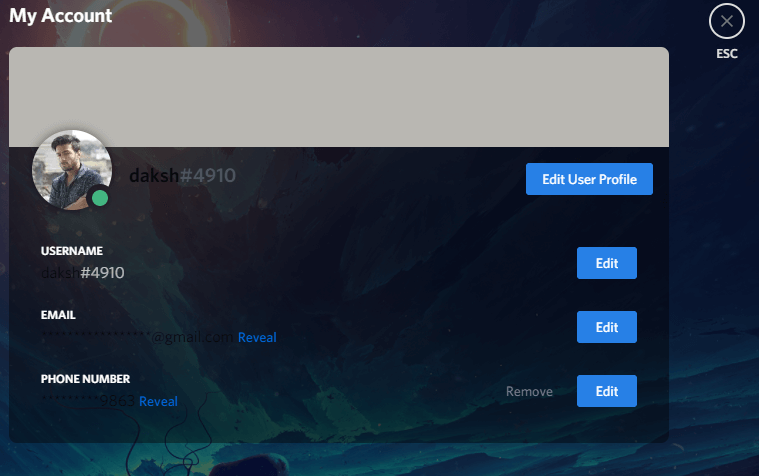 What permissions do you need to change nicknames
There are two important permissions within a server that plays everything around changing nicknames. One is the Change Nicknames permission and the other one is Manage Nicknames. Here's what these permissions are needed for.
Change Nicknames – This permission needs to be enabled from the server's moderator in order to allow every member on the server to change their nickname whenever they feel like it. If disabled, no member can make changes to their name.
Manage Nicknames – If a particular member is given permission to manage nicknames, he/she can change the names of other members on the server including their own.
If none of the permissions is allowed to you, then you need to personally contact the server owner or administrators to allow you to make changes to the nicknames by enabling the required permission for you.
Important things to note
It doesn't matter how many times you change your nickname on Discord, it doesn't change your primary Discord username. Moreover, anyone can still see your primary username if they visit your profile. So basically, your nickname on the server is only temporary. Another thing to keep in mind is related to your Discord primary username.
Once you have changed the username on a server, you cannot change it for the next 30 minutes but this is not the case with the nicknames. So you need to be sure that the username you are about to give yourself is the one you would love to use for the next half an hour.
Wrapping up
Discord gives you a platform where you can join a community of people who share same interests like you on different topics such as gaming, anime, fun, technology, and more. For some reasons, you might not want to show your real name while chatting on a Discord server. Maybe you want to use something more cool as your name that suits your personality or interest.
Thanks to the Discord team for adding this concept of nicknames on Discord which allows you to set a different name for yourself on each server separately. If you are a member of a gaming community, you can use a nickname that is related to your gaming avatar. And if you are in a different server, let's say technology, then you can use any other techno-based name. Isn't it cool that you can change it to anything you want?
We have shared all methods that can help you set your nickname on a Discord server which includes using the slang command, changing nickname from the members list, or directly from the text channel. Apart from that, if you want to use the same nickname on all your Discord servers at once, then you can simply change your username as explained in this guide. We hope you have learned something new today. Don't forget to share it with your friends on social media.