Telegram is arguably the best app to connect with friends, family, and people you don't know. The idea behind creating an app that is a mix of both social media apps and instant messaging apps is remarkable and undoubtedly successful. Millions and millions of people enjoying the app daily is enough to backup our statements.
While chatting with your friends and loved ones on Telegram, you share with them thousands of interesting photos, videos, audio files, gifs, and other amazing stuff that you never want to lose. But accidently or with your intention when you delete the chat with that person, you realize after deleting that you have not saved all those precious files, photos, videos and other stuff in your phone. And now you regret your decision of deleting them.
What's being done can still be ratified as you can recover that deleted data. You might be unaware but Telegram stores all the files being shared right in your phone and you don't have any knowledge about that. Here's how to get access to those files again.
1. Using Telegram folder
The File Manager of your phone is used to restore all the important photos, videos, audio files, documents, and gifs that you received on Telegram. File Manager is a storehouse of your phone and that is the reason why you will still find the stuff that got deleted originally. You might be unaware but a Telegram folder is automatically created while you use the app on your phone. Here are the steps that you need to follow to find those deleted files from that Telegram folder.
1. From the app drawer of your Android phone, locate and open the File Manager app.
2. Now go to the Internal Storage and there you need to locate the Telegram folder. You can also use the search option for that. If you don't find it easily, click on the Details option at the top.
3. After that, you have to select the Others option that appears in the next screen.
4. Now select the Internal storage option.
5. Here you will find a number of folders. Find and open the one named Telegram.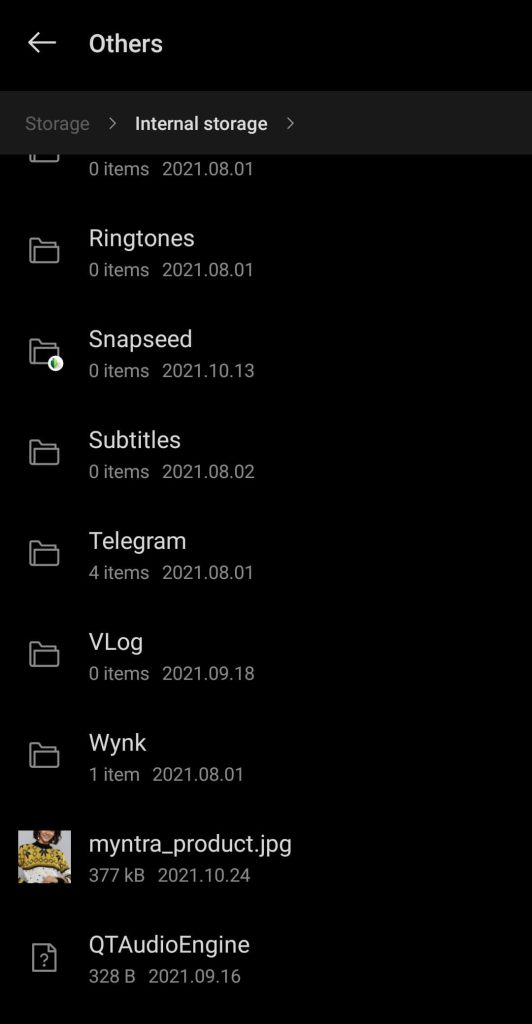 6. Different sub folders will be found inside the Telegram folder. You need to select the one according to your need. For instance, if you want to recover a deleted photo then you need to select the Telegram Images option. Similarly if you are looking for audio, then select Telegram Audio, Telegram Video if you are looking for videos, and Telegram Documents if you are looking for a deleted document of any kind.
7. After selecting the desired folder according to your need, you will see all the data appearing that you received from your friends and also the one that got automatically downloaded from Telegram channels and groups. The list of files and media might be too large so you need to give some time in finding the media that you are looking for.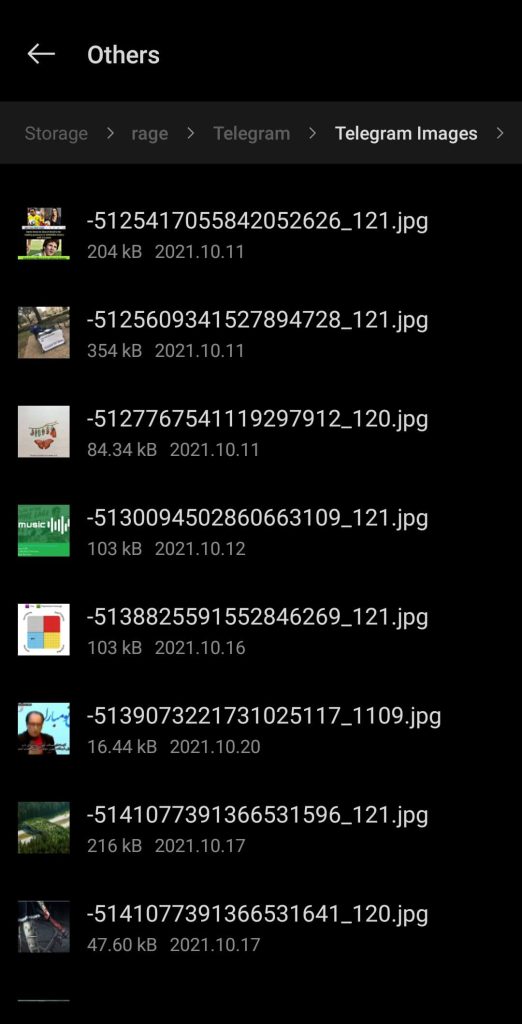 8. Once you find the document or media that you are looking for, you can save it in your phone gallery. For this, you just need to long tap on that photo or video until it gets selected, now copy or cut it and select the folder where you want to paste it. Now simply tap on the paste option and the file is saved successfully.
2. Using Android folder
If due to some reason you cleared up all the data from the Telegram folder of File Manager too, still you have a chance to recover the deleted Telegram files. Apps usually create cache while you use them to provide you better usability. Thanks to this cache that you can recover the deleted files, images, documents etc. Let's see how to get back our data from this Telegram cache folder.
1. Open the File Manager app on your Android phone and select the Internal storage option.
2. Here you will see a list of a few folders. You need to locate and select the Android folder.
3. On the next page, select the data folder.
4. A list of many other folders can be seen on the next screen and you need to locate and select the one made for Telegram. It will be by the name org.telegram.messenger.
5. Now you will see two different files made for Telegram, one by the name cache and the other one by the name files. You need to select the cache folder.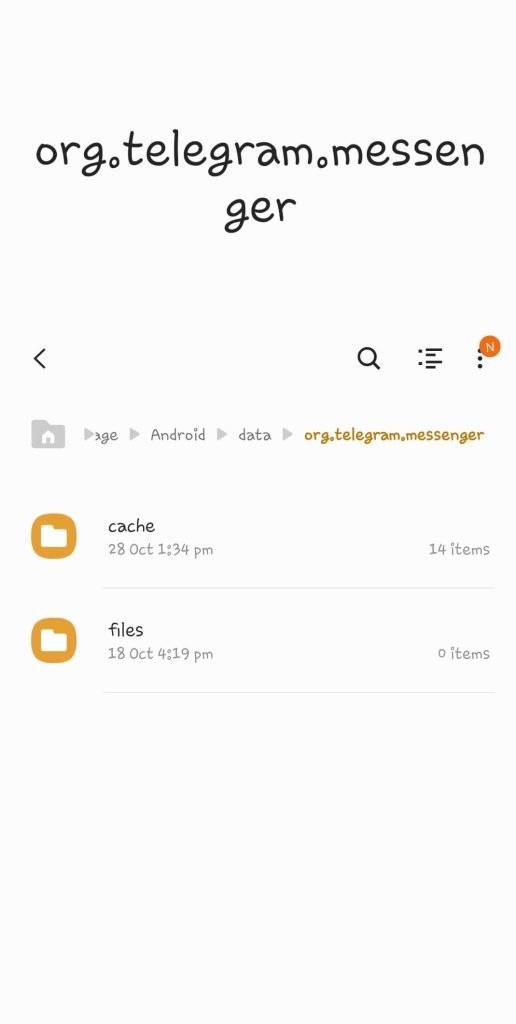 6. Here you will see the long list of photos, videos, documents, audio files, and other documents that you either received on Telegram or get downloaded automatically.
7. Similar to the previous method, here also you can save the desired files by copying or cutting them from this folder and saving to the phone's gallery. The steps that we performed might differ from device to device, so you need to figure out where you will find the folder that we instructed you to select.
Recover deleted Telegram photos and videos on iPhone
Android certainly makes the life of the users easy as compared to the iOS users, and there's certainly no doubt about that. As we saw, Android made it possible to retrieve the deleted Telegram data by saving them in the Telegram folder and making a cache file. But as for the iPhone, neither of them happens and once your Telegram chats and data are deleted, they are gone for good. If you use an iPhone and still want to get access to the lost data, your only way out is using the data recovery software. A good data recovery software for the iPhone like FoneLab can extract all the deleted data from the user's phone and gives you access to those files again. But as almost all the data recovery software are paid, you need to spend some money to recover your data. Sometimes you might get a trial version that you can use to recuperate those important files and documents.
Recover deleted Telegram data on PC
Very few people use Telegram on desktop and if you are one of them and have deleted the chats where all those amazing photos, videos, and gifs existed, you might be looking for a way to recover those files again. Unfortunately like Android, no cache is stored or Telegram folders are automatically created when you use Telegram on PC. So it is not possible to recover those files, photos, and other data that you accidently deleted on Telegram.
Everyone of us has made this mistake at some point in our life that we delete important photos and videos whether it is done by mistake or intentionally. Soon after we realise our mistake and then end up regretting for life. Well, this is not the case with Telegram as there are some ways through which you can recover your data even after you have deleted it from within the app. You are lucky if you have an Android device as it saves the cache of all your downloaded files which can be easily accessed from the file manager. However, if you are using Telegram on iPhone or PC, then it is little tricky or we must say almost impossible to recover your deleted data. So that's everything you need to know about this topic. If you have any questions in your mind, feel free to share them in the comments below.