WhatsApp and Telegram are two of the most popular instant messaging apps. The main purpose for which they are used is the same – chatting and file sharing, but their features are quite different. There is always a debate on this topic that which one is better between WhatsApp and Telegram. You will get to hear news about data breaches and privacy issues on WhatsApp.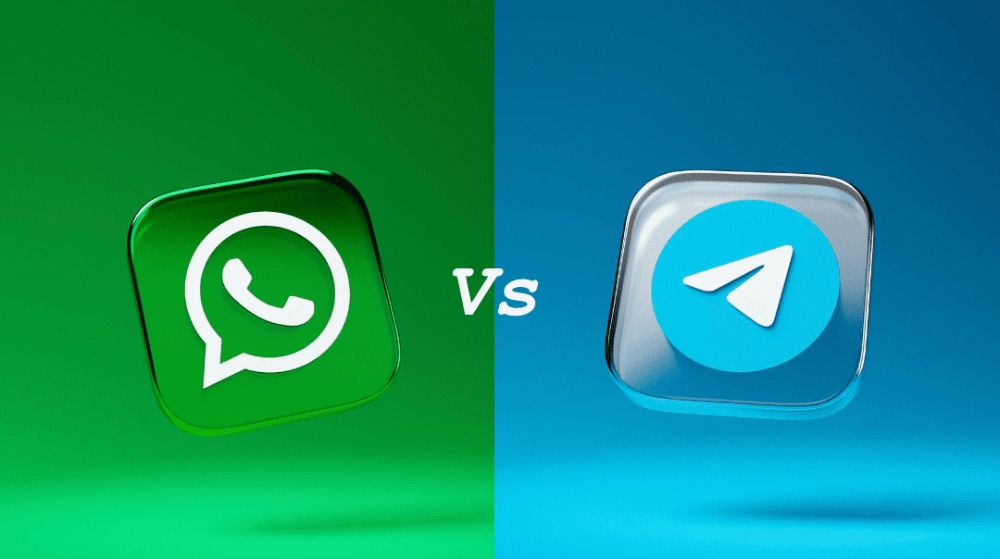 Some people consider Telegram as more secure and private but is that actually true? We came up with this article to show you the comparison between WhatsApp and Telegram. It's hard to tell which one is better as it totally depends on your usage and priorities. By the end of this article, you will be able to find out which messaging app is better as per your personal needs.
We will compare everything from privacy to file size limit, groups, customisation and other features of these instant messaging apps. Without further ado, let's start the comparison.
Comparison table
| | WhatsApp | Telegram |
| --- | --- | --- |
| Owned by | Meta (Facebook) | Telegram Messenger Inc. |
| Founded in | 2009 | 2013 |
| Data limit | 100MB | 2GB |
| Type | Instant messaging | Instant messaging and file sharing |
| Available on | Android, iOS, Windows, Web | Android, iOS, Windows, Web |
| Group limit | 256 members | 200000 members |
| Forwarding limit | 5 chats only | No limit |
| Bulk messaging | Broadcast list with 256 members | Telegram channel with unlimited subscribers |
| Privacy | End-to-end encryption | End-to-end encryption |
| Private messaging | Only disappearing messages | Secret chats with complete control |
| Calling features | VoIP and video calling | Voice and video calling |
| Multiple devices usage | No | Yes |
| Web versions | WhatsApp Web | Telegram Web |
| Users | ~ 2 Billion active users | over 500 Million active users |
Privacy: WhatsApp vs Telegram
If we talk about privacy, both apps provide end-to-end encryption feature which allows our messages to transfer safely without letting any third person read them in-between. With the end-to-end encryption, the messages are encrypted on the sender's device and then decrypted only on the receiver's phone. Even if someone get to snoof the data during the transmission, they won't be able to read the actual message as it will be in the encrypted format which can't be decoded.
As you may know that WhatsApp is now run by Facebook, so it is often accused that WhatsApp collect users data and share it with its parent company. There have been few instances of data breaches in WhatsApp in the past. You must have also heard about Pegasus spyware which is founded to be injected in the victim's device through WhatsApp calling feature. The similar type of privacy breaches and safety issues are seen with Telegram. It's hard to claim which one has better privacy but as nothing is 100% secure, they both are at the same level.
Origin and History: WhatsApp vs Telegram
Launched back in 2009, WhatsApp quickly grew to become one of the most popular messaging apps. Now it has around 5 billion monthly users in over 180 countries with over 100 billion messages exchanged every day. WhatsApp is free and allows you to bypass international calling rates by making audio and video calls over Wi-Fi or data. WhatsApp was founded by Brian Acton and Jan Koum, and later it was acquired by Facebook in 2014 with a bid at $16 billion.
Telegram, on the other hand, was launched in 2013 by two brothers named Nikolai and Pavel Durov from Russia. Soon after its release, Telegram gain popularity all over the world, giving a tough competition to WhatsApp. Telegram focused to provide features which are not available in other messaging apps and this is one of the great reasons for its huge success. With the simple idea of providing fast and secure way to share messages and files, Telegram was able capture around 500 million monthly active users. It is available on all major platforms, devices and operating systems.
So this was the basic back story of both these messaging apps. Now let's compare their features in more detail one-by-one!
Groups: WhatsApp vs Telegram
Both instant messaging apps provide group chatting feature where multiple users can chat with each other and have an online discussion. WhatsApp group has a limit of 256 members, whereas Telegram allows you to add up to 200,000 people in a single group. There is a huge difference in the numbers and for that reason both are used for different purposes. As WhatsApp groups has small members limit, they are mostly created for family, colleagues, and friends where most people know each other.
On the other hand, due to the high number of members, Telegram is used to create topic and interest based groups so that all the people who are interested in that topic can join and come together to have a conversation (for example, football or cryptocurrency group). Another difference between the two is that Telegram groups can be searched by the users and anyone can join them if their privacy is public, however, this isn't possible with WhatsApp. Only the admins and existing members (if allowed) have permission to add anyone to the group.
File size limit: WhatsApp vs Telegram
You can share different types of files and media on both apps but there is a size limit. The maximum file size limit for photos, videos, and voice messages is 16MB. Usually, a video of duration from 90 seconds to 3 minutes comes under this limit. If anything is large than this, you can send it as document on WhatsApp but it also has max file size limit of 100MB. You will also notice some reduction in the quality of your photos and videos when you send them over WhatsApp.
When it comes to the file size limit, Telegram is clearly the winner as it allows you to share large files up to 2GB. This is way too much as compared to the 100MB limit on WhatsApp. 2GB is enough to send any type of large file including movies, documents and HD videos. Recently, it is being reported in the news that WhatsApp is also going to increase its file size limit to 2GB. Let's see what changes WhatsApp brings in the future!
Telegram channel vs WhatsApp broadcast
If you need to send the same message to multiple people, WhatsApp limits you to forward it to only 5 chats maximum. Although you can create a WhatsApp Broadcast list but again you are limited to adding a maximum of 256 people to it. Telegram, on the other hand, has channels where you can send public messages to a large audience. There is no limit on the number of people that can subscribe to your channel.
Telegram channels can be used for marketing purpose to promote your content. WhatsApp may have the drawback of not targeting a large audience but with the WhatsApp Business app, small business owners can communicate with their customers more efficiently. WhatsApp Business provide some advanced features like automated messages, fully customised business profile, chat labels, and quick replies among many others.
Customisation: WhatsApp vs Telegram
Telegram
You can add multiple photos in your profile picture.
You can change the background of your chats with custom image.
You can create your own custom themes and change the look of your Telegram completely.
Auto night mode feature which enable dark mode on the app.
WhatsApp
WhatsApp has comparatively less number of features when it comes to the customisation. Although you can change the background wallpaper of your chats and enable dark mode to give a new look and feel to your WhatsApp.
User interface: WhatsApp vs Telegram
If you look at the user interface of WhatsApp, it has a very simple material design made of green and white colours mainly with three tabs on the main screen titled Status, Chats and Calls. The menu is available at the top-right corner with three dots button. The iOS version of WhatsApp has quite different user interface with 2 extra tabs for Camera and Settings. WhatsApp is very easy to navigate mainly because of its user friendly interface.
Now if we talk about the user interface of Telegram, it's pretty much similar to the user interface of the Android version of WhatsApp. Telegram has a very simple and minimalistic UI which gives very handy access to all its features. You get all your chats on the main screen and menu on the left side which can be accessed by clicking on the hamburger icon at the top-left corner or swiping the screen from left. The good thing about Telegram is that you can customize the appearance of the app in whatever way you want with custom colors and themes which isn't possible with WhatsApp.
Private chatting: WhatsApp vs Telegram
Telegram has a feature called Secret Chats which allows you to send self destructive messages with end-to-end encryption that are automatically deleted from the recipient's phone after a set amount of time by you. Secret chats also restrict the recipient from forwarding your messages to someone else. This way, Telegram provides you a secure way to do private chatting.
WhatsApp doesn't offer any such secret chat facility. Although, a new feature is introduced in WhatsApp named View Once which lets you send disappearing photos and videos that are deleted automatically after they have seen by the recipient. This is all you get in the name of private chatting on WhatsApp. Luckily, both the messaging apps have this feature to delete messages after they have been sent. Telegram has no time limit on this, whereas WhatsApp gives you only 1 hour, 8 minutes and 16 seconds to delete your message.
Multiple devices and sessions
Telegram can be used on multiple devices at the same time but this isn't possible with WhatsApp. WhatsApp requires the SIM card of your registered phone number inserted in your device to keep your account active. If you remove the SIM card, it will automatically logout. Telegram, on the othe hand, can be logged in simply by entering your phone number and OTP verification. There is a workaround by which you can use your WhatsApp on multiple devices via WhatsApp Web feature. Telegram also offer its web version which can be accessed through any web browser. Everything including your chats and draft messages are synced across all devices instantly.
Some other features
Some features are only available in Telegram while there are some other features that are only available on WhatsApp. For example, Telegram has Bots which are small programs developed by third parties to make you perform certain tasks. This kind of feature is not available on WhatsApp. Similarly, WhatsApp has a status feature which isn't available on Telegram.
Another example is WhatsApp Payments which lets you send and receive money through UPI. Telegram doesn't have any payment feature as of now. Some features are available on both messaging apps such as video and VoIP calling, custom stickers, web versions, and starred messages among many others. More or less, both Telegram and WhatsApp have the same amount of features.
Final verdict: Which is better
If you will ask us to determine which one is better between WhatsApp and Telegram, we would say that both these apps are almost the same but it depends on what purpose you want to use them for. For personal messaging and chatting, WhatsApp is definitely a good option.
Telegram has more wide usage than just being limited to an instant messaging and personal chatting app. You can connect with people you don't know, join Telegram groups of your choice, use it for marketing purpose, explore topics and discuss things with other like-minded people.
As far as privacy and data security are concerned, each person may have their own perspective. If you make your privacy a priority, then Telegram can be a good option for you. But that doesn't mean that WhatsApp is behind Telegram in any way. The basic features of both the apps are same i.e. text messaging, file sharing and VoIP calling.
We hope you liked our comparison. Let us know which app is your personal favourite. If you have any questions in your mind, feel free to share them in the comments below. Don't forget to share this article with your friends.