Discord has become one of the most powerful community based platform for people with different interests. Chats, discussions, streaming, you name a thing and Discord has everything for its users. But no matter how immaculate an app looks from the outside, the daily users definitely find certain flaws that restrict them from getting the best user experience.
While chatting daily on your favorite Discord server, there must be times when you would love to share a really exciting video. But due to the file size restriction from Discord, you don't have much choice but to hold back.
Discord only allows its users to send files not larger than 8MB, and we all know quite well that videos can easily cross that limit. This makes it hard for us to share our favorite videos with others on Discord. But this doesn't mean there is no workaround to send large video files. By using a few tricks, you can easily share files as large as you want without any restrictions related to file size and the good thing is that these tricks are completely free to use.
1. Use Discord Nitro
Nitro can be said as the gateway to unleash all the benefits of Discord that are not available to the normal user. When it comes to sending the video files, a free Discord user can not send a video of more than 8MB. But if you are a Nitro user, you can send a video up to 50MB in size. Normally you have to purchase the Nitro for your Discord account, but there are a few tricks that can help you get Nitro for free. These tricks include participating in giveaways, leveling up in servers, taking part in contests, and so on.
2. Compress your videos
A simple trick to reduce the file size is by compressing the video that you want to share on the Discord server. There are plenty of videos compressing tools and apps available for all the operating systems that can be a helping hand in sharing a large video on Discord.
If you use the Discord app on PC, you can search for the video compressing software online. There are both online tools and offline software available. Apart from that, you can also use a video converter tool to convert your video in a different format which has relatively lower quality as your current format.
One of the popular video compressor software that you can use for the purpose of compressing your videos for Discord is HandBrake. If you are looking for an online tool, then there are so many option available. One of the top search results that we found on Google is Video Compressor by FileConvert website.
You just need to upload your video on the online video compressor tool and choose the settings as per your choice. Once the compression is completed, just download the video on your PC. If the file size is less than 8MB then you can upload it on Discord, else try to compress it again.
Using an online video compressor tool will take some time depending on the size of your video and internet speed, whereas offline software can do the compression very fast as they work on your PC locally. If you just want to compress a single video, then using an online tool is better option but if you will need to compress more videos in the future also, then it's better to have a dedicated software on your PC for this task.
Similarly on a smartphone, you can download a video compresser app on your Android or iOS device. There are a number of third-party apps available on Play Store and App Store for free. Just download any of them based on their reviews and number of downloads. Using these video compressor apps is super easy. You just need to load the video in the app and compress it till it comes under 8MB in size.
3. Reduce video resolution
If your video is high in resolution, lets say 780p, 1080p, or 4k quality, then the easiest way to decrease the file size is by changing the video to some lower resolution let's say, 480p, 360p, or even lesser resolution like 280p, or 144p. For changing the resolution of a video, again you will require a video compressor or video editing app.
There are a plenty of software available online that can be used for this purpose. You just need to find a good video editor software, load your desired video on the app and select the lower resolution while downloading the video. Apart from resolution, changes in bitrate and frame rate (aka fps) also matter a lot for reducing the video size. Keep all these settings as lower as possible.
For the mobile devices, you can use the same online software, but it might be a little hard to use a video editor online. So it would be better if you can download a good video editing or compressor app from the respective Play Store or App Store on your smartphone. Simply load your video in that app, select the export settings as per your choice and let the magic happen. Please keep in mind that more lower the resolution, bitrate and fps is, the more lower will be the size of your video.
4. Upload videos to Google Drive
This is the best and easiest way to share a large video on Discord, especially if you want to send it personally to someone. Google Drive provides you 15 GB of storage that comes free with your Google account and you can upload any kind of file on this storage without any file size limit. This step-by-step guide will show you how to upload large videos on Google Drive and then share them on your Discord –
Open the Drive app or visit drive.google.com website on your PC and and click on the New option given at the top-left side of the screen. From the drop down menu that appeared, click on the File Upload option.

Now select the video from your PC that you want to send on Discord.
It might take some time in uploading the video, according to the its size. The video can be see in the recent section of Google Drive. Here you need to right click on the video and select the Get link option.
Click on the restricted option now and change it to Anyone with the link. With this option selected, everyone with the video link will be able to watch it.

Just copy the link of the video now and share it on Discord with people you want to show it.
5. Upload videos to YouTube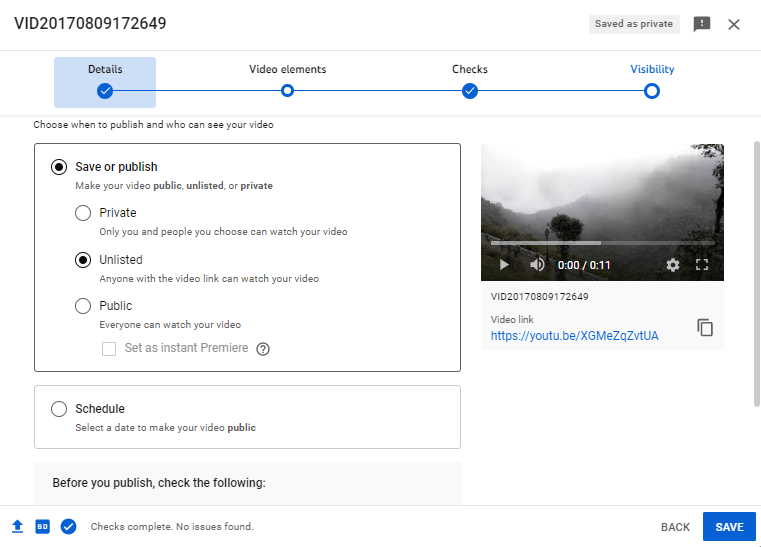 This method is equally easy to follow as the Google Drive one. The benefit of sharing large videos on Discord using Youtube is that you don't need to worry about the size of the video. As there is an option in the app to select the video in multiple resolutions, you don't need to reduce the file size by changing the resolution of the original video or compressing it. Once the video is uploaded, you can select the unlisted option and show the video only to those people you want to show. There is no limit to the number of videos you can share with YouTube on Discord.
6. Upload videos to Imgur
Some people might resist sharing a video on a public place like Discord using the service of their Google account as in the case of Google Drive or YouTube. If it's so, Imgur is an option you should go for. It is a popular video and photo-sharing app that can be easily used for sharing Discord large size videos. Though there are some limitations in Imgur too, like the video should not be more than 200MB in size and not more than 60 seconds.
You just need to go to the Imgur website on your PC or you can also use the mobile app of the same. On the home page of the app, click on the New post option and then upload the video you want to share with your Discord friends. Once the video is uploaded, select the option that says, Yes, keep the audio and then click on Grab Link. After that, copy the link of your video and finally share it on the Discord app. As simple as that!
Conclusion
There can be several reasons why Discord has enforced 8 MB size limit for sending videos. As you may already know, videos can take up huge amount space that can range from few MBs and can also go up to GBs. If Discord has not allowed users to upload large videos, then maybe this was done to save their storage space on servers.
Apart from that, video uploading limit is a part of the Discord marketing strategy for Nitro subscription. That's why if users upgrade to the Nitro plan, they get to upload bigger file size videos as well. Anyways, if you are a free user and you are looking for some alternative ways to send large videos on Discord, then you can try out the methods we have shared above. They are absolutely free and easy-to-use.
If you find this guide helpful, do share it with friends so they can also know about these workaround to bypass Discord video uploading limit. You can also ask your personal questions in the comments below. Don't forget to check out more Discord related articles on our website.