Airtel and Jio are the two most popular network providers in India. Are you confused which one is better in terms on network speed, network availability, pricing & plans, and customer service? Here we have shared an in-depth comparison of these two giant network companies based on reports from OpenSignal, Ookla, and user reviews from various regions in India.
Did you remember those days when we used to get only 1 or 2GB of data for a month and that too at a very high price? Back then only 2G network was available and we also have to struggle a lot to get a good internet speed. Reliance Jio totally changed the scene of Telecom industry in India and brought a revolution with the launch of its 4G network at cheap pricing.
Over the last few years since the launch of Reliance Jio, there has been a constant war between various telecom companies for pricing and data plans. Following the footprints of Jio, other telecom companies also reduced the prices of their plans to survive in the market and keep the customers engaged. There is a tough competition to provide more and more data to the customers for less money.
Now coming to the present time, a question arises in everyone's mind that whether Reliance Jio is actually a good network provider. A lot of users have reported slow internet speed and network issues. The same type of questions goes with the Airtel as well. To clear all your doubts, we came up with this article where we have compared the services of both Reliance Jio and Bharti Airtel based on various aspects. By the end of this article, you will be able to decide which network provider is best in India. Let's get started!
Download Speed – Airtel vs Jio
Reliance Jio provided really good downloading speed in its initial days. This was done to attract more and more customers. With the increase in the number of customers, their service quality has also gone down and Jio is not bringing any improvement in it.
In many places, the Jio network gives very slow internet speed which can be compared to 2G network. Moreover, once the daily data get exhausted, Jio promises to provide 128kbps speed but in reality, the user even struggle to browse the Internet. Many people even say that Jio is now 4G only for name.
It is important to note that there are various factors that affects the internet speed of a network. The situation we have described above is not everywhere. At some locations, Jio is providing good network and internet speed. But overall we can say that Jio has poor internet services as compared to Airtel and to itself also when it was launched.
Now if we talk about Airtel, the only thing that kept Airtel survive in the market over these last few years is their service quality. Airtel is actually value for money when it comes to 4G internet speed and this can be proved from the reports by OpenSignal and Ookla which conduct independent speed testing.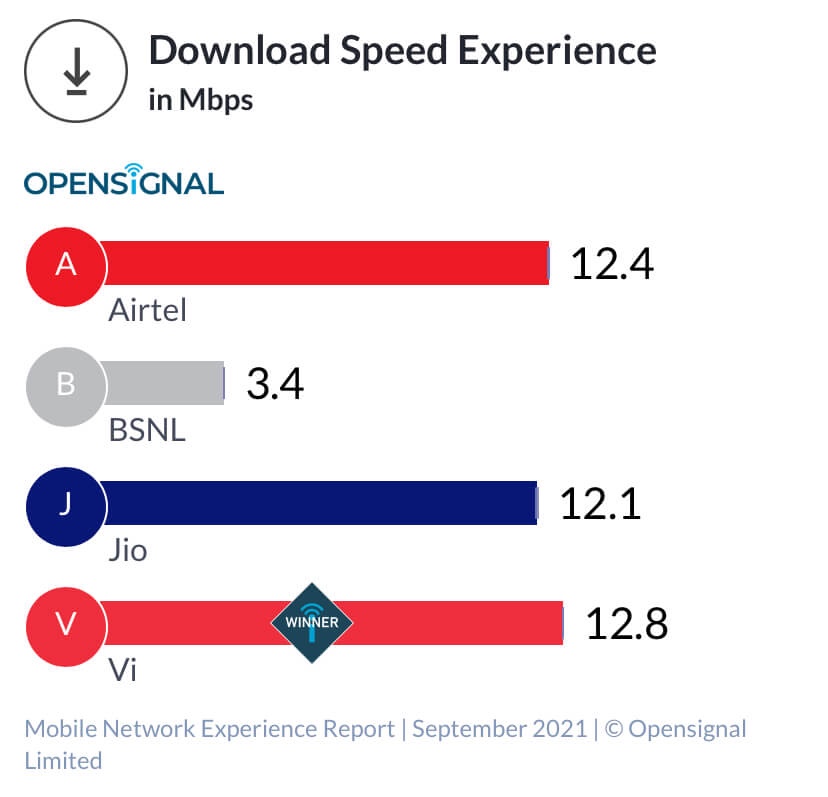 As you can see from the above picture, Airtel has better downloading speed as compared to the Reliance Jio. Again we would like to mention that the internet speed depends on a number of factors. It may be possible that Jio is providing better network speed that Airtel in your locality or region.
Winner in download speed – Airtel
Upload Speed – Airtel vs Jio
Now let's talk about uploading speed. Who do you think will be the best in this case? Again, Airtel is the winner here. Airtel is 4G in true sense and the internet speed it provides whether it is uploading or downloading, both are exceptionally good. From the OpenSignal report below, you can see that the Airtel has an average 3.8 Mbps speed whereas the Jio has 3.3 Mbps.
Winner in upload speed – Airtel
Network Availability – Airtel vs Jio
When it comes to network availability, there is no doubt in the fact that Reliance Jio is better than Airtel. It has network towers all over the country even in rural areas and remote places. Whether you are at mountains or in a village, you will get Jio network on your phone. But the same is not in the case of Airtel. As of now, Airtel is more active and prominent in urban areas. But if you will visit the remote and rural areas, you will definitely struggle to get Airtel network.
Winner in network availability – Jio
Pricing & Plans – Airtel vs Jio
We all know that Jio is known for its cheap data plans. There are various 4G data plans offered by both these telecom companies and they are in close competition with each other. For Airtel, we can say that it has slightly higher data plans as compared to the Reliance Jio.
Jio gives an all-in-one pack for all services including the data, SMS, caller tunes and other additional services. But with Airtel unless you're on special tariff vouchers you have to recharge for multiple packs. Airtel also need recharge to continue incoming calls irrespective of your tariff. Apart from that, the extra data plans on Airtel are very high.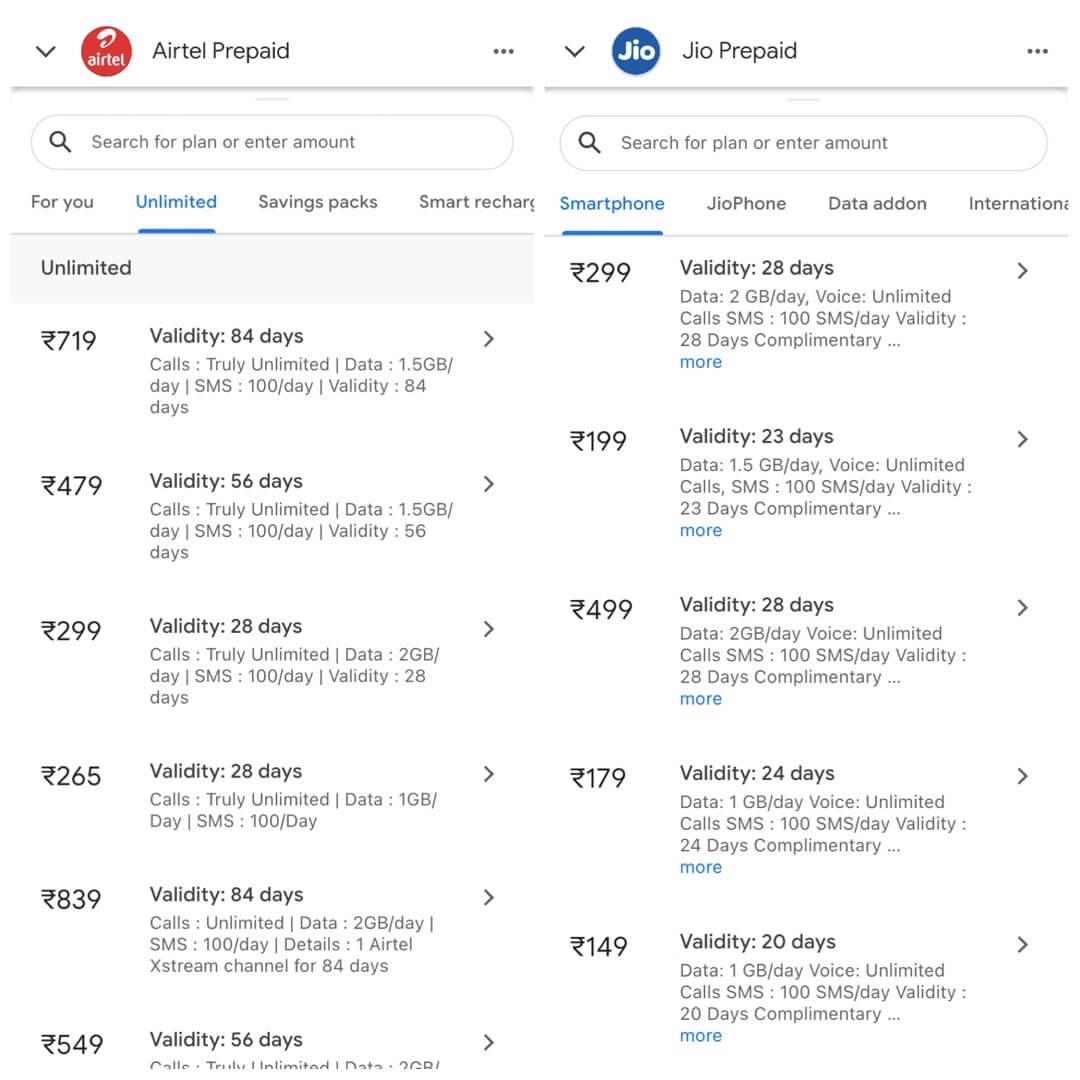 Winner in pricing & plans – Jio
Customer Service – Airtel vs Jio
The last thing left to compare between these two network providers is their customer service. There is a mixed reviews from users on the customer support from Jio and Airtel. Both of them have toll-free helpline numbers, live chat system and grievance email address where you can submit your complaints.
As reported from some users, Airtel customer support actually listens to your problem and work upon the issues as soon as possible. Reliance Jio, on the other hand, takes customer complaints lightly and gives irrelevant excuses without sorting your problem actually. However, this may not be true always and in every case.
Winner in customer service – Tie
Final verdict – Airtel vs Jio
From the above detailed analysis, it is really difficult to declare which network provider is best in India. Both Airtel and Jio are no less than each other. If Airtel is better in one aspect, Jio is better in another. We are not going to tell you which network provider you can use. You have to decide it yourself based on your needs and availability.
If you consider internet speed as your first priority, then Airtel is better. On the other hand, if you frequently travel to remote areas and you are concerned about network availability, then Jio is a better choice. You should check which network has better signals in your locality and ask from people around you to know their views.
If you have Airtel tower close you to place, then Airtel is going to provide better internet speed to you and vice-versa. So make sure to keep these things in your mind before coming to any conclusion. Let us know your personal reviews about the network provider you are currently using. Which one is better according to you – Jio or Airtel? Don't forget to share your thoughts in the comment section below.