Airtel is the India's largest telecom company with millions of customers across the country. A lot of people use their 3G and 4G Internet services. If you are also one of them and you want to check the data balance of your Airtel prepaid or postpaid plan, then you will get to know some unique and useful methods in this tutorial.
It is very important to know your net balance so you can plan your data usage for the remaining hours and find out how much internet data is left on your account. Many times we continue to use the Internet without checking our data usage and then end up getting all our data exhausted way before its scheduled time.
How to check net balance of Airtel SIM
There are basically two methods by which you can check 2G, 3G or 4G data balance of your Airtel mobile number and both these methods are really easy. In the first method, we will be using some USSD codes. USSD, as most of you may already know, is a feature code that you can dial on your phone dial-pad and it will provide you information about your data balance.
In the second method, we will be using the Airtel's official mobile application called Airtel Thanks. This app is available for Android and iOS. You can download it from the respective app store on your smartphone. With the Airtel Thanks app, you can not only check the net balance but also do other things like recharge your mobile number, get extra data when your daily data get exhausted, check the latest plans/offers, and more.
Check data balance on Airtel using USSD code
If you want to check the data balance of 2G, then dial *123*10# from the dialpad of your phone. This code works on almost all the states of India, however, now very few people use 2G Internet service because all the users have shifted to 4G due to the cheap data plans and good internet speed. Since the launch of 4G in India, the use of 2G internet has become negligible.
Airtel users can dial *121# to know about the main balance and validity of their phone number. After dialing this USSD code, a pop-up box will come up on your mobile screen where you will see various option. Choose 2nd option to know your balance information. To get all your account details, you can go to 5th option i.e. My Account Info.
To know Airtel's 3G net balance, you have to dial *123*11#. After that, if your mobile number has 3G data plan then its information will display on your mobile screen. On the other hand, if you have Airtel's 4G data plan, you can dial *121*2# USSD code and then choose 1st option (Current Pack Info) to know your net balance. You can also find details of the add-on data pack with the same code.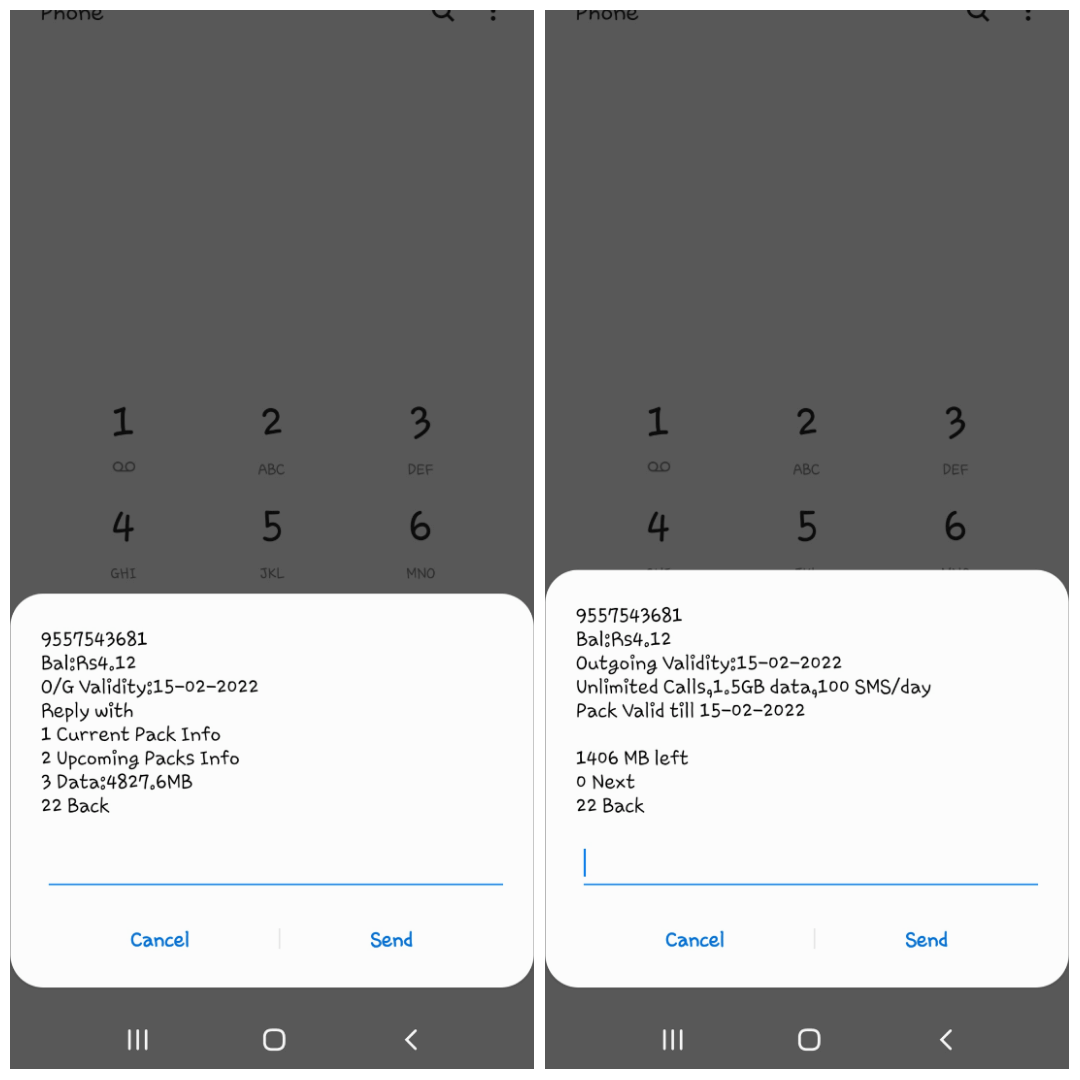 Here we have summarised all important Airtel USSD codes:
Dial *121# to get all Airtel services at one place. You can find your balance, check new offers, recharge your mobile, find account information, and other services.
Dial *123# to know the calling balance and validity of your Airtel phone number.
Dial *121*2* to know the 4G data balance of your Airtel number. After that, you have to choose Current Pack Info option.
Check data balance using Airtel Thanks app
Today, almost all telecom companies have launched their official apps for balance information and other services. With the help of the application, users can view net balance, monitor data usage, check latest offers, and even recharge their mobile number.
If you are an Airtel user and you want to use these services on a regular basis, then you should install its app on your smartphone which comes by the name Airtel Thanks. This app is available for both Android and iOS users. Simply go to the Play Store or App Store and search for its name.
This step-by-step guide will show you how to check your data balance using the Airtel's official app –
Download and install the Airtel Thanks app.
Launch the app once it is installed on your phone and tap on the Let's Start button. You will be asked to allow some permissions to the app such as phone calls, device location, contacts, etc. Skip the unnecessary steps.
Next you have to provide your Airtel mobile number and then an OTP (one time password) will be sent to it which you have to enter in the app for login verification.
Once you are logged in to your Airtel account, you will see you data usage, net balance and validity information on the homepage. Click on Daily Data Left option to know more details about your data plan.
You can buy an extra data or recharge your phone number. Explore the app for more services and features.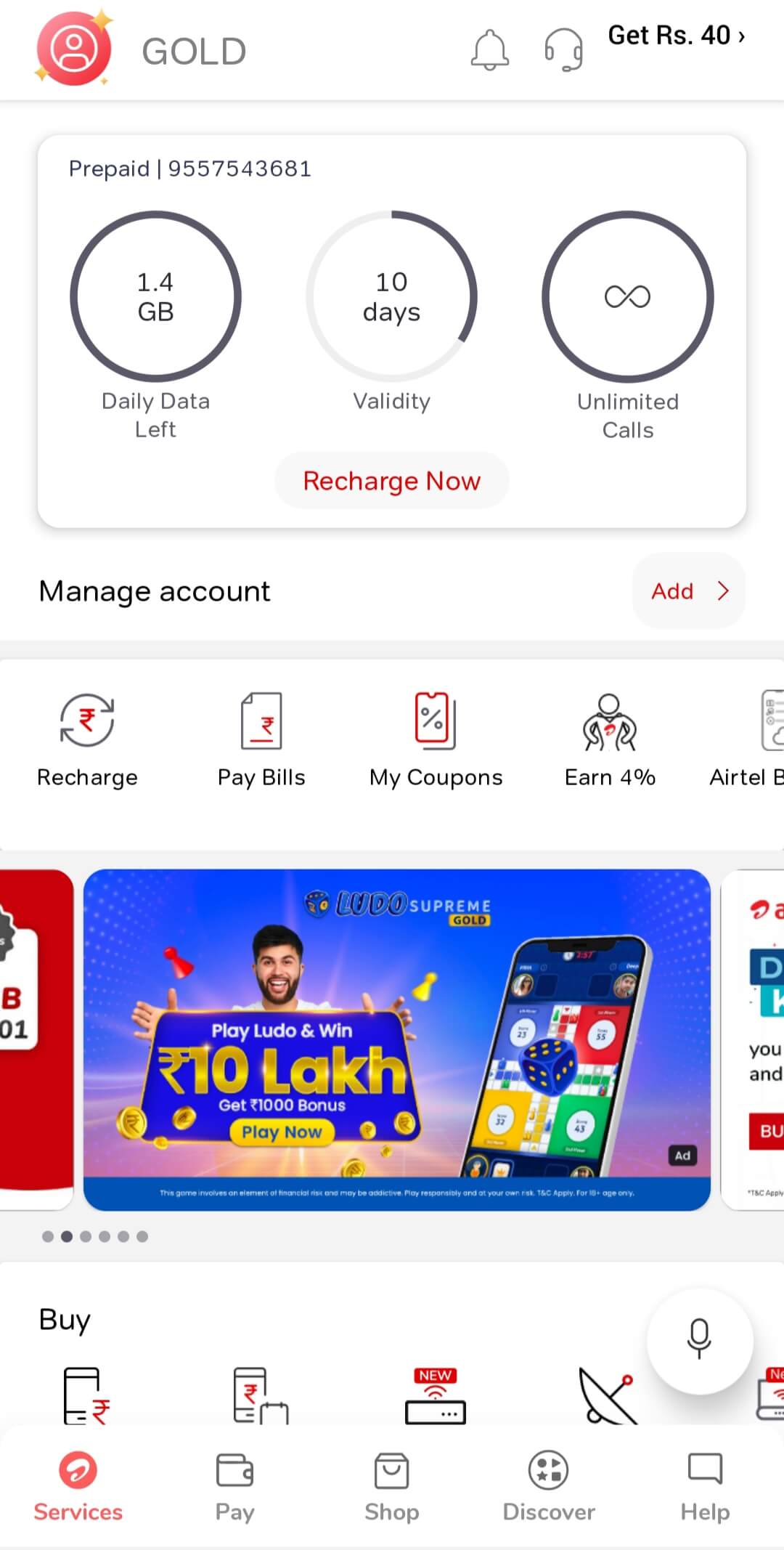 Check data usage on your smartphone
You can also track data usage on your smartphone to know how much daily internet data is left on your data plan. Most of the Android phones have this feature in the Settings. Simply open the Settings app and look for Data Usage option. You will find it under Connections. Next select Mobile Data Usage option and this is where you will find all information.
There are two useful features which can help you control your data usage. The first one is Data warning which lets you set a particular data limit. Once you cross this limit, you will see a warning message on your phone. Another feature is Set data limit. This allows you to turn off the mobile data automatically when the specific limit is reached.
If you have an iPhone or iPad, you can check your daily data usage information from Settings > Mobile Data > Usage. You will also find a list of apps which are consuming the most data on your phone. You can toggle off their button to disable the mobile data access. For more tips, read our detailed guide on how to reduce data usage on iPhone.
Check data usage SMS from Airtel
Airtel automatically sends you SMS messages on your phone number to alert you about your data usage. The first SMS you will receive when you cross the 50% data usage limit. You will receive another message when your surpass 90% of your daily Internet data. These SMS are really helpful to alert you so you can control your data usage and save some of it for later use.
Conclusion
So these are some methods by which you can check data balance of your Airtel mobile number. We have shared all possible methods in this article from USSD codes to Airtel Thanks app and the native feature in your smartphone to monitor your data usage. Using the USSD codes is one of the easiest methods as it doesn't take much time.
However, if you want to check your data usage and net balance frequently, then you can consider installing Airtel Thanks app on your smartphone. So that's pretty much everything you need to know about this topic. Let us know if you have any questions in your mind. Stay tuned with us to get more interesting articles and updates on our website.