There is a limit to the number of screens you can watch Netflix on at the same time which depends on the plan you have chosen. You have probably given your Netflix password to many people including your friends and family members. If your Netflix is signed in on too many devices and the number of people watching it at the same time exceeds your screen limit, you might not be able watch Netflix on your own device.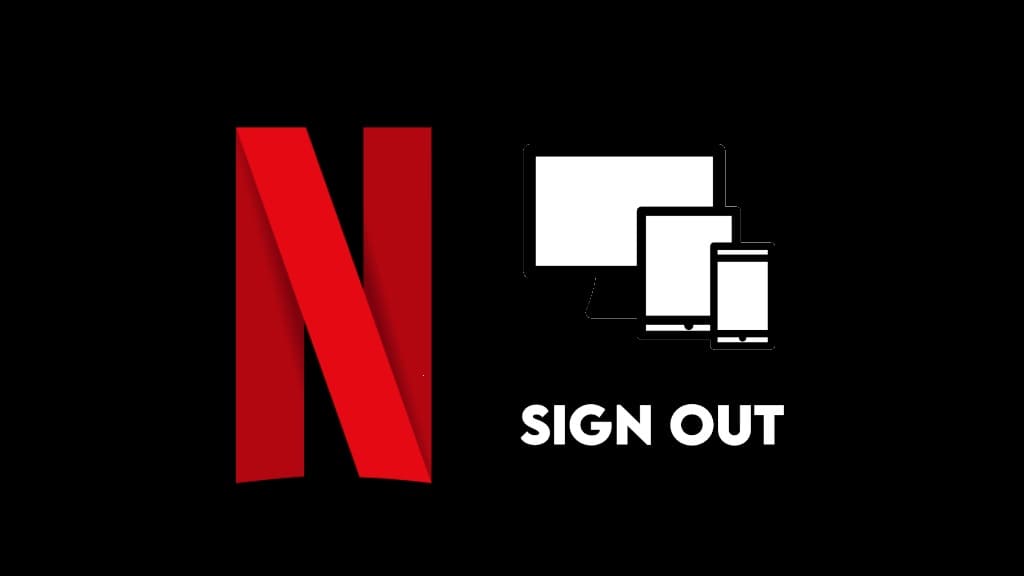 This guide will show you how to remotely sign out of all devices associated with your Netflix account at once. You can even sign out of devices that you don't have access to. If someone knows your password and you don't want them to use your Netflix anymore, you can change your password to restrict them from accessing your account permanently.
Remotely sign out of all devices on Netflix
Netflix has an option in the account settings to sign you out of all devices remotely. Here are the steps you need to follow –
Open any web browser on your PC or smartphone such as Chrome and visit the Netflix website. Make sure that you are logged in to your Netflix account. If not, then sign in first and then continue with the below steps.
Click on your profile icon in the upper-right corner of the screen.
Tap the Account option from the menu.
Under Settings section, find and click on Sign out of All Devices.


You will be asked to confirm your action. Tap the Sign Out button. That's it! You have successfully logged out of all devices associated with your Netflix account.


After this, you will need to log in again on all devices where you want to use your Netflix. Please note that if someone knows your Netflix password, they can also re-login again without letting you know. If you don't want this to happen, you need to change your password. We will discuss this topic in the next part.
Note: Netflix can take up to 8 hours to reflect the sign out across all devices. In the meantime, your Netflix account may still be logged in on some devices. This means people will have access to your Netflix up to 8 hours after you initiate the sign out. This might have something to do with the different time zones where your Netflix account is logged in.
How to stop someone from using your Netflix
If you have given your Netflix password to other people, they will be still able to login to your Netflix even after your sign out of their devices remotely. If you want to restrict others from logging in to your Netflix, the only option is to change your password. This will complete log them out from your account. Just follow these simple steps –
Login to Netflix and hover the mouse over your name in the upper-right corner. You should be in the primary account holder's profile.
Choose Your Account option. If you are using Netflix mobile app, go to the menu and select Account. This will open a link in the browser that will take you to the Your Account page on the Netflix website.

Now click on the link that says "Change password" in the Membership & Billing section.
After that, you have to enter your current password and the new password you want to create. Re-enter your new password to confirm.

To sign out your Netflix account from all devices where it's logged in, make sure check the "Require all devices to sign in again with new password."
Finally, tap the Save button. You have successfully changed your Netflix password.
Frequently asked questions
How many devices are allowed on Netflix?
The number of devices allowed on Netflix depends on your subscription plan. For example, the Standard plan allows streaming on two devices simultaneously, while the Premium plan allows four devices. If you have a Basic or Mobile plan, you are allowed to use only one device at a time. You can check your plan's details for the exact number.
Does Netflix notify you when a new device logs in?
Yes, Netflix does notify the account holder via email when a new device logs into an account. This email serves as a security feature to keep the account holder informed about any unauthorized access to their Netflix account.
How many profiles can you have on Netflix?
Netflix allows you to create up to five different profiles on a single account. Each profile can be customized with its own viewing preferences and recommendations.
Why can't I remove a device from my Netflix account?
Netflix might display the error message "Sorry, this device can't be removed now" if you've already removed several devices with downloads from your Netflix profile. In this case, you'll need to wait for some time before attempting to remove another device. Alternatively, you can try deleting all downloads directly on the device using the Netflix app.
How can I see how many devices are using my Netflix?
To check how many devices are using your Netflix, log into your account and tap your profile icon in the upper right-hand corner. Select "Account" from the drop-down menu. After that, scroll down to "Security and Privacy" and tap on "Manage access and devices". Here, you'll find a list of the recently active devices, along with device type, the profile used, and the time of the last activity.
Wrapping up
If you have signed in to Netflix at a hotel or on someone's device to watch your favourite TV show or movie, you can sign out of that device remotely using the first method. On the other hand, if you have given your Netflix password to your friends and you want to log out of your account from their device(s), you need to change your password for a permanent solution. We hope this guide has been helpful for you. If you have any questions, let us know in the comments below.
Read other similar articles: