Instagram stories provide a new way to share photos and videos with your followers. Unlike normal posts, stories stay in the news feed for 24 hours only. They get deleted automatically once after completing this time period.

Instagram stories can also be added as Highlights which appear on the profile as long as you want it to appear there. The stories on Instagram can be seen by various people based on the privacy of the profile.
Sometimes you may come across a story on Instagram that you want to download on your phone for some reason. For example, you may want to download your crush's new picture or you simply want to reshare a funny meme which someone has posted on their story.
Unfortunately, Instagram doesn't have any built-in option to download stories directly. It may be due to the user's privacy. But luckily, there are some workaround methods that you can use to download photos and videos from Instagram stories and highlights.
These methods can be used to download stories from both public and private Instagram profiles. Let's start with the first method!
1. Download Instagram stories using app
There is an app on Google Play Store named Story Saver. As the name itself suggest, it allows you to save stories from Instagram on your phone. Here's how you can use it –
Download and install the Story Saver app on your phone. It's available for free.

Open the app and sign in to your Instagram account. You can also use Facebook to sign in. The app will redirect you to login page where you have to enter your email address (or phone number) and password.

Once you are logged in to your Instagram account, you will see a list of users who have posted stories. Find and click on the user whose story you want to download. You can also use the search option at the top.

Next, click on the story and then click the Save option. That's it.
The downloaded story will be saved in your phone's internal storage and you can find it the gallery app. If you frequently download stories of any user, you can add it to your Favorites list in the app so it will always appear at the top.
You can also try another similar app – Story Saver by InShot Inc. In addition to the previous app, this app has some extra features like you can also download the Instagram story highlights in it.
2. Dowload Instagram stories using online tool
There are so many online websites on the internet that provides the facility to download stories from Instagram. You don't even have to give your login credentials, however, this method will only work on public Instagram profiles.
One of the websites that you can use is SaveFrom.net. This website offers Instagram Story Downloader tool. Simply, visit the website and enter the username of the person whose story or highlights you want to download.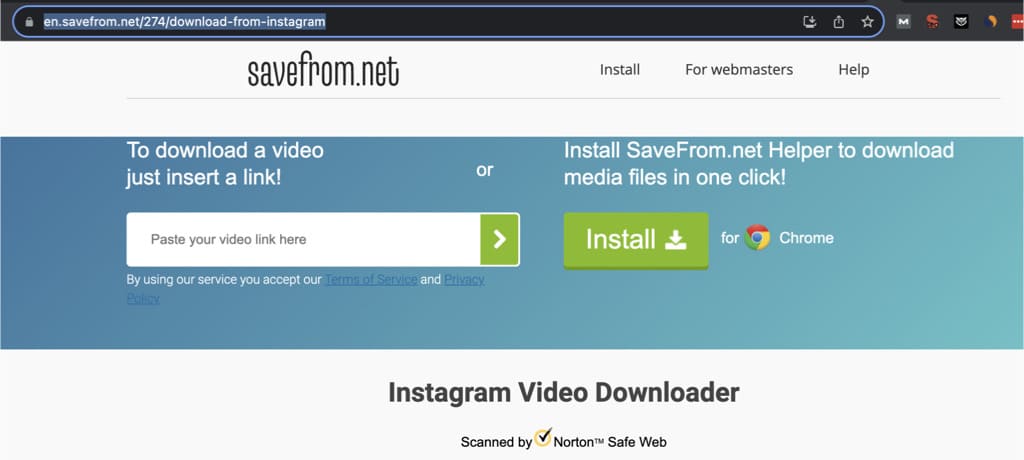 Once the website finishes searching, it will display all the photos and videos that the user has shared in their stories. Find the story you're looking for and tap the "Download" button on it to initiate the download process.
If you don't know the username of a person, open the Instagram app and search for their profile. Tap on their profile to open. The username will be displayed at the top of their profile page.
Since this method only requires a web browser, it is compatible with all types of devices and operating systems. You can use it on your smartphone, computer, laptop, or tablet without any limitations.
3. Use Chrome extension on computer/PC
If you are using Instagram on your computer/PC, then you can also use a Chrome extension to download photos and videos from Instagram stories and highlights. There are a couple of Chrome extensions available for this task. One of them is Downloader for Instagram.
As you may already know, first you have to add this extension in your Google Chrome browser. You can directly add it from the Chrome Web Store. Once it is added, you will see the icon of the extension at the top-right corner on the browser tab.
To download Instagram stories, you simply need to go to the Instagram website and open the story. There you will see an option for downloading. Apart from downloading stories, you can also use this extension to check direct messages on Instagram from your computer/PC.
4. Take a screenshot of the story
If you just want to download a photo from the Instagram story, there is no need to use any app, website, or extension. You can simply take the screenshot of the story photo on your smartphone. As simple as it sounds!
All iPhones and Android smartphones have a built-in feature to take screenshots. For example, on your Android phone, you can press and hold the power off and volume down buttons at the same time.
When you are taking a screenshot of an Instagram story, long-press on the screen so that the story stops forwarding and you get a clear shot without the username and reply section on it.
5. Record story video using screen recorder
You can also use a screen recorder to save the story video from Instagram. There are so many screen recorder apps available for Android. You can download them on your phone from Google Play Store. On the other hand, if you have an iPhone, you can use its built-in screen recorder which is available in the Control Center.
6. Save your own Instagram story
If you want to save your own Instagram story, there is no need to use any third-party tool as Instagram has a built-in feature for it. When creating a new story, simply click the download arrow icon at the top to save that story on your phone locally.
If you want to save a photo or video from the story which you have already posted, then just open that story, tap the three dots button at its bottom-right corner and then click the "Save video" or "Save photo" option. The story will be saved on your phone after this.
Here are few more useful tutorials that we recommend you to check out:
So these are 6 simple methods that you can use to download photos and videos from Instagram stories on your iPhone, Android, computer/PC or any other device. Please note that if you want to use someone's story in any way, you should ask for their permission first. Finally, give us your feedback about this tutorial in the comments below.