Are you among those addicted Instagram users who keep checking their news feed every now and then, continuously scrolling the reels for hours and swiping the every bit of stories? Instagram, which is the current most popular and trending social media platform, is also among the most addictive mobile apps. According to the press release by Instagram itself, an average person spent around 28 minutes of the platform every day. While some people are so addictive that they waste 4-5 hours of their previous time on Instagram and this may be even more larger for others.
In today's time, social media has become a great necessity for all of us. It is a part of our daily life now. Everyone from our friends to family members, relatives, and colleagues are on social sites like Instagram so it become necessary for us to join them. Spending a small period of time on social media to hangout with your friends and check latest updates is absolutely okay but if you make this your addiction and waste hours of time, it is going to affect you in the long run. Instagram addiction is a kind of behaviour addiction that can affect you mentally and make you less productive.
If you are also addicted to Instagram and want to get rid of it, this article is going to help you for sure. We have shared some methods to help you restrict your Instagram usage by setting daily time limit with reminder and app lock. You will also be able to find out how much time you spend on Instagram daily. Let's get started!
How to set daily reminder on Instagram
Instagram is well aware of the fact that people are addicted to using their app and for that reason, they have provided some features to help you reduce your usage and take a break. One of the most useful features is daily reminder using which you set daily time limit on Instagram. You will get a reminder on your screen once you have reached the time that you have set for yourself. These steps will show you how to set daily reminder on Instagram –
Open the Instagram app on your smartphone. Make sure that you are logged in to your account.
Click on your profile picture icon at the bottom-right corner and this will take you to your Instagram profile.
Tap the hamburger menu button (three parallel lines) at the top-right corner and then choose Your Activity option from the pop up menu that appears on your screen.

Now switch to the Time tab by clicking on it from the top. You will find two tabs under Your Activity screen named as – Links and Time. By default, you will land on the Links tab where you will see a list of bio links that you have visited on Instagram.

Under Manage your time heading, you will find an option named Set daily reminder. Just click on this option.

Now you will be asked to set the time limit for your Instagram usage. Select the hours and minutes and tap the Set Reminder button. That's it!
Now whenever you will reach the time limit that you have set for yourself, Instagram will send you a reminder about your usage. Please note that this feature doesn't fully restrict you to use Instagram. You can ignore the reminder and continue using the app. If you want more advanced restriction, you can apply password lock which will complete disable your access to Instagram. This feature is available in the internal settings on iPhone and some Android smartphones. We will discuss that later in this article.
Check daily time usage on Instagram
Instagram also record how much time you spend on their app daily. This can be found from the same Time tab on Your activity page. Follow the same steps as we have shared above. On the Your activity page, move to the Time tab and there you will find a section named Time on Instagram. You will see the average time that you have spent per day using the Instagram app. Please note that this time spent is only for the device that you are currently using. If you have any other device also where you use Instagram, it will have its own data. There is a graph as well which shows your daily average usage on Instagram over the last 7 days.
Manage Instagram notifications
One of the distractions on Instagram is its annoying notifications. There are of various types including messages, calls, likes, comments, posts and stories of the pages that you have followed, and more. Notifications grab your attention and you end up wasting a lot of time because of them. You can pause or mute all such notifications and this will help you reduce your daily Instagram usage. To manage your Instagram notifications, again go to the Your activity page > Time and click on the Notifications settings under Manage your time heading. Now you can either Pause all notifications or manually choose the ones you want to receive.
Set iPhone's app timer on Instagram
iPhone has a built-in feature in its Settings app named Screen Time which keep record of all your usage activities and also provide some tools to keep control of your addictive habits. To check how much time you spend on Instagram, simply open the Settings app on your iPhone/iPad and click on Screen Time option. Next, click the See All Activity option and choose to display the data on Week or Day basis. Select the Instagram from the list of Most Used apps shown below. Now you will find all your screen time and daily usage information of the Instagram app.
You can also set a password lock on Instagram using the App Limits feature on iPhone which will restrict you to use the app after the time you have set. To do this, go back to the Screen Time page and click on the App Limits option. Next, switch on the button and then enter the 4-digit passcode you have to use for the app lock. Tap the Add Limit option and then you will be asked to choose the app(s). Expand the Social category and select Instagram followed by clicking on the Next option at the top-right corner. Now set the time after which you want to block the usage of the Instagram app and click on the Add option to save the changes.
Set Instagram daily limit lock on Android
Similar to the iPhone, some Android smartphones also have screen time and app timer features which are made to help you monitor your phone usage and app activities. For example, Samsung provide these features under the Digital Wellbeing and Parental Controls name. You can find similar features in the settings app of your Android phone.
Talking the example of Samsung smartphone, let's see how you can check your Instagram usage and set daily app limit with password lock. Simply, open the Settings app on your device and find Digital Wellbeing and Parental Control option. At the top, you will see the total time you have spent on your phone. Click on the screen time and then you will see the usage report of individual apps.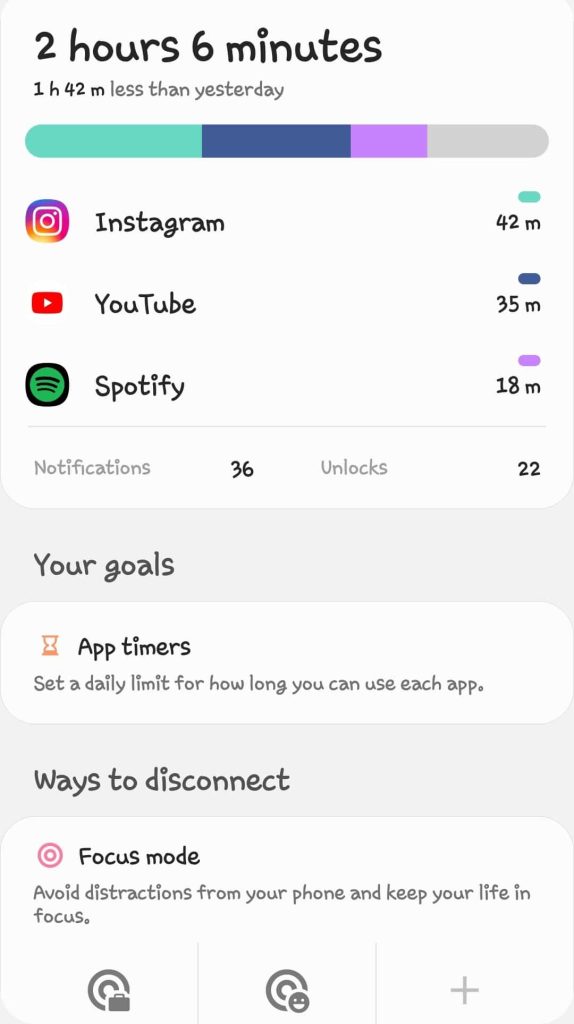 Find and open the Instagram app. Here you can check all the screen time information including how much time you have spent on the app, how many notification you have recieved, and the number of times you have opened the app. You can choose to display this data on daily or weekly basis. To set daily limit on Instagram, click on the App Timer option and then select the time period of your choice.
If your Android phone doesn't offer a built-in feature for screen time and app timer, there are plenty of third-party apps on Google Play Store that you can use for the same purpose.
Conclusion
No doubts, Instagram is a fun place to hangout when you are feeling bored but you should never make it your addiction. Spending a lot of time on social media not only makes you less productive but it is also bad for your eye sight and health. We hope this article will help you reduce your Instagram addiction.
To have a better lifestyle, you should always keep an eye on all the activities you do through the day and manage your time accordingly. By this guide, you would have learned how to monitor your Instagram usage and restrict yourself from using the app by setting daily time limit with reminder and password lock. If you have any questions, feel free to share them in the comments below.