Instagram is continuously evolving and adding new features to keep people connected and engaged. Recently, a new feature has been rolled out by Instagram called Notes which is very much similar to the WhatsApp status. This allows you to share a thought with your friends. You can find these notes in your Direct Message (aka DM) section.
If you don't know what to share in your Instagram Notes, we have got some great ideas for you based of your personality, style, and different moods. This article has a collection of some of the best quotes and cool captions with emojis that you can add to your Instagram notes. Before that, let's get to know about this new feature in more detail.
What are Instagram Notes?
Instagram Notes lets you create short status messages that you can share with your friends and people you follow back. They can be found in the Direct Message (aka DM) section on Instagram. Just like Instagram Stories, Notes are visible only for 24 hours. Here are some more facts about Instagram Notes –
By default, Notes are set to be shared only with people you follow back on Instagram. You can choose to share them with specific people using the Close Friends feature.
People won't be notified about your posted notes via notification or message. They will be able to see it only in their DM section.
Notes have a limit of 60 characters and they get removed automatically after 24 hours.
You can only share text messages through Notes. It doesn't allow photos and videos.
People can reply or react to your Instagram notes via message.
Through Instagram Notes, you are getting an opportunity to write something special that your friends and other strangers can react to, starting a new conversation.
A unique and cool status will make you stand out from the crowd. It is like a first impression that can make or break your personality. Though, creating a unique status requires a lot of brainstorming.
Below we have shared some unique Instagram notes ideas for different moods and purposes!
Best Cool Ideas for Instagram Notes [2023]
Sharing cool notes on your Instagram can help you to stand out from the crowd and show your unique personality. Here are some of our favourite cool ideas with emojis:
Keep calm & just chill. 😎
Hey! 👻👋
I am not perfect. I am limited editions. 🌟
Before you judge me, make sure you are perfect. 🤔
Single or taken? Who cares? I am awesome. 💁‍♀️
Be yourself, everyone else is already taken. 🌈
Do what's right not easy. 💪
Genius by birth, evil by choice. 🧐😈
Life isn't perfect but you can be. 💯
I'm not a complete idiot, some parts are missing. 🤪
You can't do epic shit with basic people. 🚀
Slay them with sweetness. 🍭
Better an oops than a what if. 🙈
My heart says yes but my mom says no. 💔👩‍👧
I am made of flaws but stitched up to perfection. 👌
I like being glamorous because it's not a crime. 💄💋
I don't look back unless there is a good view. 👀🏞️
Stay a mystery, it's better. 🕵️‍♀️🤫
Broke but still alive! 💸💪
I don't trust words, I trust actions. 🤝
Don't blame me, I was born awesome. 🤷‍♀️🌟
Blessed for everything. 🙏🌺
One-Word Instagram Notes Ideas [Updated]
Single-word Instagram notes are often seen as being more stylish and aesthetic than lengthy notes. The following are some of our favourite one-word ideas for Instagram notes:
| | |
| --- | --- |
| Relaxed | Thankful |
| Freedom | Stupid |
| Sassy | Rebel |
| Weirdo | Ageless |
| Explorer | Sunshine |
| Goddam | Trendy |
| Thoughtless | Forever |
| Broken | Blessed |
| Hopeful | Blissful |
| Careless | Retro |
| Happiness | Top-notch! |
| Independent | Crazy |
| Bliss | Serendipity |
| Exonerate | Bored |
| Cuddles | Jittery |
| Blooming | Censored |
| Marvelous | Under Construction |
| Awesomeness | Blooming |
| Obsessed | Gangsta! |
| Alone | Fierce |
| Extrovert | Introvert |
| Sick | OOPS! |
| Dreamer | Awesome |
| Enthusiastic | Loving! |
| Happy | Legend |
| Fearless | Different |
| Badass | Focused |
| Splendid | Peace |
| Nostalgic | Dreamer |
| Blessed | Wanderlust |
| Fearless | Pardon |
| Enigmatic | Stunned |
These words are perfect for expressing your thoughts in an impactful and concise way. Furthermore, they don't go over the character limit on Instagram notes.
Best Short Ideas for Instagram Notes [Fresh]
A short and simple quote is sometimes enough to express your feelings. You can be concise and still say a lot with just a single line. Listed below are some short ideas with emojis that you can use for your next Instagram note:
We mature with the damage not over the years. 🌱💪
They can conquer who believe they can. 🏆💪
Waiting for Wi-Fi network. 📶⏳
Greet your fears with a smile. 😊💪
Status is loading… ⏳💻
I got less, but I got best! 💪👑
Save water – Drink beer! 🍺💧
Life is an art of drawing without an eraser. 🎨✏️
Silence is the loudest voice. 🤫🔊
Life is Short, chat fast. ⏱💬
Life is a journey, not a destination! 🚶‍♂️🌄
Dreams don't work unless you do. 💭💪
No expectations, No disappointments. 🚫😔
Every day is a second chance! 🌅🔄
Escape the ordinary! 🚀🌟
Exhale the bullshit. 💨🐂
All we have is NOW! ⏰🌟
Life goes on… With or without you! 🔄💔
Miss me? 🥺💭
Remember me? 💭👀
Create your own sunshine. ☀️🌞
Best Funny Ideas for Instagram Notes [Newest]
Sharing a laugh is a great way to connect with your followers, and these funny Instagram notes are perfect for doing just that:
Not always available, try your luck. 🤞
Oh! Game over and you lost me. 💔
Life is beautiful. from Friday to Monday. 🌅
Status under construction. coming soon. 🚧
I am not lazy and I was just saving my energy. 💪
Never give up on your dreams. Keep sleeping. 😴
Take my advice, I don't use it anyway. 🤷‍♂️
I wish I could mute people in real life. 🙉
So, you're checking my notes 📝
Battery low, please disturb later. 🔋😴
If you can't convince them confuse them. 😕🤔
Out of my mind. Back in five minutes. 🧠💭
I wish my wallet came with free refills. 💸🆓
Friends are forever, until they get in a relationship. 👥💔
Come live in my heart, and pay no rent. ❤️🏠
When life gives you lemons, make lemonade. 🍋🥤
Dear stress, let's break up. 💔🧘‍♂️
I see that you're online. Wanna, like, chat? 💬😉
I am single but ready to mingle. 🙋‍♂️💕
Sometimes when I close my eyes, I can't see. 👀😴
Sad Status Ideas for Instagram Notes [Trending]
Sharing a sad status on Instagram notes can be a great way to open up a conversation and get support from the people around us. The following sad Instagram notes with emojis will resonate with you if you're going through a tough time:
🌟 Trying to be better everyday ✨
😔 I hate how sensitive I am sometimes 😕
💔 Missing the same person, everyday. ❤️
🙏 I wish I can delete my sad feelings 🙅‍♂️
👥 I don't have many friends, I know a lot. 😔
💔 Feelings don't leave, people do. 💨
🔇 Silence is the most powerful shout. 🤫
💭 Will you miss me tomorrow if I die? ☹️
👥 It is better to feel alone than to be with one another 💔
💔 I still care, the same problem. 😞
💧 Tears come from Heart not from the brain. 💕
🧑‍🎓 Young, dumb and broke! 💸
😶‍🌫️ I am only good at hiding my feelings. 😔
🌍 We all feel lost sometimes. 🧭
⏳ Waiting is painful. 😩
👥 You can't please everybody. 🤷‍♀️
⏭️ Life goes on with or without you! 🌅
😐 I act like I don't care but deep inside it hurts. 💔
😔 Being ignored is the worst feeling ever. 🤧
👥 They ignore you until they need you. 🤔
Flirty Ideas for Instagram Notes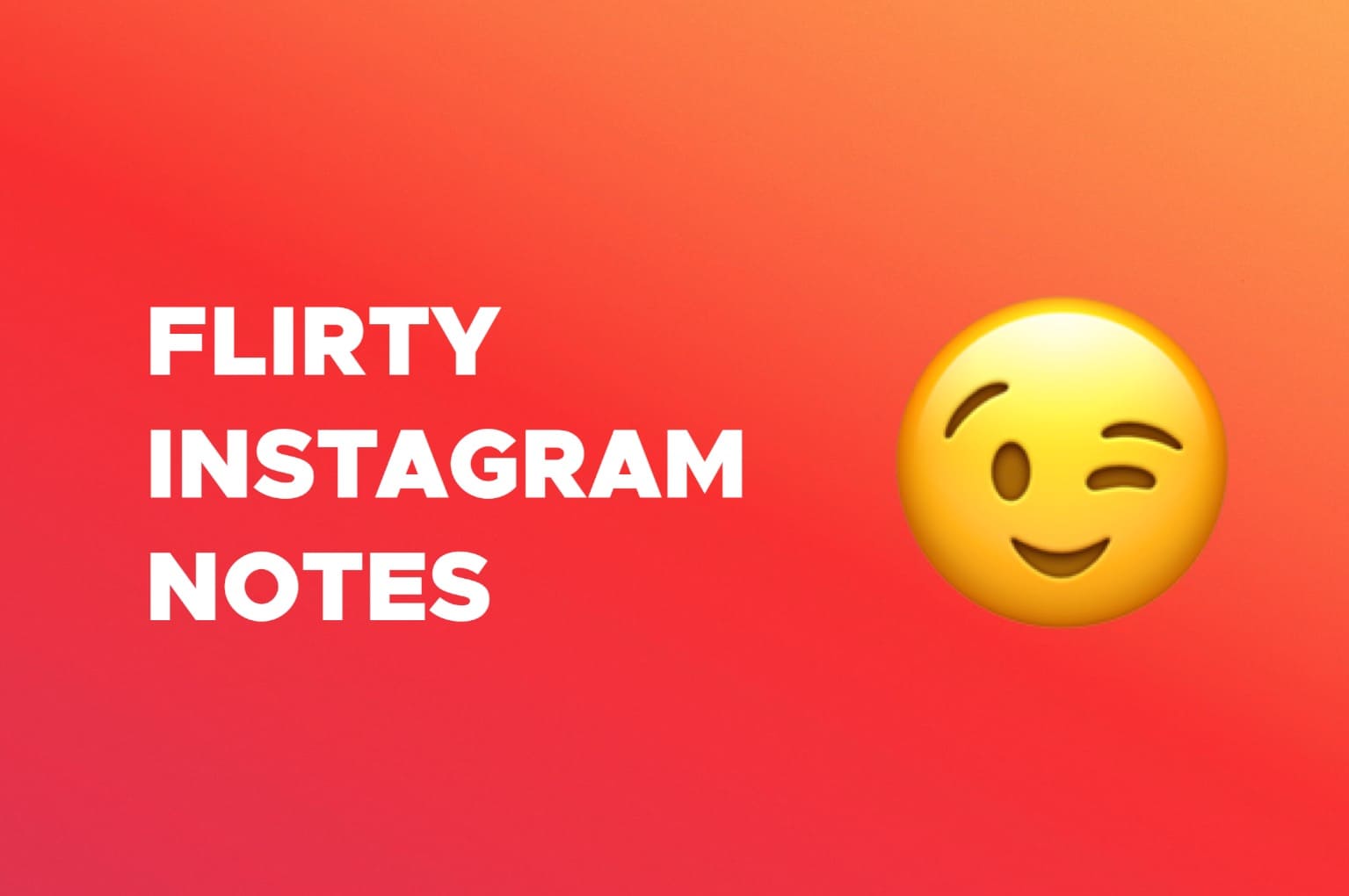 Wants to impress someone through your Instagram notes? Flirty captions can be a great way to catch someone's attention and start a conversation. Writing a flirty caption that's both clever and sincere can be tricky, but we have already picked up some of the best flirting ideas for you.
A day without sunshine is a day without you.
I wonder how my life would be if I hadn't met you.
Each time I see you, your smile gives me light.
To be with you, that's all I want.
I can't wait to see you tonight.
I'm going to hop in the shower. Care to join?
I love how you make romance feel effortless.
Your beauty is immeasurable.
I believe in real magic because of your existence.
Sweet dreams… I hope I'm in them.
Come live in my heart. It's rent free.
Do u believe in love at 1st sight, or should I walk by again?
Let's flip a coin. Heads I'm yours. Tails you're mine.
I always wake up smiling… I think it's your fault.
In the mood to have some fun?
Let's catch up!
Anyone up for a chat!
Why are you so cute?
You're in my inappropriate thoughts
I'm a hopeless romantic with a dirty mind.
Can I borrow a kiss? I promise i'll give it back.
Hello cutie! I want you.
Best Romantic Ideas for Instagram Notes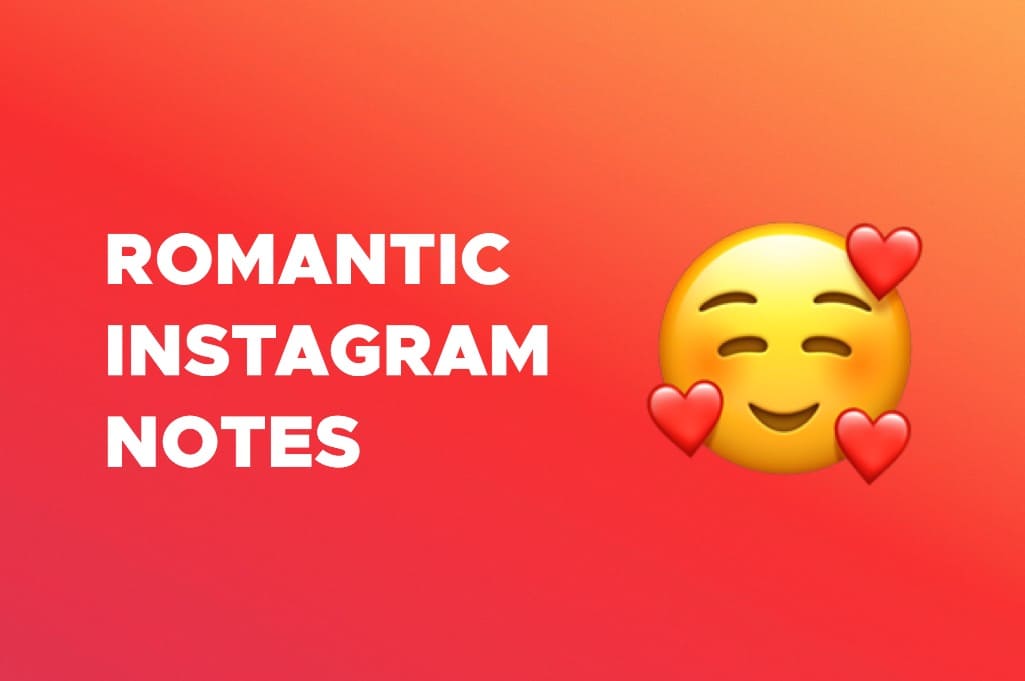 Here are some of the best romantic notes for Instagram that you can use to show your romantic side. With these notes, you can find the perfect way to express your love and affection.
Being in love never goes out of style. ❤️
True love never dies, it only gets stronger. 💕
I need you! I'm crazy about you. 😍
Real love beings where nothing is expected in return. 💞
Love took slow steps towards your heart! 🚶‍♂️💘
Love is not a possession, but a joint creation. 👫💝
Love never gives up. 💪💘
To me, you're perfect. 😘💯
Happiness means you. 😊❤️
Where there is love, there is life. 💖🌟
Two are better than one. 👫
Be mine, i'll keep you forever! 💍💘
If I care for you, I care until the end. ❤️🤝
There is no one else as special as you. 🥰🌟
Love has no limit, no age, and no death. 💘💀
I hope you always find a reason to smile. 😊🙏
I want another day with you. 📅💘
You bring the best out of me. 💪😊
I love everything you hate about yourself. ❤️😘😔
You make me happy in a way no one else can. 😍😊❤️
Best Attitude Ideas for Instagram Notes [Popular]
Having a positive attitude is a vital part of life, and one way to express this is through status updates on social media. Instagram is the perfect platform to share uplifting quotes and meaningful mantras to remind everyone to stay positive. Here are some cool attitude ideas for Instagram notes with emojis:
Ignore me once, and I will daily. 😒
I'm a leader, not a follower. 👑
I haven't changed. I grew up. 🌱
Choose people who choose you. 🤝
Because my circle is smaller I'm in quality, not quantity 🙌
Attitude is contagious, it can make you grip. 🤞
When nothing goes right. Go left. 🚶‍♀️🚶‍♂️
Positive attitude, positive deeds. 🌟
The man with beard will never look weird 🧔
The biggest slap to your enemies is your success. 👊💥
Your sorry won't change the story. 🙅‍♂️📖
Be Different, Be Unique, Be Yourself. 🦄🌈
A real beast does not stay in a crowd. 🦁
Destroy what destroys you. 💣
I forgive but never forgot. 🤝🧠
Your opinion is not my reality. 🤔👉🌟
You lost me, I lost time. ⏰❌
I don't chase, I attract! 😎💫
Love is easy but I am busy. 💕👉🏃‍♀️
Dare to be different. 🤟
Inspirational Notes Ideas for Instagram [New]
Inspirational quotes have become increasingly popular on Instagram Notes, and for a good reason. They are a powerful tool to spread positivity and encourage people to pursue their dreams. Here are some of the best inspirational notes for Instagram that you can use to inspire yourself and your followers;
Believe you can and you're halfway there. – Theodore Roosevelt
If opportunity doesn't knock, build a door. – Milton Berle
The only way to do great work is to love what you do. – Steve Jobs
In order to be irreplaceable, one must always be different. – Coco Chanel
Life is 10% what happens to us and 90% how we react to it. – Charles R. Swindoll
You miss 100% of the shots you don't take. – Wayne Gretzky
Be the change you wish to see in the world. – Mahatma Gandhi
Dreams don't work unless you do. – John C. Maxwell
Don't wait for opportunity, create it. – George Bernard Shaw
Be the reason someone smiles today. – Unknown
It's not about perfect. It's about effort. – Jillian Michaels
Be realistic: Plan for a miracle. – Osho
Instagram Notes Ideas in Hindi [Latest]
Hindi Instagram notes can provide a unique way to communicate with your friends and family, expressing love and humor in a language that we all understand. They can also be a great way to express your feelings in a better way. Below we have listed some of the coolest Instagram notes in Hindi:
अब खुद से ये वादा है, उड़ेंगे जरुर पर खुद के दम पर!
अंत ही आरंभ है. ☯️
जय महादेव 🕉️🔱
ज़िन्दगी WORTH है, व्यर्थ नही.
एक छोटा सा फसाना, अब क्या बताना!
इफ यू आर बेड, आई एम यौर डेड
दुनिया की भीड़ नही हूँ मैं, मेरे अंदर एक जमाना है!
निखरे थे तो इश्क़ था, बिखरे है तो ये इश्क़ ही है।
खूबसूरत सा वो पल था, पर क्या करें वो कल था।
तुम आँखो में देखो‌ हमारी सब‌‌‌ समझ‌‌ जाओगे
हौसले जब कम पड़ जाते है, तभी सपने पूरे नहीं हो पाते है
भरोसा बस खुद पर करो, और नज़रअंदाज़ सारी दुनिया को
जो सपने जूनून में उतर जाते है ,वो हर हाल में पूरे होते है
जो हार में भी चल देते है, वही तो जीत तक पहुंचा करते है
तुम जलन बे हिसाब रखना, हम जलवे बरकरार रखेंगे
उनसे भी आगे जाना है, जो हमें साथ लेकर नहीं गए
हम भी अच्छे लगने लगेंगे, बस थोड़ा अमीर हो जाने दो
मत समझो, लेकिन गलत मत समझो
सबके हिसाब होगें और मेरे तरीके से होंगे
किडनी दे दूंगा पर दिल कभी नहीं
सपने पूरे करने हैं तो पहले सपने देखो
बातें करो हमसे, तुम्हारी चुप्पी मेरी जान लेती है
How to post an Instagram Note
The first thing you need to do is to update your Instagram app as this Notes feature is only available in the latest version.
To do this, go the app store on your smartphone (i.e. Play Store on Android or App Store on iOS) and search for Instagram. Now you just need to tap over the Update button and wait for it to download.
Once your Instagram app has been updated successfully, you can follow these simple steps to post an Instagram note –
Open the Instagram app on your phone.
Tap over the Messenger icon in the upper-right corner. This will take you to the Direct Messages (aka DM) page where you will see a new section of Notes at the top of your chats.
Now tap on "Your note" at the top and then write anything you want to share with your friends. Alternatively, you can copy any quote you like from our collection and paste it on your Instagram.

If you want to share your note with specific people only, you can select Close Friends under the heading named Share with. By default, it will be set to Followers you follow back.

Finally, click the Share option in the top-right corner. That's it! Your Instagram note will be posted successfully.
VIDEO TUTORIAL:
How to come up with your own Instagram Notes Ideas
Coming up with your own Instagram notes ideas can be a challenge. It requires a lot of brainstorming and creativity. Below we have shared some useful tips to help you generate ideas for your Instagram notes:
Authenticity is key: Your notes should reflect your personality and values, so don't try to be someone you're not. Be it your humor, inspiration, or creativity, allow your true self to radiate through your content.
Keep it short and simple: Instagram notes are meant to be short and concise. They are limited to 60 characters only. So make sure you come up with something that is short, simple and easy to read.
Make it catchy with emojis: Emojis can help you convey emotion or add a playful touch to your notes. Just be careful not to go overboard – too many emojis can make your note look unprofessional.
Get creative: Don't be afraid to get creative with your Instagram notes. Try to bring your ideas and thoughts into words. Try using puns, wordplay, or clever phrases. This can make your notes more memorable and engaging.
Add your personal touch: Use your own writing-style and tone to add a personal touch to your notes.
It's important to consider that the content you post on social media reflects your personality and thoughts. Hence, it's essential to be thoughtful about what you share. By following these tips, you can easily come up with your own Instagram notes ideas that are unique to you.
Frequently asked questions
How to mute someone on Instagram notes?
If you don't want to see someone's notes in your Instagram DM section, you can mute them. To do this, tap and hold on their note and then select Mute Notes option from the pop-up menu. Tap on the same option again to confirm. Instagram won't let the person know that you muted their notes.
How long do Instagram notes last?
Instagram notes are visible only for 24 hours just like Stories. You can only add one note at a time and it will be deleted automatically after its time expires.
Can someone see your Instagram notes without following you?
No, your notes are only visible to those who follow you and whom you follow back. Additionally, the privacy of your notes also depends on who you share them with. There are two options provided by Instagram. One is Followers you follow back and the other is Close Friends.
How do I know who viewed my Instagram notes?
As of now, there is no way to see who viewed your Instagram notes. Furthermore, it is also not possible for other users to find that you have seen their notes unless you reply to them.
What is the character length on Instagram notes?
Instagram notes have a maximum character length of 60 characters, including spaces. 
Make your Instagram Notes stand out
So these were some unique and cool ideas that you can use on your Instagram Notes to make yourself stand out from the crowd. We know you want your status to be extraordinary and different. A creative idea requires a lot of brainstorming. That's why we came up with this article to provide you with some readymade notes.
We have shared a variety of quotes with emojis to suit different moods and purposes. Even if you use one note every single day, our extensive collection of Instagram notes will continue to offer new options. We often update this page with new ideas so make sure to bookmark it for later use. If you liked this article, don't forget to share it with your friends. You can also check out other interesting articles on our website.