Disclosure: This post includes affiliate links. If you purchase through them, we may earn a small commission at no extra cost to you.
Did you do a lot of typing work on your phone? In the last decade, there has been so much evolution in the range of phones, starting with the numeric keypad and then moving to the QWERTY keypad and now to digital touchscreen keyboards. Being compact in size, smartphones have a very small keyboard which isn't convenient to type. It is only suitable for some basic typing like messaging.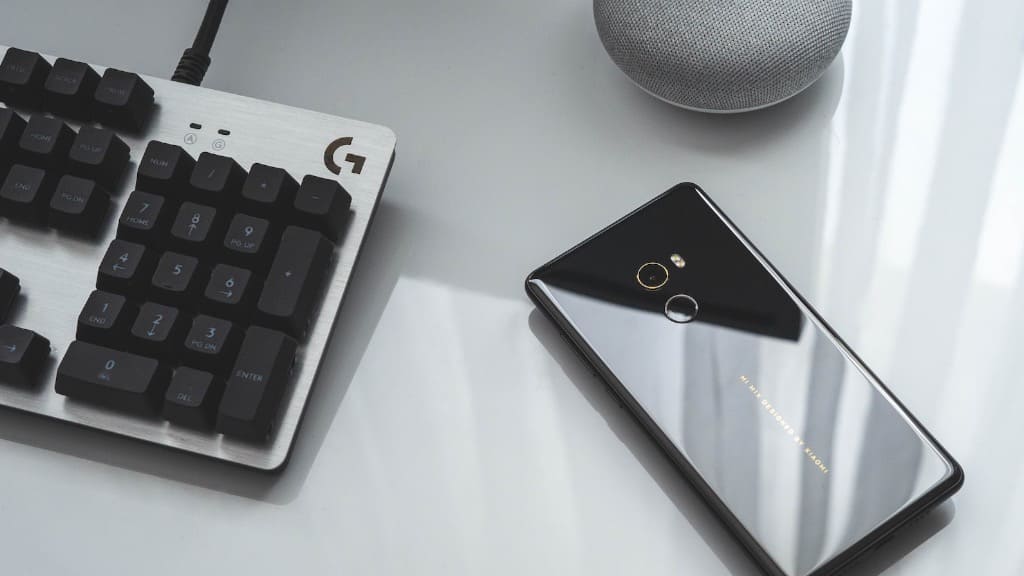 Imagine how it would be if you can connect a computer keyboard to your iPhone or Android device. This will be really helpful if you type a lot such as for writing documents and blogs. Typing on a physical keyboard will be more convenient as it has large-size buttons which provide easy accessibility. No doubt, you will be able to type more effectively as compared to the virtual keyboard.
In this article, we will discuss how to connect any physical keyboard (both wired and wireless) to your Android or iOS device. This includes any type of device such as smartphone, tablet, or iPad. Later on, we will also share a simple trick to connect the keyboard of your PC/laptop to your Android phone via Wi-Fi. Without further ado, let's get started!
Things you will need
The keyboard and OTG adapter are the two main items you'll need. There are two types of keyboards available which are wired and wireless. We will show you how to connect both of them with your iPhone or Android device. If you don't know what is an OTG adapter, let's discuss that first.
What is an OTG adapter?
OTG (short for On The Go) adapter is used to connect your phone with devices that have a USB connector such as keyboard, mouse, USB flash drive, and more. As you may already know, smartphones don't have a USB port so you can't connect the computer keyboard to them directly. This is where OTG comes useful to make this connection possible.
OTG has a USB Type C connector on one end that goes inside the charging port on your phone. The other end has a USB port where you can insert the USB connector of the physical keyboard that you want to connect to your phone. You can buy AGARO USB 3.0 to Type C OTG adapter from Amazon. This adapter is compatible with all Android phones and tablets that support USB Type C charging including OnePlus, Samsung, Redmi, Mi, and others.
If you have an iPhone or iPad, you need to buy a different adapter that can connect USB devices to the Lightning port. This is called Lightning to USB adapter. You can check out this Kanget USB OTG for iPhone/iPad on Amazon.
Best computer keyboard for mobile or tablet
You also need to buy a new computer keyboard for your mobile. If you already have one at your home, you can use it, otherwise, buy this Dell KB216 Wired Multimedia USB Keyboard. It is ideal for both computer and mobile use. You can also find wireless keyboards in the market today which are more handy and portable since they don't have extra wires.
They have a wireless USB connector that you can plug into the USB port on the OTG adapter and you are good to go! It will be easy for you to work with a wireless keyboard as compared to the wired one. You can find hundreds of wireless keyboards from different manufacturers. One that we recommend you for mobile use is this Logitech K230 Wireless Keyboard.
1. Connect computer keyboard to Android phone or tablet
Once you are geared up with all devices that you need including an OTG adapter and keyboard, you are ready to connect the computer keyboard to your Android phone or tablet. Here's a step-by-step guide –
Plug in the OTG adapter to the USB Type C charging port on your Android phone or tablet.
Now insert the USB connector of the keyboard to the other side of the OTG adapter that has a USB port.
To check if the keyboard has been connected to your Android phone or tablet successfully, open any Notes or Messaging app and start typing with the keyboard in the editor field.
Voila! You have done it…
2. Connect computer keyboard to your iPhone or iPad
Connect Lightning to USB adapter to your iPhone or iPad via charging port.
Now connect the wired keyboard to the USB port on the adapter.
Open the Notes app and type anything on keyboard. If you see the text on your screen, everything is working fine. There is nothing extra you need to do. It's a simple plug and play game!
3. How to connect wireless keyboard to your phone
Two types of wireless keyboards are available: ones that come with a USB connector and others that support complete wireless connection via Bluetooth. A wireless keyboard that has a USB connector can be connected to your Android phone or tablet using the OTG adapter as we have discussed in the above methods.
On the other hand, Bluetooth-enabled wireless keyboards do not require you to use an OTG adapter. They can be connected to your smartphone directly via Bluetooth. Just turn on Bluetooth on both devices. Open the Settings app on your Android or iOS device and go to Bluetooth.
Select your keyboard from the list of nearby devices. Enter a PIN code, if prompted, which is 0000 usually. Once you have connected the keyboard, test if it is working or not by typing any text in Notes or messaging app. If you are looking for a complete wireless keyboard that supports Bluetooth, we would recommend this Logitech Multi-Device Bluetooth Keyboard.
4. Connect your PC keyboard to Android phone via Wi-Fi
Have you ever thought about connecting your PC keyboard to Android phone/tablet without a USB connector or OTG cable? This has been made possible with a simple application called Wi-Fi Keyboard. Whatever you will type on your computer, it will be transferred wirelessly to your Android phone. The only thing you need to do is to connect both devices to the internet. Here's how you can use this application –
Download and install the Wi-Fi Keyboard app on your Android phone or tablet. It's available on Play Store for free. This is a very lightweight application
Open the Settings app on your phone and go to Language and Input. You can find this option under General management section on Samsung devices.
Go to On-screen keyboard > Manage Keyboards and enable WiFi Keyboard.
Now you need to change the default keyboard of your Android device to this new Wi-Fi keyboard. Go back to the main keyboard settings page and select Default/Current Keyboard. Then select Wi-Fi keyboard from the list of available options.

After this, open the Wi-Fi Keyboard app and note down the address shown on your screen.

Next, open any browser on your PC such as Chrome and enter the same address. It will open a web interface where you can type anything that you want to transfer to your Android phone/tablet. You can also check the status. If it shows Connected, then you are good to go!
Frequently asked questions
Is connecting computer keyboard to your phone safe?
Yes, it is absolutely safe. The only issue you are likely to face is the fast battery draining. Since most wired physical keyboards don't have their own battery, they will draw power from your phone's battery. The OTG adapter you plug into your phone will also consume battery power, even if it is a wireless keyboard.
How to safely eject OTG adapter from your device?
Like Windows, there is no option provided by Android and iOS to safely eject an OTG adapter from your smartphone or tablet. It's not necessary at all. Removing it directly will cause no harm to your device.
Can you connect a mouse to your phone?
Surprisingly, the answer is yes. You can also connect a physical mouse to your phone or tablet in the same way. Again, you have to use an OTG adapter for this task. Connect it to the charging port on your device. On the other end, connect the wired or wireless mouse (with USB connector) to the OTG adapter and you are good to go!
Phone typing just got easier than ever
So that's how you can connect a computer keyboard to your iOS or Android device and make your typing work easier than ever before. This guide applies to all smartphones, tablets, iPhones, and iPad models. It is important to keep in mind that connecting a physical keyboard to your phone will consume its battery power. Thus, it is advised to only leave it connected when needed. Make sure to disconnect or unplug the OTG adapter from your phone when it's not in use. You might be interested to read our guide on how to prevent Android phone from overheating. If you want to ask any questions on this topic, you can share them in the comments below. Stay tuned for more interesting tutorials!