Owned by Facebook, WhatsApp is the biggest instant messaging giant used by billions of people all around the world. The use of WhatsApp among people is so common that it is one of the few apps that come pre-installed on new smartphones. Some people use WhatsApp for their business purpose, some use it to connect themself with their friends, students use it share notes and important messages, and the reasons can be endless.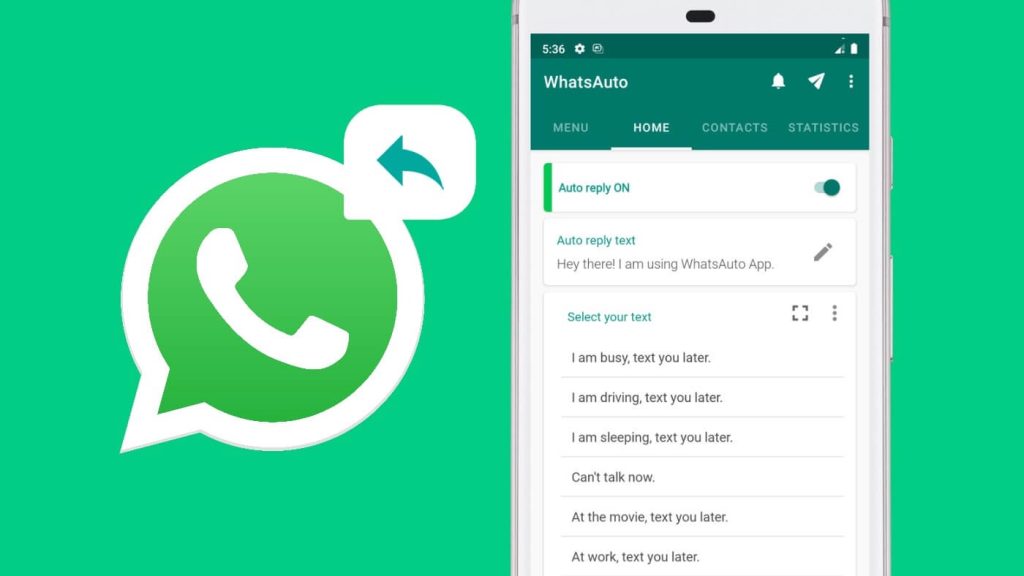 But sometimes, when you are not available on WhatsApp and your loved ones try to connect with you, this can make them anxious as to why you are not replying to them. And their panicking increases even more, when it's been a few days and you have not responded to their messages. This is where the auto-reply becomes necessary. An auto reply will simply inform the other user that you are not available at the moment and you will respond to their message soon. So here are the few apps and tricks that you can use to send auto replies to your WhatsApp contacts.
1. Auto reply with WhatsAuto app
There is nothing that works better than the WhatsAuto app for sending an automated reply to your WhatsApp contacts on Android. It has all the features that you need in an auto replying app. According to your needs, you can select the people to whom you want to send the machine-generated message, and also craft the message yourself if you don't want to send the pre-written ones. In addition to that, you can also select the people to who you want to send the message and leave others. At first, you might find the app a little confusing but it is easy to work with. The app is not available for iPhone, so only Android users can savor its services. Here's how to use the WhatsAuto app.
1. You need to go to the Play Store and search for the WhatsAuto app. Download and install it on your phone.
2. After the app is installed, open it and you will be on the home page of the app. Here you need to toggle on the Auto reply OFF option.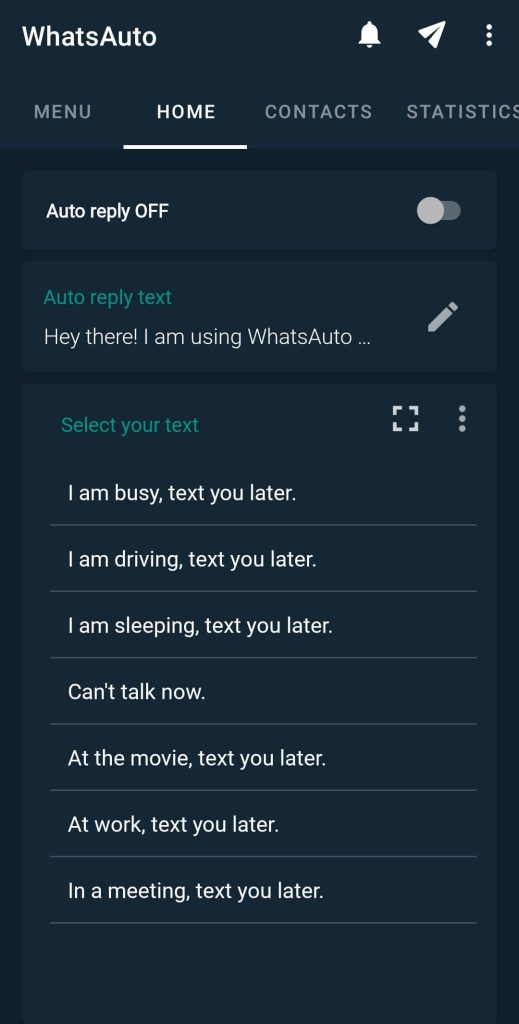 3. This will take you to your phone settings Notification access center where you need to select the WhatsAuto app.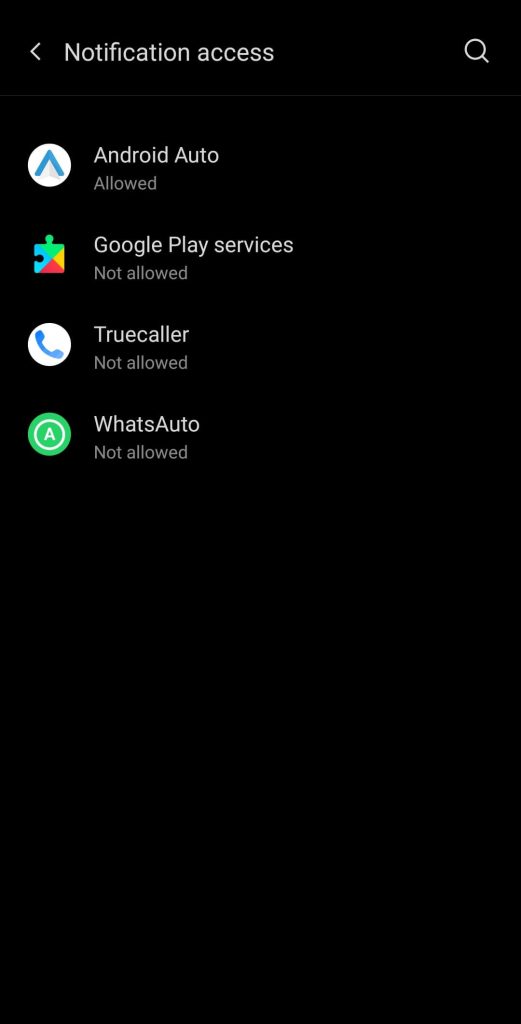 4. On the next page, you need to toggle on the button adjacent to Allow notification access. A pop-up will now appear on the screen asking for notification access. Give the access by tapping on Allow.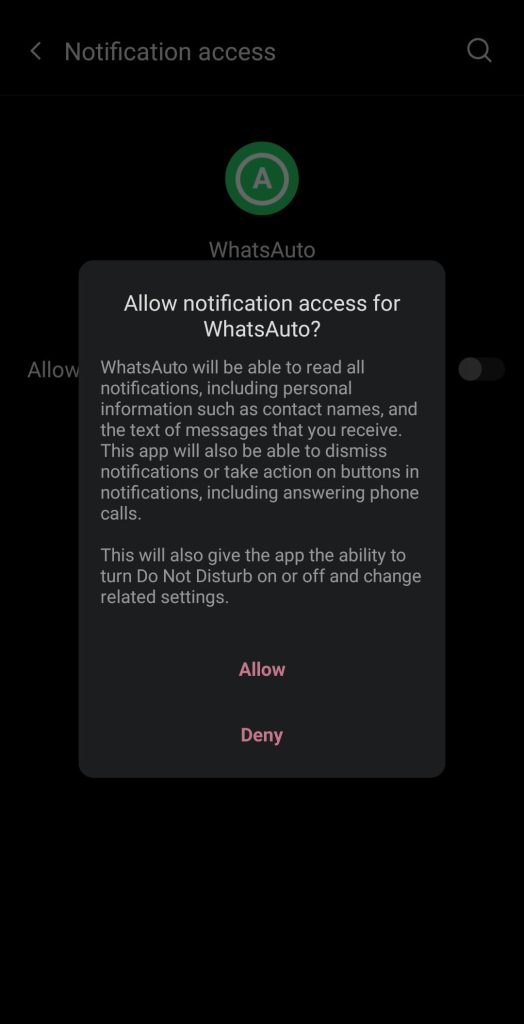 5. On the home screen you can select the pre-written texts to send as an automatic reply or you can craft one for yourself by tapping on the edit icon under Auto reply text heading. By selecting the notification icon at the top, you can check all the replies sent with WhatsAuto app till now.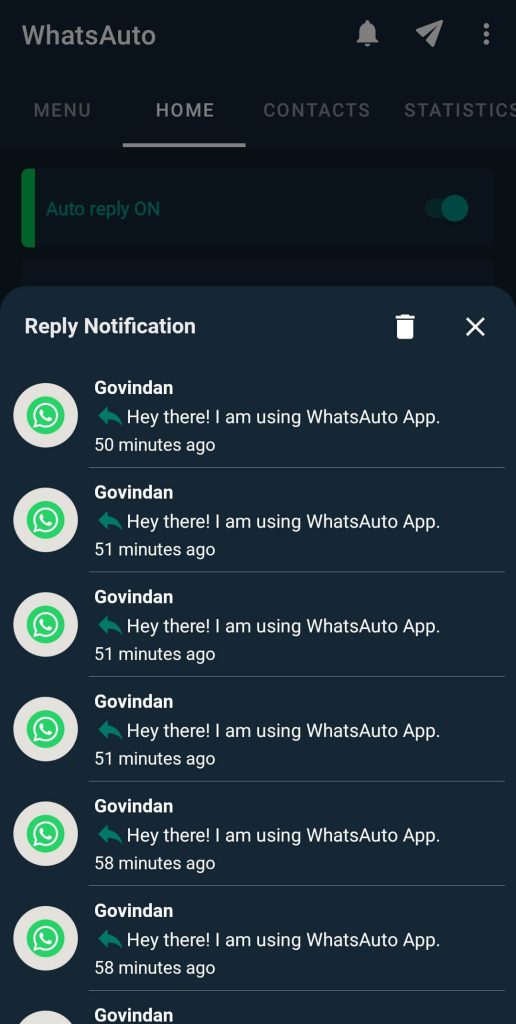 6. To select the people to whom you want to send the auto reply and whom you don't want to send can be done under the CONTACTS section of the app. Under the Contact list heading, you can select the people to create a contact list with WhatsAuto app. Based on this list, you can apply any given instructions at the top. For example, if you choose Everyone option, anyone who messages you while you are offline will get a machine generated reply. If you select My contact list option, all the people that you add to WhatsAuto contact list will get an auto reply and no one else. Choosing Except my contact list option will send an auto reply to everyone except your WhatsAuto contact list. If you choose Except my phone contacts, all the people in your phone contacts will be left out and all others will receive a reply from the WhatsAuto app. Finally, you can enable to send the auto-replies in your WhatsApp groups also.
So this is how the WhatsAuto app works to send automatic replies to people when you are not present to reply to them. Other than WhatsApp, you can use this app to reply to people on other platforms as well. These include WhatsApp Business, Telegram, Messenger, Messenger Lite, Instagram, Twitter, LinkedIn, Signal, FB Pages Messenger, and Viber. There are many other features of this app that you can use to manage your WhatsApp account properly. The app has features that you will definitely appreciate, and all of them are free to use.
2. Use WhatsApp Business app for auto reply
People who use WhatsApp for business purpose mostly use WhatsApp Business instead of the normal one. But very few people using WhatsApp Business know that it is possible to send automatic replies to your contacts and customers directly within the app. You don't need third-party apps like WhatsAuto for this.
1. Go to your WhatsApp Business app on your phone and tap on the three dot icon present at the top right side of the screen.
2. Now select the Business tools option that you see on the top.
3. Under the Messaging category, you will see an Away message option, select it.
4. After that, toggle on the button that says Send away message. With this you have enabled the option to send automatic replies to your contacts on WhatsApp.
5. By selecting the Away message option, you can craft a message that you want to send to people.
6. Under the Schedule option, you can select when the desired message will be sent to selected people. Similarly, under the Recipients category, you can select the people to whom you want to send the message. Other people will not get automatic reply if you have not selected them.
So these are two simple methods which you can use to send automatic replies on WhatsApp. If you are using WhatsApp for business, then it is really important to respond to your client's messages as soon as possible. When someone message you for the first time, they usually ask common questions about you and your business. You can set automated replies for these kind of questions and also add call-to-action that you want the user to read until you get online and see their message yourself.
WhatsAuto app is good when you want set auto reply for your personal WhatsApp account. On the other hand, WhatsApp Business is specifically for those people who use WhatsApp for business purpose. The way these two apps work is completely different. WhatsAuto uses the notification access on your phone to read your messages without blue ticks and then send auto reply based on the matched text. While WhatsApp Business being the official app by WhatsApp uses an in-built technology to recognise text and send automated replies. We hope you find this guide helpful. If you have any questions in your mind, feel free to share it in the comments below.