Are you unable to receive OTP on your iPhone? A lot of iPhone users are facing this issue with OTP. If you have tried requesting it multiple times but find no luck at all, then this article is for you. Here we will discuss all possible reasons that can cause this problem and how you can fix them.
OTP, which stands for One Time Password, is a verification code that is used for authentication to prove your identity. It's a 4 or 6-digit passcode that is sent to your registered phone number. OTP is now used by almost every other online web service including social media, banking, and other websites.
The main purpose of OTP authentication is to provide an additional security layer to your account but it can be a big headache if you do not receive OTP on your phone number in time. Let's find out how you can fix this OTP not received problem on your iPhone.
Method 1: Request a new OTP
Not receiving OTP in time is a common problem that has been faced by almost every iPhone user. An OTP is only valid for a specific amount of time. If you did not receive it for the first time, there is always an option to request a new OTP.
Whether you are logging in to your social media account or internet banking website, every web service provides this facility to resend OTP. There could be some technical glitch from the server end. Maybe your OTP isn't generated in the first place or there is some network issue.
Method 2: Receive OTP via call
Resending OTP will fix the problem for most people. You may have to wait for a few minutes to request a new OTP. Some web services (for example, Google) also offer a call option for receiving OTP. If you didn't receive OTP on the second chance also, then you can try the call option.
With this option, you will receive an automated call on your phone number. Just pick up the call and you will hear an AI-generated voice speaking your OTP number verbally. Note down this number and enter it on the login page. This is an alternative way to receive OTP on your iPhone if the text message option didn't work.
Method 2: Check your network signals
You may not be receiving OTP on time because of lack of network signals on your iPhone. Just look at the network signals in the status bar at the top-right corner. If you don't see any signals, then go to Control Centre and enable airplane mode. Wait for a few seconds and then disable it again. This will reset your network signals.
If you still find no luck, then navigate to Settings > Mobile Data > Network Selection on your iPhone and switch off Automatic button. After this, you will see a list of available networks. Select your network provider from the list and you will be able to get back your network signals. Request a new OTP on your iPhone and hopefully you will receive it this time.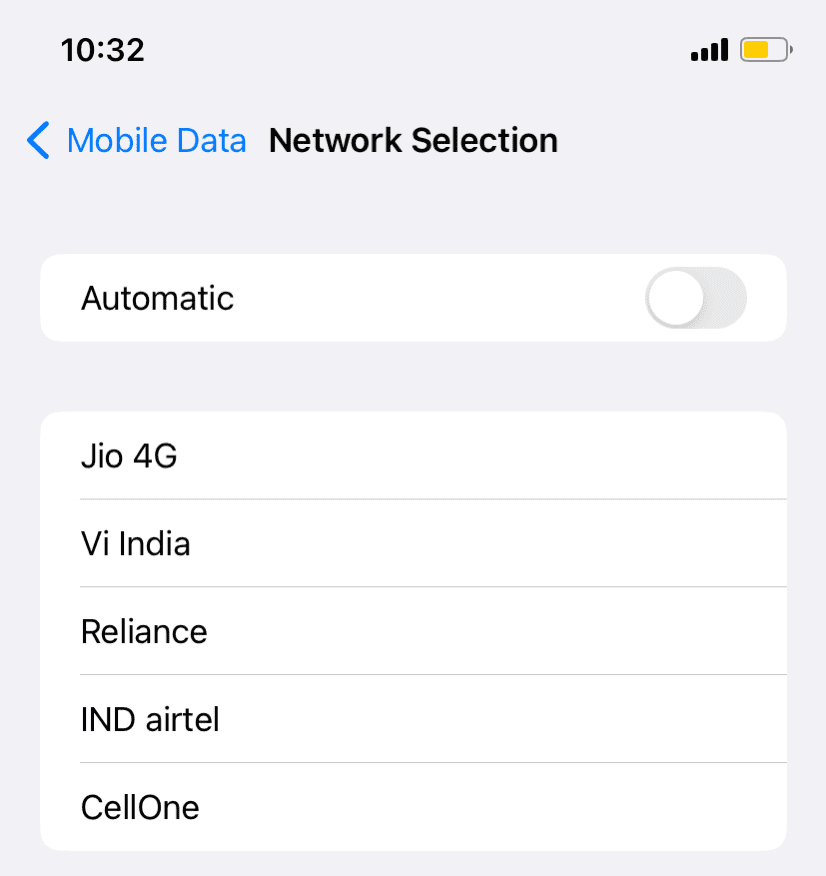 Method 3: Check your recharge plan
Some network providers require you to have an active plan on your phone number to receive incoming calls and text messages. If your iPhone does not receive OTP, it might be because you do not have an active plan. You can check your data balance via USSD code or by using the official app of your network provider. If it is showing zero balance, then recharge your phone and try requesting a new OTP.
Method 4: Check Do Not Disturb mode
Do Not Disturb mode can also restrict your iPhone from receiving OTPs and other text messages. If you have enabled Do Not Disturb on your iPhone, then disable it and resend OTP. This might fix your problem. Simply, swipe down the screen from the top-right corner and then tap over Do Not Disturb icon. Tap on it again to disable.
Method 5: Match your phone number
Have you checked the phone number to which the OTP is sent? You might have registered a different phone number on the website while you are trying to receive OTP on a different number. To verify this, check the last digits of the number shown on the website. Match them with the current phone number that you have on your iPhone.
Method 6: Contact your carrier
If nothing worked for you, the last option is to contact your carrier. Ask the customer support executive that you aren't receiving OTP on your phone number. You should also try sending a normal text message to yourself from a different number. This will be helpful to check if the problem is with OTP particularly or if you aren't receiving other text messages also.
Frequently asked questions
Why is my iPhone not receiving OTP?
Your iPhone might not be receiving OTP due to various reasons such as network issues, delay on the server side, or settings like Do Not Disturb mode. Sometimes, the OTP might not even be generated by the service you're using.
How long does it take for OTP to arrive?
The time it takes for an OTP (One Time Password) to arrive can vary, but it's usually within a few seconds to a minute. OTPs are designed to be quickly delivered for security reasons, and they typically have a short validity period (usually a few minutes) to enhance security.
How do I turn on auto OTP verification on iOS?
To enable auto OTP verification on your iPhone, go to Settings > Passwords > Password Options and turn on "AutoFill Passwords and Passkeys". With this feature enabled, when you receive a one-time verification code via SMS, your iPhone will automatically detect it from the Messages app and display it above your keyboard. You can simply tap the code to use it without manually entering it.
Conclusion
We hear a lot of news about data breaches and password leaks every now and then. In today's digital world where our online privacy is always at stake, normal passwords cannot be trusted much. That's why OTPs have come mainstream to provide you with an additional security layer.
Sometimes OTPs can be annoying when you don't receive them in time. If you have been facing this issue, try out all solutions that we have discussed above. We hope you are able to fix this OTP not received problem on your iPhone. If you have any questions, feel free to share them in the comments below.
Read other similar articles: