Does your iPhone keeps restarting on its own? This is one of the most serious issues that can occur to an iPhone user. There are several instances when you can encounter this problem. Sometimes your iPhone gets stuck in a restart loop and each time you power it on, it shuts down automatically and the same thing happens again and again. The auto restart problem may also occur while your device is being charged.
Another known, but uncommon occurrence of this problem is when you shut down your iPhone manually. No matter how many times you try, it will automatically restart after a while. Some of you might be trying to charge your iPhone while it is powered off. This can't be possible if your iPhone keeps restarting. Today we are going to share some fixes that can help you to troubleshoot this problem. Let's look at each method in brief!
Method 1: Force restart your iPhone
If your iPhone is stuck in an endless restart loop, this solution will definitely work for you. Force restarting will terminate all background processes and third-party applications. Unlike the normal restart, it is a hardware-level reset that will cut off the power supply from the battery. If there is any software glitch that is causing your iPhone to restart automatically, it can be fixed by force restarting. Here's what you need to do –
Step 1: Press and release the volume up button quickly.
Step 2: Press and release the volume down button quickly.
Step 3: Long-press the side button on your iPhone until you see the Apple logo.
Step 4: As the Apple logo appears, release the side button and this will force restart your iPhone.
Note that if you have any unsaved data or ongoing process on your iPhone, it may be disrupted with force restart. The above steps will work for iPhone 8, iPhone SE (2nd generation), iPhone 11 series, iPhone 12 models, iPhone 13 series and later models with FaceID.
If you have iPhone 7, you will need to press and hold the volume down and side button simultaneously until you see the Apple logo. For more older models with home button like iPhone 6s and iPhone SE (1st generation), you have to press and hold the home button and side button at the same time.
Force restarting will break the restart loop and your iPhone will begin to behave normally again. If this method does not work for you, read on to find out more solutions.
Method 2: Update your iOS software
Sometimes a bug or glitch can also cause your iPhone to restart abruptly. Maybe the latest apps aren't compatible with the current iOS software you are using. If your iPhone is running on some older iOS version, you need to update it to the latest software and this might fix your problem. Here's how you can update your iPhone –
Open the Settings app.
Go to the General option.
Click the Software Update.
Let your iPhone search for an available update. Make sure that you have mobile data or Wi-Fi turned on.
If a new software update is available, tap the Download and Install option. Follow the rest of the steps to complete the installation process.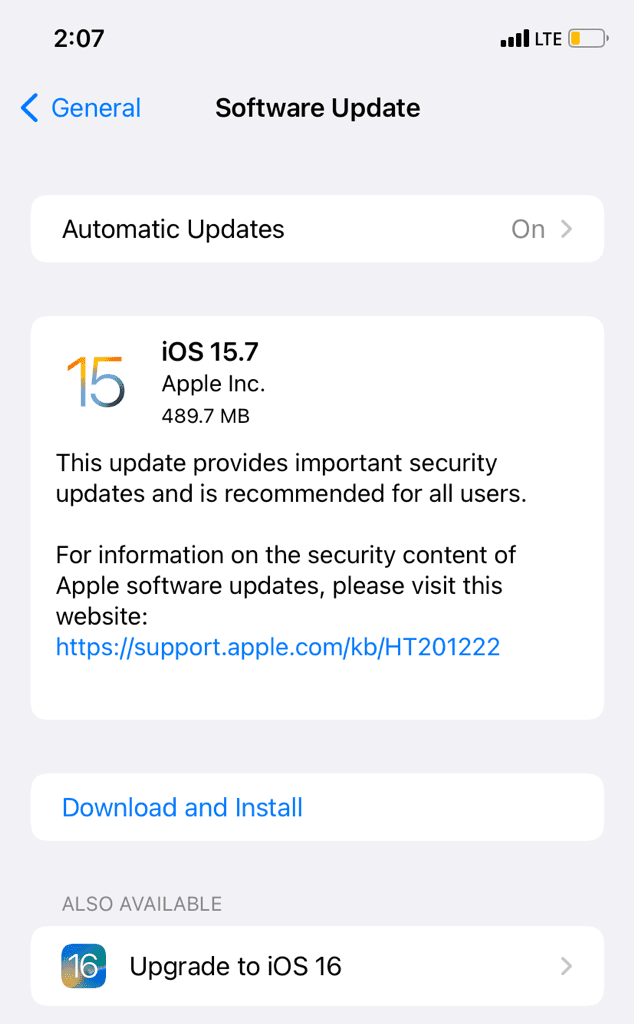 Updating your device to the latest iOS software will fix the technical glitch or bug in the system that was causing your iPhone to restart and hopefully you won't face the same problem again.
Method 3: Find the culprit app
If an app is not compatible with the current iOS software that your iPhone is running on, it can result in a technical glitch or some other incompatibility issues that can force your device to restart abruptly. This is most likely to be caused by a third-party application.
Manually review each app on your iPhone to determine which one is causing the problem. A new app you installed recently may be the culprit if your iPhone restarts automatically since then. Uninstall all suspected apps and check if the iPhone keeps restarting problem is fixed.
Another important thing you need to do is to update all apps on your iPhone. Maybe you are having an outdated version of any app that isn't compatible with your iOS software. Updating the apps will fix all such issues. Simply, open the App Store and tap on your profile avatar in the top-right corner. Here you will see a list of apps that needs to be updated under the Available Updates heading.
Advanced Tip: You can check the Analytics Data on your iPhone to find the culprit app. Simply, go to Settings > Privacy > Analytics & Improvements and click the Analytics Data. Here you will see an extensive list of reports. Find the most recent one. If you see a specific app mentioned more often, it might be the culprit.
Method 4: Reset your iPhone settings
There is a very slim chance that any personalised settings could have caused your iPhone to restart spontaneously, but resetting your settings usually fixes the issue. Since you can't figure out which setting is the culprit, you have to reset your iPhone to factory settings. Don't worry! This won't erase your iPhone data. Follow these simple steps –
Open the Settings app.
Tap the General option.
Scroll down to the end and click Transfer or Reset iPhone.
Tap the Reset option at the bottom.
It is generally a network setting problem that causes iPhones to keep restarting. So in the first place, you can only reset your network settings. If that doesn't fix your problem, you can choose the Reset All Settings option which will reset your device to factory settings.
Method 5: Free up space on your iPhone
Do you have enough free space on your device? If not, then this might be the reason why your iPhone is restarting abruptly. In order for your device and third-party apps to function properly, they need adequate storage. If your iPhone does not have enough storage, you may face app freezing or crashing issues and this can also lead to abrupt shutdown or restarting.
To check how much free storage is left on your iOS device, open the Settings app and go to General > iPhone Storage. At the top, you can see how much storage you have used and how much is left. If the storage left is less than 1GB, you need to free up some space immediately. You can uninstall unused apps, clear Recently Deleted album on the Photos app, delete duplicate photos from your library, backup your iPhone data to PC, and more.
Method 6: Reinsert the SIM card
Although SIM card has no direct connection with your iPhone restarting issue but removing and reinserting it might resolve the problem, so it is worth trying. Possibly the SIM card hasn't been inserted properly or it is corrupted. You can try to power on your iPhone without the SIM card and if that fixes the auto restart issue, then you've finally found out what was causing it.
Method 7: Set date and time manually
Changing the date and time settings on iPhone miraculously fixes many critical problems. There is no explanation as to how this works but you can give it a shot in this case also. By default, your iPhone is set to Automatic Date & Time that uses details provided by your network. If you previously changed your date and time settings manually, then set them back to Automatic or vice-versa. This can be done by going to the General settings on your iPhone. Simply, open the Settings app, click General, and then choose Date & Time option.
Method 8: Check your battery health
Poor battery health is one major problem that can cause your iPhone to restart abruptly. If your battery percentage drops very rapidly even after full charging, then this means your battery is almost dead and it needs replacement. iPhone has a smart system to analyse the health of your battery.
You can check this from Settings > Battery > Battery Health. Here you will see a percentage mentioned right next to the Maximum Capacity heading. If it is below 50%, then you will need to consider battery replacement immediately.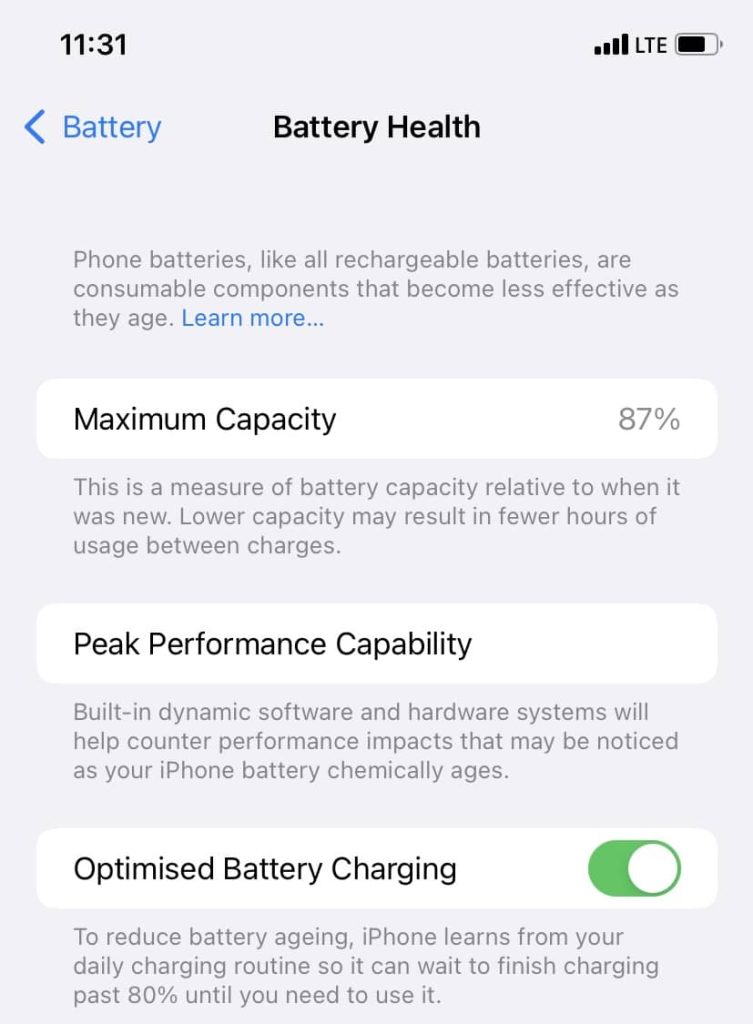 Method 9: Check your charging cable
If your iPhone isn't charging properly and it is stuck on a restart loop, then there might be some issue without your charging cable. Look for any cuts or damage in the cable. Try plugging it in a different device to see if it works. If it is not working, then you need to get a new charging cable.
Method 10: Check your power adapter
Are you using a local or any third-party power adapter to charge your iPhone? If yes, then it might be the reason why your iPhone is restarting abruptly. It is also possible that your power adapter is faulty. A good way to check this is by charging another device with the same charge.
If the other device is also not charging or restarting on its own, then your search for the solution ends. You have to buy a new charger for your iPhone. Don't go for a local charger instead buy an original one from Apple Store.
Method 11: Factory reset your iPhone
If nothing worked for you, the last resort is to factory reset your iPhone. This will clear all data from your device (including photos, videos, and apps) and reset your personalised settings to factory defaults. Make sure to take a backup of your iPhone to a PC or iCloud before using this method. Here's how you can factory reset your iOS device –
Open the Settings app.
Go to General.
Click Transfer & Reset iPhone at the bottom.
Tap Erase All Content and Settings.
Tap Continue button and follow the on-screen instructions to complete the factory reset. Once it's done, hopefully your iPhone will stop restarting.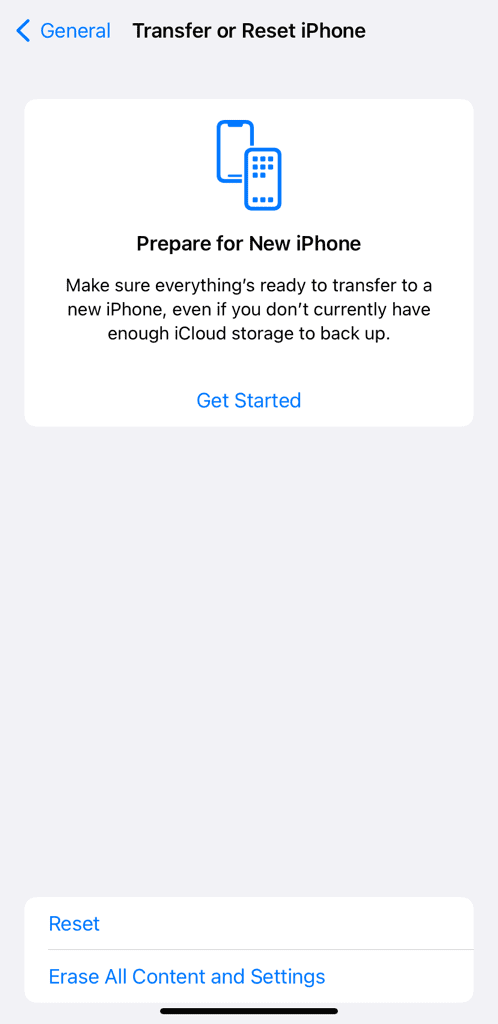 Method 12: Contact Apple Service Center
You might have a hardware issue with your iPhone if the factory reset does not resolve the auto restarting issue. It might be due to a disruption in the power supply from the battery or a problem with the circuitry.
In such a case, go to your nearest Apple Authorised Service Center and get your iPhone inspected by an expert. We do not recommend giving your iPhone to an unexperienced technician in a local mobile repair shop.
Frequently asked questions
Why does my iPhone restart by itself repeatedly?
Your iPhone may restart on its own repeatedly due to various reasons. It could be a software glitch, an incompatible app, low battery health, or problem with your charging accessories. In some cases, it may be related to hardware problems.
How to know if my iPhone battery is dead?
If your iPhone's battery is dead, it won't turn on or respond to charging. When you plug it in, there will be no sign of life, and the screen remains black. To check your battery health, you can go to Settings > Battery > Battery Health. If the "Maximum Capacity" is significantly low, it's an indication that your battery's health is deteriorating, and you might need a replacement.
Is iPhone boot loop a serious problem?
Yes, an iPhone boot loop is a serious problem. It's when your iPhone gets stuck in a continuous cycle of restarting and doesn't properly boot. While some boot loop issues can be fixed with software solutions, others may require professional assistance from an Apple service center if they involve hardware problems.
Conclusion
So this was a list of some methods for fixing the iPhone keeps restarting issue. We have arranged these methods according to their relevance. Those at the top have the best chances of working. One of these methods will surely work for you if you try them all one by one.
Thank you for taking the time to read this guide. We hope you have found it helpful. You are welcome to leave comments below if you have questions regarding this topic.
Read other similar articles: