If you run Instagram regularly, then you must have seen blue tick badge on the profile of many people. Till now, blue tick was available only to celebrities and global brands but now this feature has been enabled for everyone. Even if you have a personal account, you can apply for Instagram verification.
Most Instagram users want to verify their account to get a blue tick on their profile. There are various benefits of getting verified on Instagram. The brands start contacting you themselves for sponsorships and paid promotions. People will start recognising your profile more easily. It's like having a VIP account.
If you also want to verify your Instagram account, then today we are going to tell you some easy tips which are going to be of great use to you. Here you will find a detailed comprehensive guide on how to apply for Instagram verification and get blue tick badge. Apart from that, we have also shared some useful tips that can help you build your online presence.
What is blue tick on Instagram?
A blue tick on Instagram is the same as a blue tick on Twitter – it actually means that the account is verified. You will see this blue tick next to the username of the person or brand. It will appear on their profile, posts, and comments.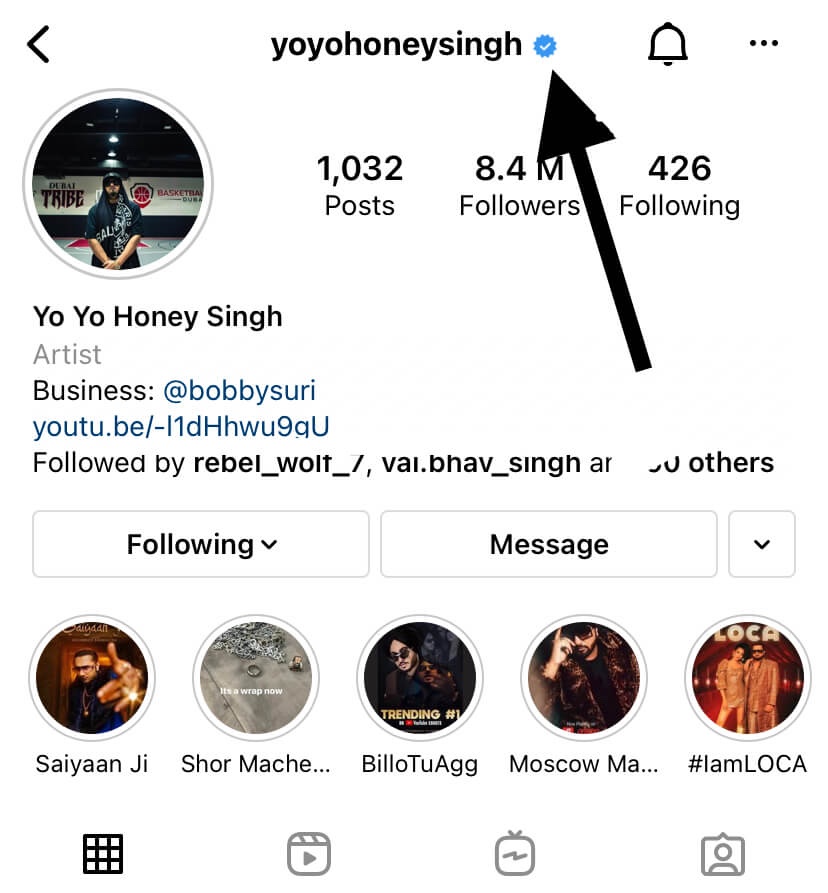 Verified simply means that the profile has been verified as a brand by Instagram officially. This blue tick is especially given to famous people (such as Prime Minister or Actor) and brands (like Nike, Adidas), as it allow users to know that they are following the same famous person/brand.
Why blue tick is needed?
Anyone can create a fake account on Instagram with the name of any famous personality or brand. This gives rise to spammers and cyber fraudsters. By creating a fake account, someone can pretend to be a popular person/brand and damage their reputation. To avoid this, Instagram has verification badges which let users identify the authentic account.
Instagram provides blue tick verified badge to only those accounts which have a high probability of having fake profiles. One thing to note here is that even though the account may have a verified badge on Facebook, they may not have a verified blue tick on Instagram.
Blue tick helps people to avoid fake accounts and let them find the real account of the person and brand they're looking for. For example, it can help you tell the difference between the official account of a celebrity and a fan page of that celebrity at a glance.
Apart from that, blue tick is a status symbol on social media which makes your profile stand out of the crowd. Accounts with blue tick verified badge will appear at the top in the search results, comments, stories and almost everywhere. Even the content of verified accounts is more promoted on the explore page of Instagram.
Eligibility for getting blue tick on Instagram
Instagram verification simply means establishing your Instagram account as "the authentic presence of a notable public figure, celebrity or global brand". You can also apply for Instagram blue tick verification if you belong to any of these categories.
Did you know that only around 1-2% of people who apply for the Instagram verification get their account verified. If you are an eligible account holder then only you should apply for it otherwise your request will rejected. Let us tell you on what standards Instagram does the verification and approve blue tick requests.
You should be a notable public figure, celebrity, or brand in order to apply for Instagram verification.
The most important thing is that you should be very famous in public eyes, not just on social media but in real life as well. Most people impulsively apply for blue tick verification on Instagram without even knowing that they are not not famous enough.
You should have good amount of followers, post engagement, and searches on Instagram.
You have to provide authentic documents to prove your identity during filling your verification form. This can include your ID proof such as Aadhaar card, tax bills, bank statements, etc.
Fan pages or fake accounts are not verified.
Your account must be public i.e. anyone using Instagram can access your profile. If you want to verify your account then it is mandatory to make your profile public.
You should have good online presence outside of Instagram as well such on news/media websites, other social media channels, blogs and popular websites like Wikipedia.
It is better if you switch to business profile on Instagram as it gives you more features. Although, you can apply for your Instagram verification with any account whether it is personal or business.
How to apply for blue tick on Instagram
Instagram will first check your account to know if it is eligible to get blue tick or not. You will get the verified badge only after you meet all the standards of Instagram verification. For this, the authenticity of your account will be measured.
If you haven't updated your Instagram app, the first thing you have to do is update it because the verification request feature is only available on the latest app. The user has to fill a verification form to apply for blue tick on Instagram.
In this form, you will have to provide your ID proof such as Aadhaar card, tax bills, driving license or any other relevant document. This makes it easier for Instagram to verify your identity. The Instagram team will manually will check your form and verify the document you have uploaded.
If your document is found to be correct and your account is eligible to get blue tick, your verification request will be accepted. It may take a few days to get the investigation done by Instagram. Now let's show you a complete step-by-step guide to apply for the blue tick verification of your Instagram account:
Open the Instagram app in your Android phone or iPhone and then go to your profile by clicking on your profile icon at the bottom-right corner.
After reaching the profile, click on the hamburger icon of three lines at the top-right side.
This will open a pop-up menu on your screen. Click on the Settings option at the top.

On the Settings page, tap on Account option and then click on Request Verification.

Now you have fill out Instagram verification form. The first step is to confirm your authenticity where you have provide your full name and document. You can upload a your government-issued ID proof such as Aadhaar card, Passport, Driving License (DL), tax filling, recent utility bill, and articles of incorporation.

In the 2nd step, you have select the category of your account. You can also describe your audience and add additional names by which you or your brand is known by the people. Apart from that, add the links of your press release, popular websites you have been mentioned and your other social media accounts.
After filling the entire form correctly, click on Submit button at the bottom. That's it. Your Instagram blue tick verification request will be submitted successfully.
Now you have to wait until the verification is done. This can take up to several days. When you are verified, you will be notified by the Instagram team and soon a blue tick will start appearing next to your username. Congratulations!
Tips to build your Instagram presence
Increase your followers
If the number of your followers continues to increase, then you can easily apply for account verification. In fact, when you send a request for account verification, the company reviews your profile and sees how many people follow you. If you have significant amount of Instagram followers, then it is clear that you are a notable person and in such a situation, the chances of your account being verified increase.
Keep your account public
If you want to get blue tick verification on Instagram, never keep your profile private. When you have a public account, the reach of your profile will increase to a great extent. This will allow more and more people to follow you once they start liking your content. A very important point to note here is that your account must be public to get more success rate in getting your verification request accepted.
Post regularly
If you make regular posts on your Instagram account, then it keeps users coming to your profile which increases your engagement. If you aren't active on Instagram, then your chances of getting your account verified are reduced significantly. So make sure to be active on your account if you want to get blue tick.
Using hashtags is also very important for every post. If you add the right hashtags in your post, it will reach to more people. That's why it's recommended to always share your post with relevant hashtags. You can check out our post where we have shared a list of most popular Instagram hashtags for getting likes and post engagement.
Build your presence outside of Instagram
Even if you have a lot of followers, Instagram also looks at your external online presence outside of social media. What if Instagram employees search for you on Google during the verification process? If you aren't found there, you will not be considered a notable personality and thus your blue tick verification will be rejected. If you have your own website, make sure it is SEO optimised properly. Get it indexed on Google and rank it in the first SERP for your targeted keywords.
Get featured on media websites
Instagram reviews each verification manually. One of the factors that instagram staff checks is whether the user is featured in a news or media websites. If have a press release and media presence, it is going to benefit a lot to get your Instagram verification approved. If you have never been in the news before, try to reach out to media organizations and ask them to publish about you on their websites. Post all your related stories in a press release and this will give you a huge visibility on the Internet.
Authenticity is the key
Make sure you are completely accurate and truthful at all stages of the Instagram verification process. Use your real name and choose a relevant category for your business account. Most importantly, use an actual document to prove your identity.
If you are thinking that you can cheat the Instagram system and get verification done fraudulently, then you are absolutely wrong. It is important to note that if you provide incorrect or misleading information in your verification form, not only your verification request will be denied but also Instagram may take additional action to delete your account.
General FAQs
How long does it take for the verification request to be processed?
Usually it takes 3-4 days but it can take a little longer as well depending on the availability of reviewers and the number of requests.
Can a normal person get blue tick on Instagram?
The answer is clearly no. Even if you apply for the verification, your request will be rejected immediately.
How many followers you should have to apply for blue tick?
There is no fixed criteria on the number of the followers for applying for Instagram verification. Sometimes users having as low as few thousands followers also get verified while some with millions of followers do not. It totally depends on your authenticity and whether you are really a person worth getting verified.
Can meme pages also get verified on Instagram?
Very rarely only if you have build yourself as a brand like 9Gag. Try building your account as a brand and have online presence outside of Instagram as well.
Can you reapply for Instagram blue tick?
If your Instagram verification request got rejected for some reasons, you can reapply it again after 30 days. Please note that if you are not a person worth getting verified and you keep reapplying for a number of times, Instagram may take action against your account.
Conclusion
So that's how you can get blue tick verified badge on your Instagram profile for free by filling out Instagram verification form yourself. This is the only official and genuine method. There are some third-party PR agencies offering you Instagram verification service but we recommend you to use them only if you didn't get approved by yourself. Also beware from these third-parties as they can also be fraud. If you are facing any problem, feel free to share it in the comments below.