If you have an Apple device (either iPhone or iPad), then you must have heard about jailbreak somewhere on the Internet. You will be very curious to know what is jailbreak, what are its advantages, what are its disadvantages, and more. We are going to answer all such questions related to iPhone jailbreaking in this article.
Apple has put a lot of restrictions on iPhone and iPad to make your device more secure. For example, you can't install unsigned third-party apps from unknown sources other than App Store. Similarly, you are not allowed to record calls on iOS, lock and hide private apps, run multiples apps in split screen, etc.
Did you also feel that you have very limited control over the customisation of your user interface? There are many more restrictions that you might have faced on iOS in your everyday life. Jailbreaking is the option to get these restrictions unlocked on your iPhone or iPad. Let's discuss about this in more details!
What is iPhone jailbreaking?
Jailbreaking is the process of cracking the iOS system of your iPhone or iPad to remove all software restrictions that have been imposed by Apple. iPhone jailbreaking is very similar to Android rooting which gives you root access to your device.
Jailbreaking is especially beneficial for those technical people who want to experiment with their phone. After jailbreak, you will be able to run apps on your iOS devices that are not available on App Store and apps which have not been signed by Apple. You can play with the user interface (UI) of your iPhone by applying themes, fonts, and custom ROMs.
Most iPhones abroad are locked with only a particular telecom service provider. Such iPhones can be unlocked by jailbreaking to use them with any operator. Even in India, most of the people who buy iPhones from abroad and they are able to use the phone only after jailbreak.
So basically, jailbreaking gives you full control over your iPhone or iPad and it allows you to do things which could not be possible with the native iOS that comes pre-installed on your Apple device. But as you know that the things which have benefits, they have some drawbacks as well, so let's know about the advantages and disadvantages of iPhone jailbreaking.
Advantages of iPhone jailbreaking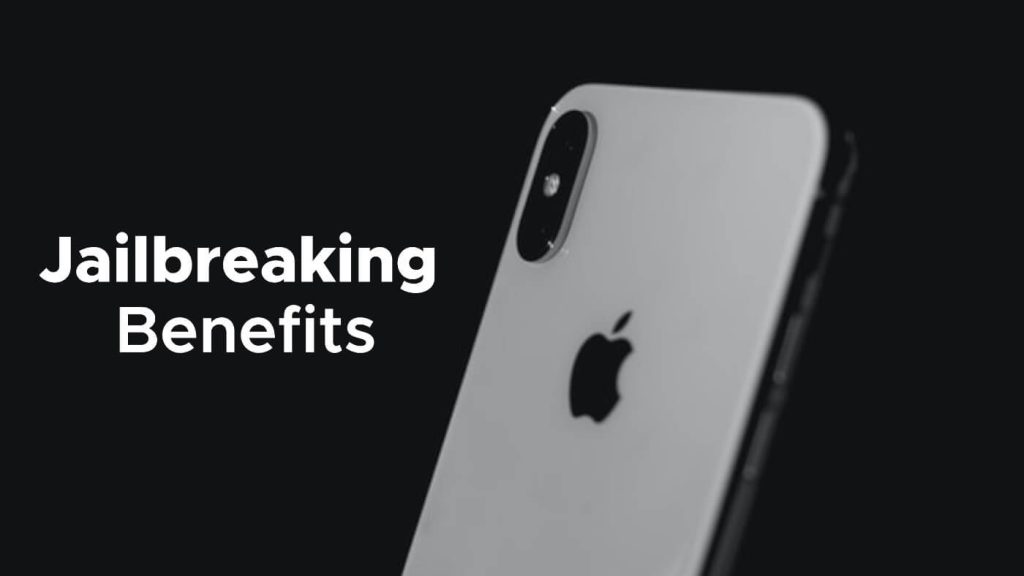 Install unsigned apps – Unsigned apps are the applications that are not verified by Apple and not listed on App Store. You can install such apps on your iPhone or iPad from third-party sources which isn't possible without jailbreaking.
Lock apps – iOS doesn't have built-in feature to lock apps on your Apple device. Only few apps like WhatsApp offer their own feature to lock the application with Face ID protection. After you jailbreak your iPhone, you will be able to lock any application.
Hide private apps – Sometimes you want to hide apps from your iPhone so that no one can access them. Although you can remove the apps from home screen but they will still be visible in the App Library and Siri Search. Jailbreaking will allow you to hide them completely.
Hide photos, videos and files – Similar to the apps, you will be able to hide your photos, videos, files and other stuff after jailbreaking your Apple device.
UI customisation – You can change the look and feel of your iPhone or iPad by applying fresh themes. The possibilities of UI customisation are unlimited after jailbreaking.
Apply custom fonts – If you are fed up seeing those default fonts on your iPhone, you would want to use custom fonts of your choice. This is also possible with jailbreaking by using third-party apps like BytaFont.
Unlock operator lock – If your iPhone is locked to a particular network provider and you are unable to use with any other SIM card, you can do jailbreaking to unlock the operator restriction.
Run apps in split screen mode – Sometimes you need to do multi-tasking on your iPhone or iPad by using two or more apps at the same time. For example, let's say you want to listen to a song and surf the Internet while doing messaging side-by-side. By using jailbreak tweaks like Multiplexer, it is possible to run apps in multi window pop-up mode.
Use Activator – Activator is a popular jailbreak tweak that allows you to perform certain automated tasks which get triggered automatically when a particular event, which is selected by you, occurs.
Disadvantages of iPhone jailbreaking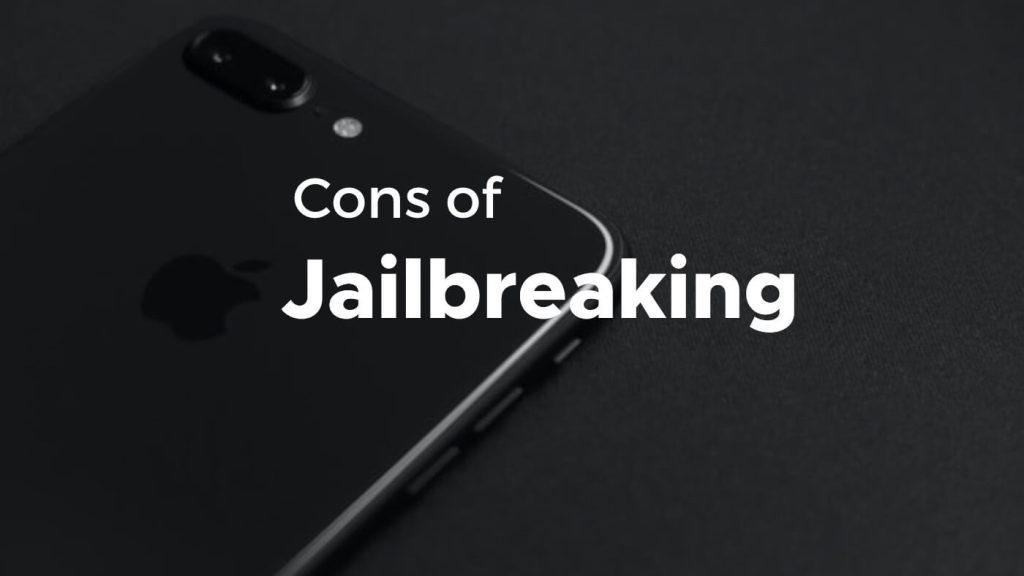 Following are the drawbacks or disadvantages of jailbreaking your Apple device:
Security issues – You would already know that iPhone is the most secure smartphone in the market. The iOS is build by keeping security as a main concern and that's why it is way better than Android. But after your jailbreak your iPhone, the security will be at risk. For security tips, you can check out our guide on how to make your iPhone secure.
Jailbreaking voids the warrant – You will lose your iPhone warrant after jailbreaking. This means if you will have some software or hardware issues in your device, it will not be covered under warrant.
Potential risk of viruses – Jailbreak will increase the chances of getting viruses and malware on your iPhone or iPad.
Risk of data breaches – Third-party apps will have root access to your phone and they can even steal your personal data in the background.
Performance issues – You can also face issues on your iPhone such as hang problem, slow speed, app crashing, and more.
Types of Jailbreaking
There are basically 3 types of jailbreaking which are listed below –
1. Untethered jailbreaking
If you do untethered jailbreaking, then after restarting your iPhone, your jailbreaking will end, and you will have to do the whole process again. This is a temporary solution so those who would like to try jailbreaking can use this method.
2. Semi-tethered jailbreaking
As the name suggests, if you do semi-tethered jailbreaking, then jailbreaking will end as you switch off your device. Upon restarting, your iPhone will start a fresh but it can be jailbroken back as soon as you open the jailbreak software.
3. Tethered jailbreaking
If you do tethered jailbreaking then your iPhone will be fully jailbroken. Even after restarting, the jailbreak will remain so you don't have to repeat the same process again and again. This is the permanent solution.
How to jailbreak your iPhone
If you want to jailbreak any of your iPhone or iPad, then for that first you have to know your iOS version. To find out your iOS version, go to Settings > General > About > Software Version. Please note that jailbreaking isn't possible with every iOS version. The latest iOS versions are more harder to jailbreak as compared to the older ones.
Prerequisites for jailbreaking
You have to follow the basic criteria and prerequisites in order to jailbreak your iPhone. Below we have listed some important things you need to keep in your mind before starting the process –
Make sure to backup your photos, videos, documents and other stuff to be on the safe side. If something goes wrong while jailbreaking, you will be able to recover your data. For backup, use iCloud or Google Photos.
Keep your iPhone or iPad fully charged. The process of jailbreaking will take some time and if your device switches off in the process, it can cause damage to your data.
Make sure that you have a jailbreak-compatible iOS version. Depending on iOS versions, there are several ways of jailbreaking. You can search your iOS version and iPhone model on Google to find a particular method.
Make sure you have a jailbreak-compatible device. The list includes iPhone X, iPhone 8 models, iPhone 7 models, and iPhone 6 models. Newer iPhone models are harder to jailbreak as they are running on latest iOS version.
Now let's show you a method to jailbreak your iPhone using unc0ver jailbreak app. This will work on iOS 11 to iOS 13 versions. Follow these steps:
First of all, open the Safari browser on your iPhone or iPad and download the unc0ver jailbreak app from the tweak-box website as mentioned in the link.
After installation, go to Settings > General > Profile & Device Management. Here you will find unc0ver jailbreak profile. Open it and click on Trust.
Now you have to open the unc0ver app which will appear on your home screen.
Click on Jailbreak button and the app will start jailbreaking your device. Please note that your iPhone may restart several times during the jailbreaking process so don't worry about it.
Now if your iPhone is not jailbroken at once, then you have to open the unc0ver app again and click on Jailbreak.
When your iPhone is successfully jailbroken, it will have the Cydia app on it after it is turned on. You are Done! Now your iPhone and iPad have been successfully jailbroken. You can use Cydia tweaks in it.
General FAQs
Is Jailbreaking legal?
Many people say and believe that it is illegal to jailbreak Apple iPhones. Yes, it is true that Apple does not allow jailbreaking its iOS, but it does not mean that it is illegal to jailbreak your iPhone and iPad.
Earlier, iOS jailbreaking was considered illegal, but then the US Court made it clear that jailbreaking is the right of any user and anyone who wants to jailbreak their iPhones or iPads can do it. So now it is legal to jailbreak any of your iPhone or iPad.
What is Cydia app?
Cydia is an app store for jailbroken Apple devices. You can also call it the secondary application store of the iPhone. Through Cydia, you can download third-party custom applications and jailbreak tweaks for your iOS device. Not only that, but you can also fully manage your jailbroken iPhone.
Is it safe to jailbreak your iPhone?
Yes, it is completely safe to jailbreak your iPhone but there are some security risks involved as your device is openly exposed to viruses, malware, and online threats. Make sure to verify the app before installing it on your device.
Can you jailbreak iOS 15 version?
There is no way to jailbreak iOS 15 as of now. None of the previous methods work with this iOS version as it is pretty new, however, you can expect to get a workaround in the future.
Conlusion
Jailbreaking unlocks your iPhone to endless possibilities from UI customisation to installing unsigned apps and various other useful features. For normal users who are happy with the native features of iOS, it is not necessary to jailbreak their iPhone because it won't do anything good for them. However, if you are a tech geek who loves to experiment with their phone then you should definitely try it.
We hope you get to know everything about iPhone jailbreaking in this article. There is no doubt in that fact that jailbreaking provides various benefits but you should also consider its disadvantages and the risks involved in it. Let us know what do your think about jailbreaking. Is it good or bad? Share your thoughts in the comment section below. Make sure to share this article with your friends who are iOS users.