WhatsApp is the largest instant messaging platform in the world today with over 490 million users in India alone. We get all kinds of messages and information on WhatsApp every day and sometimes we also receive fake news from our friends and relatives. People unknowingly share fake news and rumour-mongering messages without confirming their authenticity.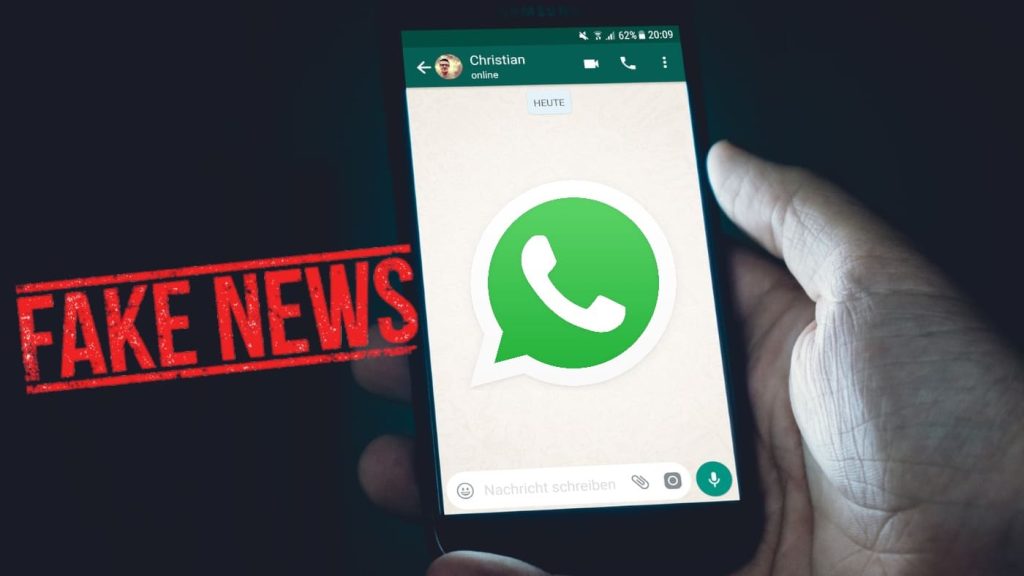 Fake news can have negative impact on our society in real life. Earlier, there have been incidents like mob lynching in the country due to fake posts shared on social media. You can also become a victim of online fraud through fake news. Apart from that, political propaganda is also run on WhatsApp which can incite people against a particular person, group or religion.
From the above examples, you would have known the intensity of the impact that fake news can create on our society. That's why it is important for you to identify fake news on WhatApp and stop them from spreading to other people. It is solemnly your responsibility to find out the authenticity of the information that you are forwarding with your friends and family on WhatsApp.
Today we are going to share some useful tips with the help of which you can easily bust fake WhatsApp news within seconds. Through this article, you will learn the art of reviewing any news, information, or claim shared on WhatsApp as a text message, photo, or video to determine whether it is fake or true. Let's see what are some ways to do this.
1. Review the message carefully
If you receive any such message on WhatsApp that makes you angry, sad or scared, investigate about that message and find out if that message has been sent with the purpose of provoking your feelings. Only after confirming the authenticity of the message, you should send it to anyone else, otherwise delete it immediately. You can also ask the sender about the source of the information/claim and if they failed to provide you any satisfactory answer, then you have got your answer that it is a fake message.
2. Check forwarded tag on the message
WhatsApp has released the feature of Forward Messages a long time ago. You will see a tag named "Forwarded" on the messages that have been forwarded to you without typing them manually. With this, you can find out whether the message has originated from the sender or it is coming from a different source. All fake messages are forwarded, however, not all forwarded messages are fake. You can use this as an indication to further continue your investigation.
3. Search the information on other sources
Sometimes you will receive messages which are a bit difficult to believe, such messages are often not true. In such a situation, find out from some other source how much truth is there in the claim made in that message. For this, search the WhatsApp viral message on Google and check out some trusted websites to verify the claim. If it is actually true, you will definitely find various articles about it on the Internet.
4. Check suspicious messages
Many times you get messages in which there is a spelling mistake. Most of such messages are fake and false. Delete them immediately and do not send to anyone. It is important to note that government or any other official organisation doesn't release any notices via WhatsApp messages. If you get such message which pretend to be on the behalf of an official party or organisation, it is most likely a fake one.
5. Check if the image is fake
Any photo or video that you receive on WhatsApp should also be checked. Zoom in to the photo and see if there is any editing done in it. Often fake and edited pictures are made viral on WhatsApp to spread a wrong message. To check the authenticity of a picture and find if it is real or not, you can also use the Google Image Search tool and search that image on the Internet.
6. Check the authenticity of the link
The link in the message may appear to be from a familiar or well-known website, but if it contains spelling mistakes or strange characters, then it is most certainly a fake or phishing website. Please check the authenticity of any link that you receive through WhatsApp message before clicking on it. You can search the link on Google and compare it with the web address of the official website. Make sure to avoid clicking on links that offer free gifts and vouchers.
7. Don't forward messages without verifying
False news spread like a wildfire. We humans have a tendency to share new crispy information with our friends. If you are unable to verify a message properly whether it is real or fake, then you should not forward that message to anyone else. Don't be a part of the chain to forwarding unnecessary messages without verifying their authenticity. Bust false messages and let others be aware of them.
8. Block unknown number
If you receive a message from an unknown number which you do not know, then it is definitely fake. In such a case, you have to block and report that phone number on your WhatsApp. If you have been contacted by that user for the first time, you will see Block option on the chat screen directly. Otherwise, you can go to Menu (three-dot) > More > Block or Report Contact.
9. Block random WhatsApp groups
Sometimes we get added to random WhatsApp groups by our friends and relatives without our permission. WhatsApp groups are the main of fake news and messages where people randomly forward unnecessary things which they themselves don't know whether they are actually true or not. If you are also a member of such group that promotes false information, you should get away from it and leave that group immediately.
10. Adapt to fact-checking
Fact-checking is not something that you will learn overnight. You will get to learn the art of identifying fake news over the course of time and once you are well versed in it, you can easily tell whether any message is fake or not just by looking at it.
If you are doubtful about any government-related policies and schemes that are being made viral on WhatsApp, you can verify that claim using PIB Fact Check website. This website has been developed by the government of India to counter misinformation.
Putting an end to fake news on WhatsApp
The trend of fake news is increasing day by day. We encounter so many viral messages on WhatsApp that claim unbelievable facts. It is important that you be careful and check it thoroughly before trusting any message. Through this article, we shared with you 10 useful tips that can help you identify fake and false news on WhatsApp, If we missed to mention any important point, do let us know in the comments. We would also love to hear your thoughts on this topic.