Disappearing messages is something that most instant messaging apps and social media apps are nowadays adding to their list of features. The importance of this feature was first realized by the Signal app and the feature was first seen into use in 2016 by the same. Appreciation from the users made other apps like Telegram, Snapchat, Wickr Me, Confide, Cover Me, Messenger, and most recently, WhatsApp to add this feature to the list.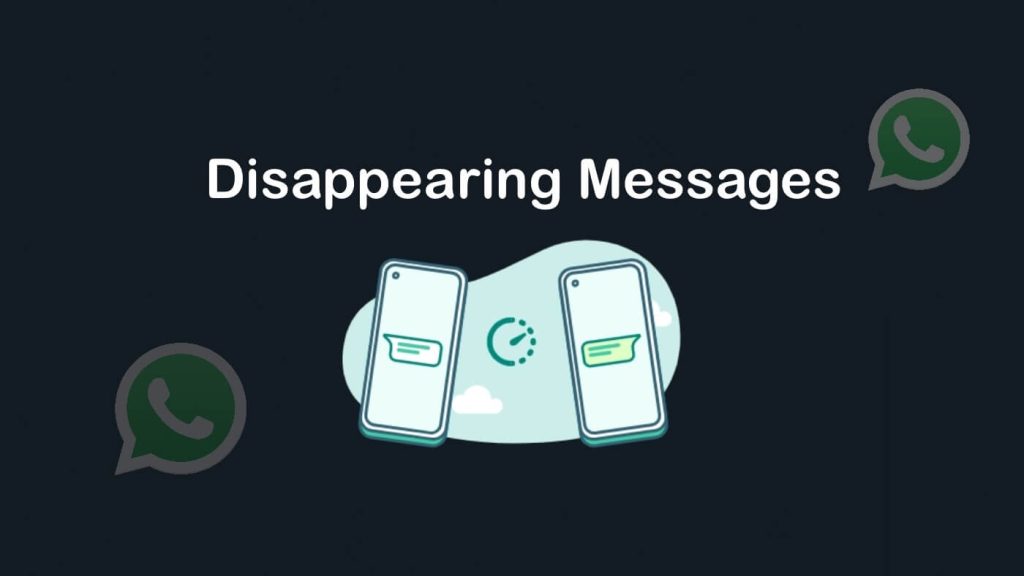 When we talk to someone on WhatsApp who is not our friend or family member, we never want to keep their chats in our WhatsApp list as it unnecessarily stuffs our WhatsApp account and covers up some space for our WhatsApp backup. But most of the time, we tend to forget to delete their chats, and they remain in our account forever. But if we could outsource this job somehow, then it becomes easy to keep the app neat and clean. This is where the disappearing messages feature come into existence. Using this feature, the chats will automatically get deleted after the given time. Let's see how to use this amazing feature.
What are WhatsApp disappearing messages
People who are new to this term needs an explanation first as to what are disappearing messages. In simple words, these are the messages sent or received only for a limited period of time. Once that time elapses, the messages vanish automatically. Some apps give an option to choose the time for which you want the messages to appear. But as for WhatsApp, you don't have an option to choose, the messages will disappear automatically after a week.
Let's have a look at some important points that you need to know about disappearing messages on WhatsApp –
If the recipient didn't open the message within 7 days, it will disappear from the chat. However, the preview might be displayed in the notification.
If you forward a disappearing message to some other chat on your WhatsApp where this feature isn't enabled, then it will behave as a normal message and won't be deleted automatically.
Disappearing messages are also included in WhatsApp backup but they will be deleted when a user restores the backup.
When someone replies to a disappearing message, the text get quoted on the reply and it will remain in the chat even after the original message has been expired/deleted.
It's possible for the recipient to save your disappearing messages without even letting you know and there are various ways to do that which includes copying the text from your chat, taking a screenshot, using screen recording, etc.
How to enable WhatsApp disappearing messages
No matter if you own an iPhone or an Android phone, you can easily send disappearing messages on WhatsApp regardless of the operating system. Location of the options that you need to select to send disappearing messages might differ, but the steps are almost the same.
Before starting with the guide, make sure you have updated your WhatsApp to the latest version as you might not see the feature if you haven't updated WhatsApp in a long time. After the app is updated, here are the steps that you need to follow.
Open the WhatsApp app on your smartphone and select the chat for which you want to enable disappearing messages feature. If the chat does not already exist in the CHATS section, tap on the message icon given at the bottom right side and then select the desired contact to start sending the disappearing messages.
Now once the chat is open, tap on the contact name or phone number at the top.

This will take you to the profile page of that person, and here you need to scroll down a little and select the Disappearing messages option.

Now under the Message timer option, simply select the On button. Initially the button is selected to Off by default, that is the reason why all your chats remain forever.

Now go back the chats and you will see a message appearing that says "You have turned on disappearing messages. All new messages will disappear from this chat 7 days after they're sent". The other person will also be able to see this message and they will know that you have enabled this feature from your side. Another way to know that the disappearing messages feature is enabled in a chat is by having a look at the timer option given with the profile icon.
Using the same steps, you can disable this feature and the icon will also disappear. A message will be sent stating that the feature is disabled. As of now, you don't have any way to select the time for which you want to keep the messages, they will automatically disappear after 1 week. If you prefer using WhatsApp on PC rather than phone then you need to follow almost the same steps to send disappearing messaging using desktop.
You need to keep in mind that despite the vanish mode is enabled on the messages, you and the other person can still take screenshots af the chats and the chats can be exported as well. So make your choice of sending the messages wisely.
How to send disappearing photos and videos on WhatsApp
You might confuse disappearing messages with the disappearing photos and videos feature of WhatsApp but they are actually two different features. If you send a photo or a video while the disappearing messages feature turned on, it will automatically be deleted in a week. But with the disappearing photo video feature, you can set the desired media to only be viewed once. After it is being opened, the media will vanish automatically.
It is easy to enable this feature on a media with some few steps. Open a WhatsApp chat and select the pin option given in the Message box. Now select the Gallery option to choose a photo or click a new photo with the camera. After selecting the desired photo or video tap on the 1 option that appears on the bottom right side just before the send option and finally send the media.
The other person will be able to see the media only for once now. But you should know that even when the media is sent with such a privacy, taking screenshots and recording the screen is still possible. So make sure you are not sending something that is too private or riskier to share. If you use WhatsApp on computer or WhatsApp web then you'll be glad to know that this feature can still be accessed.
General FAQs
Does WhatsApp have disappearing messages?
Yes, not a long time back, WhastApp introduced its disappearing messages feature. Along with that disappearing media feature was also introduced where the user can only video a media file only once.
Can someone see when you turn on disappearing messages on WhatsApp?
Yes, the other person will get a message inside your WhatsApp chat that you have enabled disappearing messages feature.
How do I turn on disappearing messages on WhatsApp?
Go to WhatsApp, select the desired chat, tap on their name at the top, select Disappearing Messages option and switch the option to on from off.
Can I enable disappearing messages option in WhatsApp groups?
Only if you are allowed by the group admin, you can enable or disable the disappearing messages feature in any WhatsApp group.
How can I tell if someone is using vanishing messages feature?
If someone has enabled this feature, you will see a notification on your WhatsApp chat and you will also see a sign on that person's profile picture with 1 written inside a circle.
Wrapping up
The concept of disappearing messages was first introduced by Snapchat and later it was adapted by other social media and messaging apps also. WhatsApp is no exception in this case. The same feature is also available on Instagram which comes by the name Vanish Mode.
There are times when you don't need to save a chat on your WhatsApp. Maybe it's not important enough to keep, you want your WhatsApp clean from unnecessary chats, you are chatting with a stranger or whatever reason it is. In such cases, disappearing messages can be really helpful to automatically delete your conversation from both ends.
The default time period limit set by the WhatsApp for these disappearing messages is 7 days which is quite long. We think there should be an option to adjust this time manually or another feature which deletes the messages once they have been read by the recipient. This will be good for having more private chats on WhatsApp. Let us know your views in the comments below.