When you connect to a Wi-Fi network, your iPhone will automatically save its password. The next time when you reconnect to the same Wi-Fi, you will not be asked to enter the password again. Can you view the saved passwords of the Wi-Fi networks you have connected previously? This wasn't possible till now but the latest iOS 16 has given you the access to view your saved Wi-Fi passwords.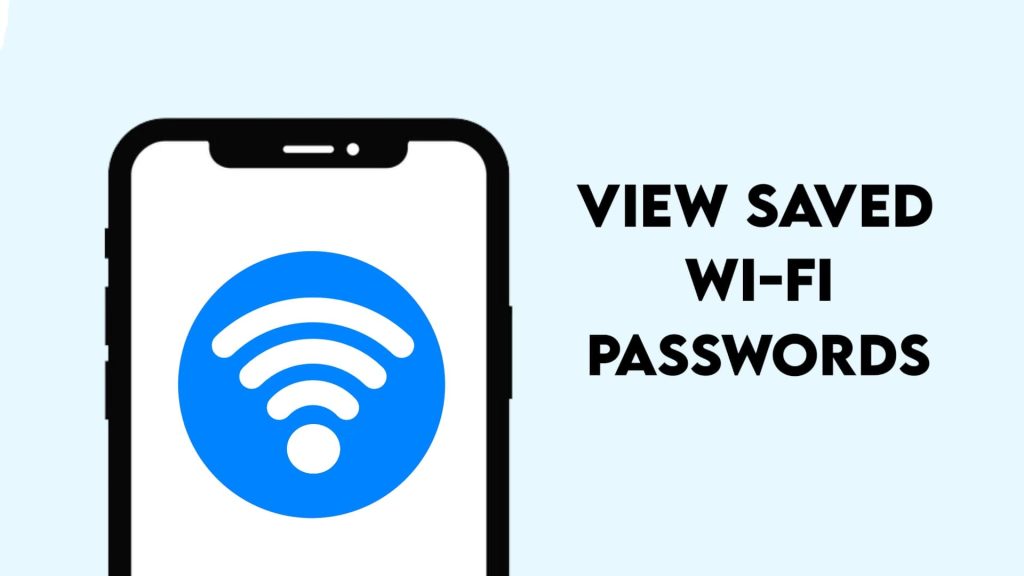 Sometimes you forgot your own Wi-Fi password and you run into trouble when someone asks you to connect their device to your Wi-Fi network. In another situation, let's suppose you want to connect your another device to the same Wi-Fi which is connected to your iPhone but you don't want to ask for the password from the owner/admin. In these cases, if the Wi-Fi password is already saved on your iPhone, you can view it very easily. Let's discuss in brief how you can do that!
Basic requirements to view saved Wi-Fi passwords on iPhone
Not every iPhone user can view the saved Wi-Fi passwords on their device. Below we have shared the basic requirements you need to meet –
Your iPhone must be running on iOS 16 version. This feature has been introduced only in the iOS 16 and it will be available in the later versions also. If your iPhone is running on iOS 15 or any other previous version, you will need to update it.
You must have the Wi-Fi password saved on your iPhone. This is possible only if you have connected to the same Wi-Fi previously.
You can only view the passwords of Wi-Fi networks which you have connected to your iPhone in the past.
How to know the current iOS version of your iPhone
To know which iOS version your iPhone is using right now, open the Settings app and go to General option. Now click on About at the top. Look for the Software Version and you will find your iOS version mentioned next to it. If it is below 16, you won't be able to view the saved Wi-Fi passwords on your iPhone.
How to update your iPhone to the latest iOS 16
As of now, iOS 16 has been rolled out only to some latest iPhone models above iPhone 12. It will be available for all active models very shortly. To check if iOS 16 is available for your iPhone, again open the Settings app and go to General > Software Update. Now your iPhone will look for the software update. If an update is available, check its iOS version and tap the Download and Install button to start the software update process.
How to find saved Wi-Fi passwords on iPhone
You can find the password of your currently connected Wi-Fi network in the Wi-Fi settings of your iPhone. Here's a step-by-step guide for that –
Open the Settings app on your iPhone.
Click the Wi-Fi option at the top. Your Wi-Fi must be turned on and connected to the previously saved network whose password you want to know.
Tap the Wi-Fi network name or info (i) icon next to it. This will open up all the details of your selected network.

In the Wi-Fi details page, you will find Password entry. There will be some dots in the entry field. Tap on the dots and it will reveal the hidden password. You may be asked to verify your identity through Face ID or passcode.

Now you can click Copy option which will copy the password to your clipboard. You can save it to Notes or share it with anyone who wants to join the same Wi-Fi.
How to manage saved Wi-Fi networks on iPhone
Until iOS 16, it wasn't possible to view the list of previously connected Wi-Fi networks on your iPhone. But iOS 16 has finally added this much-awaited feature and you can also find the details of any Wi-Fi network including its password. When you get closer to any previously connected Wi-Fi, your iPhone automatically connects to it without even asking for your permission.
f you don't want this to happen, you can delete or remove that network from your list. Simply tap the Edit option at the top-right corner and then click the delete (- icon) next to the specific Wi-Fi network you want to delete. You will be asked to confirm your action so click on the Remove option to continue. Please note that your other devices using the iCloud keychain will also no longer be able to join the Wi-Fi network you have deleted.
Frequently asked questions
Can you view saved passwords on iOS 15 or previous versions?
Unfortunately, no. iOS 15 and previous versions don't provide any facility to view your saved Wi-Fi passwords. If your iPhone is running on iOS 15 or earlier, the only thing you can do is to update it to the latest iOS 16 and then you will get this feature. Although there are some third-party apps that you can use but you will need to jailbreak your iPhone in order to use them which isn't worth.
How to view saved Wi-Fi passwords on Android?
You can follow the similar steps if you have an Android device. Simply, go to your Wi-Fi settings and tap on the network name whose password you want to know. Next, click the Share option having a QR code icon on it. Unlock your device for security verification and then you will be able to see your Wi-Fi password listen below a QR code. Note that this method only works on Android 10 and above.
When will the new iOS 16 be available for your iPhone?
As of now, iOS 16 is in beta stage. Various beta versions will be released between June and September. The finalised public version will be available by the end of September 2022. Note that iOS 16 will be available only for iPhone 8 and later models.
How to view your personal hotspot password on iPhone?
Open the Settings app on your iPhone and go to Personal Hotspot option. Now select Wi-Fi Password and you will see the password of your personal hotspot. Tap on the entry field to edit or change your password.
Conclusion
There are several times when you will need to view the saved Wi-Fi passwords on your iPhone. It is really painful when you forgot the password of your own Wi-Fi network. Instead of going through the long process of reseting your router, you can use the simple method we have shared in this guide. If you have connected to someone's Wi-Fi before, but you don't remember their password now and you need to connect your other device to the same Wi-Fi, you will find yourself in an awkward position when asking for the password again. We have made your task easier. If you have questions regarding this topic, feel free to share them in the comments below.