Are you worried about the quality of your Instagram reels? Do you want your reels to appear as good as they were before editing and uploading? A lot of people use VN Video Editor app to edit their Instagram reels. In this article, we will show you the best export settings that will ensure your video has the highest possible quality.
VN Video Editor has become the number #1 choice for editing Instagram reels. The app offers a wide range of features that make it easy for users to create professional videos with minimal effort. It also has a variety of tools such as the ability to add music, transitions, and effects. Plus, it's free to use which makes it an attractive option for many users.
Best VN export settings for Instagram reels
VN Video Editor provides you with two ways to export your Instagram reels. You can either select Auto mode or Manual mode. With the Manual mode, you have the options to choose the export settings for your video manually such as resolution, frames per second, bitrate, and more.
It's important to choose the right settings to get the best results for your Instagram reels. The following table shows the best export settings in the VN Video Editor app –
Video Specs
Recommended Settings
Resolution
1080p
Frame rate (FPS)
30 fps
Bitrate
10 Mbps
HDR
Disabled
Auto Export Setting
Disabled
Aspect ration
16:9 (Full Portrait)
Video coding
H.264
File size
Ideally around 100 MB
Reel length
Recommended: 8-15 seconds (max is 90 seconds)
Audio
AAC codec
Sample rate: 48000 Hz
Bitrate: 320 kbps

Best resolution for exporting Instagram reels in VN
Recommended resolution: 1080p (HD)
Resolution in video refers to the number of pixels in a frame. This factor determines the quality of the video. The higher the resolution, the more detail you can see in the video. Higher resolution also requires more storage space.
VN Video Editor provides a wide range of options for resolution ranging from 540p to 4K. By default, the export setting is set to 1080p resolution in the Auto mode. The Manual mode provides 5 resolutions including 540p, 720p, 1080p, 2.7K, and 4K.
The recommended resolution for exporting Instagram reels in VN Video Editor is 1080p (HD). This resolution provides the highest quality video for Instagram reels. 1080p resolution is the perfect balance between quality and efficiency, making it the ideal default export setting.
Please note that your reels are automatically compressed to 720p resolution when you upload them to Instagram. In fact, all the reels that you see on Instagram are displayed in 720p resolution. This doesn't mean you should export your videos in 720p on the VN Video Editor.
Best FPS for exporting Instagram reels in VN
Recommended frame rate: 30 fps
Frame rate refers to the number of individual frames or images that are shown in a single second of video. It is typically expressed as frames per second (also known as FPS in short). A video with a 30 fps setting will display 30 frames per second on your screen.
Higher frame rates will allow you to take advantage of smoother and higher quality playback, while lower frame rates will help you save on file size. VN Video Editor app allows you to export your videos in a wide range of frame rates from 24 frames per second (fps) to 60 fps.
The best frame rate for exporting Instagram reels in VN is 30 fps, as this is the frame rate used by Instagram itself. 30 fps is the standard export setting that gives the video a smoother and more professional look. It will have the same quality as if it was natively uploaded to Instagram.
Best bitrate for exporting Instagram reels in VN
Recommended bitrate: 10Mbps
Bitrate is a measure of the amount of data that is used to encode a video. It is usually measured in mega bits per second (Mbps). Bitrate is an important factor that determines the quality of the video. Higher bitrates result in better quality video but also larger file sizes.
VN Video Editor will automatically determine the best bitrate for your video according to the resolution and FPS settings you have chosen. The app also provides you an option to select the bitrate manually. There is a slider that you can adjust from 1 Mbps to 150 Mbps.
The ideal bitrate for exporting Instagram reels on VN is 10 Mbps. This will provide a high-quality video with good visuals. It will also ensure that videos are not too large to upload onto the platform. A 1080p resolution and 30 FPS export setting on the VN app has a default bitrate of 9 Mbps.
Should you turn on HDR in VN export settings?
HDR mode: Off
VN Video Editor also offers another option named HDR in the manual export settings. HDR allows you to bring more dynamic range to your video. It does this by making the bright parts brighter and the dark parts darker. This increases the overall contrast and gives your video a more vibrant and realistic look.
One of the drawbacks of using HDR is that it can lead to unnatural-looking videos. If too much HDR is used, it can cause colors to appear overly saturated, highlights to become too bright, and shadows to become too dark. This can lead to a video that looks unnatural and overly saturated.
Generally, it is not recommended to turn on HDR mode for exporting Instagram reels in the VN Video Editor app. Your video must be recorded with the HDR mode enabled in the Camera app to make the best out of this feature. If a video is recorded normally, there is no need to enable HDR while exporting it with the VN app.
What is Auto Export Setting in VN Video Editor?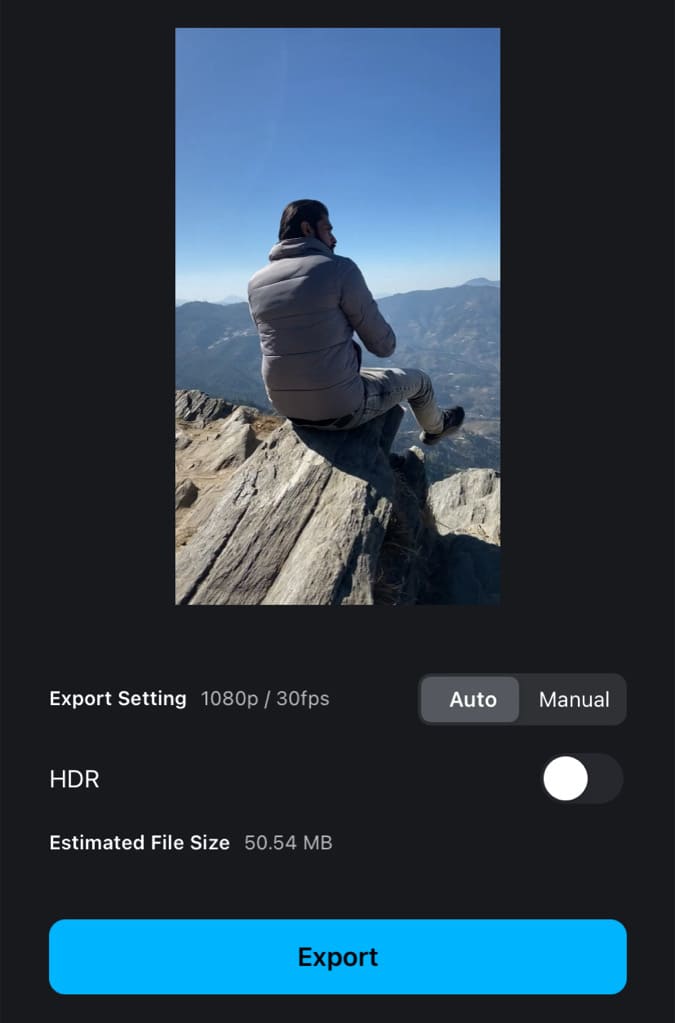 VN Video Editor has an Auto mode which automatically selects the best export settings for your video. The default settings for the Auto mode is as follows:
Resolution: 1080p
Frames per second: 30 fps
Bitrate: 9 Mbps
HDR: Disabled
You can also export your Instagram reels using Auto mode in the Video Video Editor app, but we will recommend using our manual export settings.
How to export Instagram reels in VN Video Editor?
Here's a step-by-step guide –
Open the VN app on your smartphone.
Create a new project and load the videos.
Edit your Instagram reel. You can apply filters, speed up or slow down the clips, add transitions in-between, and much more.
Tap the save icon in the top-right corner once you are done with editing. This will take you to the export page.
Switch to the Manual mode in the export setting. Then select the resolution, FPS, and bitrate you want to use.
Finally, tap the Export button and wait for it to save your video. Once done, you can upload the video to your Instagram reels.
Upload Instagram reels in HD quality
You may already know that Instagram applies compression on your reels after you upload the video. The compression helps to reduce the size of the video and make sure that it loads quickly on user's devices.
You can prevent Instagram from applying heavy compression on your reels by enabling Upload at Highest Quality option. This option is available in the Data usage settings. Here are the steps you need to follow to enable it –
Open the Instagram app on your iPhone or Android device.
Go to your profile page by tapping over your profile picture icon in the bottom-right corner.
Next, click on three parallel lines in the upper-right corner and then select Settings from the menu.
Now go to Account > Data Usage.
Enable the toggle button named Upload at highest quality. That's it!
After you enable this feature, Instagram won't affect the quality of your reels even after applying compression. Another way to enable this feature is while uploading your reels. When you are on the share page, scroll down to the bottom and click on Advanced settings option. After that, turn on the Upload at highest quality button under Data usage.
Frequently asked questions
Can I export videos in 4K on VN for Instagram reels?
Yes, VN supports exporting videos in 4K but unfortunately, 4K resolution isn't supported by Instagram reels. Although, you can upload 4K videos on Instagram but they will be compressed to 720p after uploading.
What is the maximum bitrate supported by VN Video Editor?
VN Video Editor has the ability to export your videos up to 150 Mbps. Note that the quality of the video will depend on its original bitrate. If the video was recorded at 10 Mbps (for example), it will have the same quality even if you increase the bitrate in the export settings.
How do I use Instagram reels audio on the VN app?
If you want to use an audio from Instagram reels for beat syncing or transitions, you have to download the video from Instagram first and then import it as an audio in the VN Video Editor. For downloading, you can either use a third-party Instagram downloader or use the screen recorder on iPhone.
Does the VN app reduce the quality of your Instagram reels?
No. VN app doesn't reduce the quality of your videos unless you choose a lower resolution, fps or bitrate in export settings. It also depends on the quality of the original video.
Which app is best for editing Instagram reels?
VN Video Editor is considered the best video editing app. It is available for both Android and iOS users, free of cost. The app has a variety of features specifically designed for creating Instagram reels.
What are some good alternatives to VN for editing Instagram reels?
Some good alternatives to VN Video Editor are Adobe Premiere Rush, CapCut, KineMaster, InShot and FilmoraGo. These apps have similar features and they are more than adequate for editing Instagram reels.
Conclusion
Hopefully this guide has helped you better understand the factors that contribute to the quality of your Instagram reels. We have shared the best export settings for the VN Video Editor app. Having read this article, you know what resolution, frame rate, and bitrate are best for Instagram reels.
Now you can upload your reels in the highest possible quality without having to worry about Instagram's compression algorithm. You can rest assured that your videos will look as good as they were before uploading. Let us know if you have any questions regarding this topic. Don't forget to share this article with your friends and family.