The process of filing an FIR has been made easier by the online system as it can be done from the comfort of your own home. All you need is a computer or mobile with an internet connection.
When it is not possible for you to visit a police station or when the police refuse to take your complaint, you can file an online police report (e-FIR) in such a case. This is a convenient and hassle-free way to file a police complaint.
This article explains the whole process of how you can register an FIR online (e-FIR) from any state in India. Furthermore, we will cover how to file a complaint for lost articles and documents such as mobile, laptop, marksheet, driving licence, etc.
What is an online FIR or e-FIR?
FIR stands for First Information Report. It is a document that is filed by the police when they receive information about a cognizable offence. The FIR contains details about the offence, the time and place of the offence, the names of the accused, and other information.
Online FIR (also called e-FIR) is a facility provided by the police department wherein citizens can lodge their complaints online without having to visit the police station. The system is designed to make it easier for people to report crimes, and it is also intended to help reduce the workload of police officers.
How to register online FIR in Delhi and UP
The first thing you need to do is to find the official website of your state police. Each state in India has its own police website, so you will need to find the one that is specific to your state.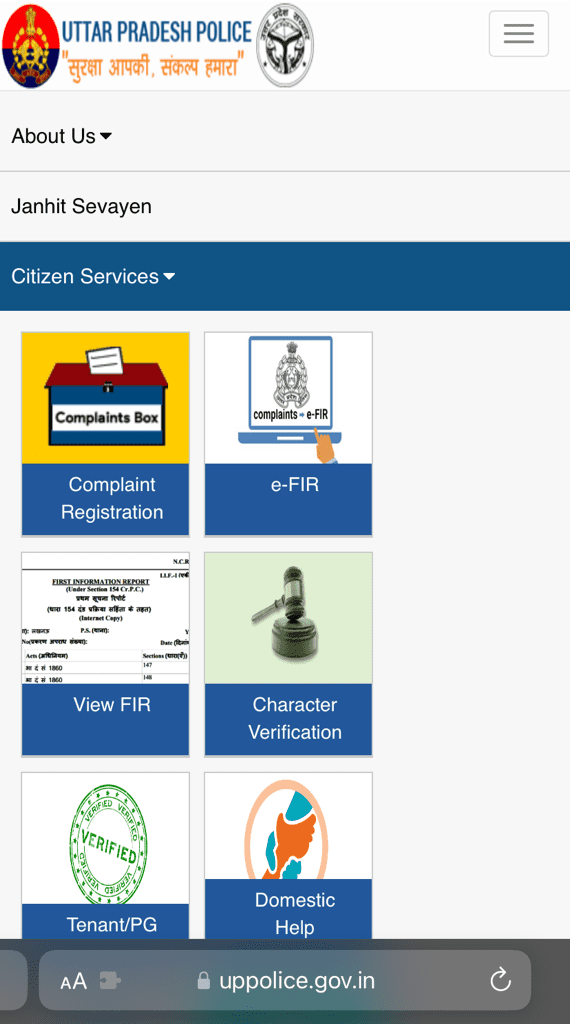 For example, uppolice.gov.in is the official website of Uttar Pradesh Police. You can find the website of your state police by searching on Google like "online FIR *state name* police". Please note that you have to register an online FIR only through your state police website. Here's a step-by-step guide:
Visit the official website of your state police using any web browser (such as Chrome) on your smartphone or PC. If you are from Delhi, you can visit the Delhi Police website at delhipolice.gov.in
Find the Citizen Services section. It can be found on the homepage or in the top header menu.

Look for the e-FIR option and click on it. You may find specific links for different kind of complaints such as theft e-FIR, missing/stolen mobile phone, domestic help/tenant registration, etc.
Now you need to create an account. Once you have an account, you can login and start the process of filing your FIR.
You will be asked to provide the details of the incident, such as the time and place of occurrence, a brief description of the incident, name of the victim(s), etc. Make sure to provide accurate information.
After all the details have been entered correctly, enter the captcha for security verification and submit your e-FIR.
Once the form is submitted, you will provided with a unique reference number for the FIR, as well as a copy of the document. This information will help you track the status of your e-FIR.
Note: Providing false information in an FIR will attract legal action which is punishable under the section of 182 in Indian Penal Code (IPC). Therefore, ensure that you have provided accurate information and details about the incident.
File a complaint for lost device or document in India
If you have lost your device or document such as mobile phone, laptop, tablet, marksheet, driving license, Aadhaar card, voter ID, PAN card, etc., you can register an online complaint (called lost article report) to have it recorded with the police. It will prevent you from getting into trouble if someone misuses your lost device or document.
This step-by-step guide will show you how to file a lost article report in any state of India:
Visit the official website of your state police and look for Lost Article Report option. Or you can directly find the same webpage on Google by searching like "lost article report *state name*". If you have lost your item in Delhi, you can visit the Delhi Police Lost / Found Report website here.

Once you are on the right webpage, fill out all the details such as your name, father's/mother's name, address, mobile number, email address, and place of loss. Select the exact date and time when you have lost your item.
Select the item you have lost and provide a short description of it. You can also add other details about your item to make it easier to identify.
Enter the code shown in the captcha and tap on Submit button. That's it! You will now receive a digital copy of your report. Make sure to save it on you device safely.
Please note that this lost article report is not a subject matter for enquiry or investigation. In case your device or item is stolen due to theft or any other crime, you should file an online FIR instead of a lost article report. This way, the police can initiate an investigation to find your stolen item.
Frequently asked questions
Which states in India provide an online FIR facility?
Tamil Nadu, Himachal Pradesh, Maharashtra, Delhi, Uttar Pradesh, Madhya Pradesh, Haryana, Jharkhand, and Odisha are among the states that provide online filing of police FIR for citizens in India.
What happens when an online FIR is registered?
When you register an online FIR, the police will open an investigation into the matter. Your case will then be assigned to an investigating officer at your local police station and you will contacted to get more information about the incident.
How to track the status of your FIR online?
You can track the status of your FIR online by going to the website of your state police department that you filed it with. Look for the View Complaint Status option. Once you are on the right web page, enter the FIR number and fill out other details to see the status of your e-FIR.
Is online FIR valid in India?
In India, online FIR is considered to be just as valid as a physical FIR that is filed in person at a police station. As long as the online FIR is filed in the correct format and contains all of the necessary information, it will be considered valid.
What is the fee for filing an FIR?
There is no fee for filing an FIR online. If you land up on a website that is asking you to pay a fee, it is a phishing or scam website for sure.
Conclusion
The main purpose of this article was to explain you the whole procedure of registering an FIR online from any state in India. Furthermore, we discussed how to file a lost article report and register an online complaint for your lost device or document. If you have any doubts in your mind, let us know in the comments below. Please share this article with your family and friends.
Read other similar articles: