Do your photos and videos lose their quality after you upload them on Threads? Have you noticed that they don't look as good as they do on your phone? If you are looking to upload your photos and videos in highest quality without any compression, you have come to the right place.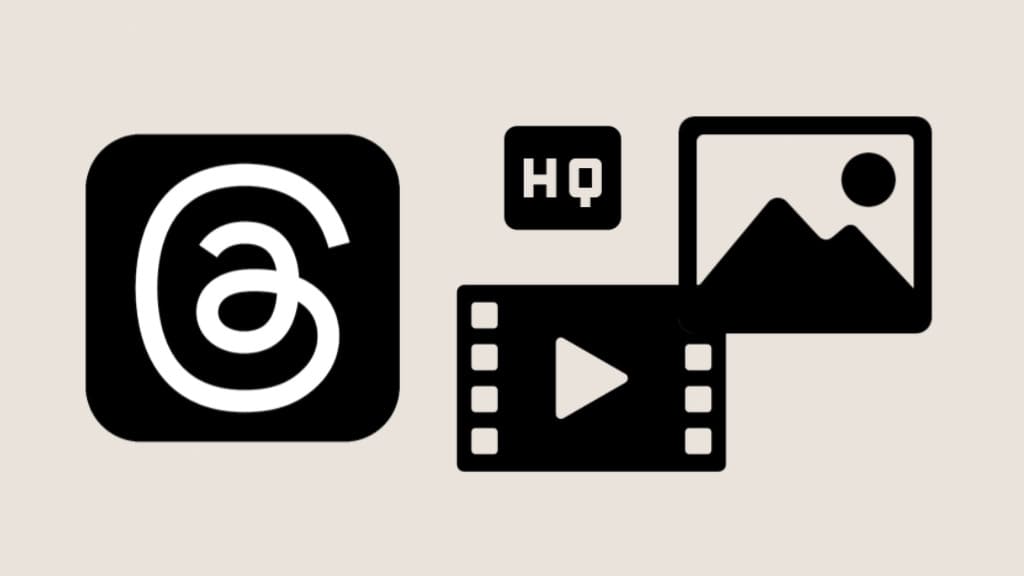 Like any other social media platform, Threads also apply compression on the media you upload on its platform. The reason this was done is to provide users with the fastest loading experience as compressed files load faster, even on slower internet connections.
By default, Threads will adjust the quality of your media based on network conditions. If your network is slow, it will apply heavy compression, resulting in poor media quality. This article will guide you how to upload high-quality photos and videos on Threads without any compression. Let's get started!
How to upload photos and videos on Threads in highest quality
If you don't want to compromise with the quality of your photos and videos on Threads, there is an option that enables you to upload media in highest quality.
This option is available in the Account settings by the name "Media quality". You simply need to enable the toggle button and Threads will stop compressing your photos and videos after that.
Here's a step-by-step guide to enable high-quality uploads on Threads:
Open the Threads app on your smartphone.
Tap the profile avatar at the bottom-right corner. This will take you to your profile.

Tap the menu button (two parallel lines) in the upper-right corner.

Go to "Account" from the Settings page.

Now tap on "Media quality" option.

Here you will find an option called "Upload highest quality". Toggle on the button next to this option. That's it!

You have enabled the highest quality settings for uploading media on Threads. From now on, all your photos and videos will be uploaded in HD quality without compression.
This might affect your uploading speed as well, especially if you have weak internet. As Threads won't adjust your media quality based on network conditions, it might take a little longer for your photos and videos to upload.
Best size for Threads images
Threads supports various image sizes, but to achieve the highest quality for your photos, it's recommended to use the following specifications:
Resolution: The recommended resolution for Threads images is 1080 x 1920 pixels. This resolution is often referred to as Full HD or 1080p. Using this resolution ensures that your images will appear clear and sharp on most devices.
Aspect ratio: The aspect ratio of 1080 x 1920 pixels is 9:16, which is the standard vertical aspect ratio for most smartphone screens. This aspect ratio will prevent your images from getting cropped after they are uploaded on Threads.
File format: Use the JPG format for your Threads images. JPEG is a widely accepted format that balances image quality and file size efficiently.
Orientation: You can choose between square and vertical orientations. Both are supported on Threads, however, the recommended one is vertical.
Best resolution for Threads videos
For achieving the highest quality when uploading videos to Threads, it's important to consider both resolution and bitrate. Here are the recommended settings for video size and quality to ensure the best possible outcome:
Resolution: Aim for a video resolution of 1080p (1920×1080 pixels) or higher. This resolution is widely accepted for high-definition (HD) videos and will provide good quality and clarity on most devices.
Aspect ratio: Threads is optimized for vertical videos, so an aspect ratio of 9:16 is ideal. This vertical format ensures that your videos display in full screen without cropping.
Frame Rate: Stick to a standard frame rate, typically 30 fps (frames per second). This frame rate is common and provides smooth motion in videos. If you are an iPhone user, check out this guide on how to change frame rate on iPhone camera.
Bitrate: While the exact bitrate can vary based on your specific content and preferences, a bitrate of 10-15 Mbps is a good starting point for 1080p videos. You should aim for a high bitrate if you have the option to adjust it during export or recording.
File Format: MP4 (H.264) is the best video format to achieve highest quality on Threads. MP4 is a widely supported video format that provides an excellent balance between video quality and file size. H.264 is a highly efficient compression standard commonly used for social media.
Frequently asked questions
Why do my photos lose quality after uploading on Threads?
Photos may appear to lose quality after uploading on Threads due to compression. To ensure faster uploads and save bandwidth, Threads may apply compression algorithms to reduce the file size of your photos. This compression can sometimes result in a subtle loss of quality.
What is the resolution of Threads videos after they are uploaded?
Generally, Threads videos have a resolution of 720p (HD), equivalent to 1280×720 pixels. This can vary depending on several factors, including the original resolution and aspect ratio of the video.
What is the resolution of photos on Threads after uploading?
Threads photos are in JPG format with 720p resolution after they are uploaded on the platform. Similar to videos, the exact size and dimension can vary based on the aspect ratio and quality of the original photo.
Conclusion
By following these recommendations, you'll be able to upload high-quality photos and videos on Threads that will look as good as they are before uploading. Remember that Threads may still apply some compression to optimize the file size of your media for faster user experience, but it will preserve their quality. If you want to ask any questions regarding this topic, do let us know in the comments below.
Read other similar articles: