To pay for advertising on Facebook, you need to add the details of your payment account to your personal account. The service rules state that only one advertising campaign can be paid for from one bank account.
The larger the advertising campaign, the more cards will be needed. For the convenience of users, services for issuing virtual cards have been created, through which you can quickly create accounts in any quantity. In this article, we will review the most reliable services and describe their main advantages.
The advantages of virtual cards:
In many services, there is an option to issue an unlimited number of cards for a single user. In Facebook, payment cards are considered consumables, so it is necessary to ensure in advance that there are a sufficient number of accounts to pay for all advertising campaigns.
Blocking of bank cards usually occurs due to the use of an unreliable BIN (Bank Identification Number). Many services offer the ability to create them in large quantities and use a new card number for each advertising campaign, which helps avoid blocking.
Instant card issuance. No need to wait for approval from the bank. In a matter of minutes, the card will appear in your personal account and will be ready for use.
Services are tailored for traffic arbitrage and provide the ability to create teams, distribute roles among participants, and control the budget for each card.
Simple account management. No need to open multiple personal accounts. You can change settings and view statistics from one account for all accounts.
Complete anonymity and confidentiality of payments. No need to undergo identity verification or provide a passport.
Services with Virtual Cards
1. PSTNET
A modern and high-quality service that provides cards for payment on Facebook Ads, Google Ads, TikTok, and other advertising platforms. Virtual cards excel in paying for advertising, services, and goods worldwide.
Quick registration (Google/Telegram/Apple ID/WhatsApp or email and password); the first card is available without documents (followed by a simple verification process).
The largest number of premium BINs (US and European banks, 25+ BINs), making Risk Payment practically impossible.
Multiple types of cards for different purposes with various conditions; there are cards with 3D-Secure (transaction confirmation via SMS code, codes sent to the personal account and Telegram bot).
Responsive customer support.
Convenient funding methods (BTC/USDT TRC-20 and 15 other coins, Visa/Mastercard, bank transfers SWIFT/SEPA); withdrawal in USDT is available.
Advanced two-factor authentication system and a Telegram bot for service notifications.
Functionality for Teams.
Advantages:
Possibility to obtain free cards at no cost (with sufficient monthly spending);
0% transaction fees;
0% withdrawal fees from the card;
0% fees for declined payments;
0% fees for operations on blocked cards.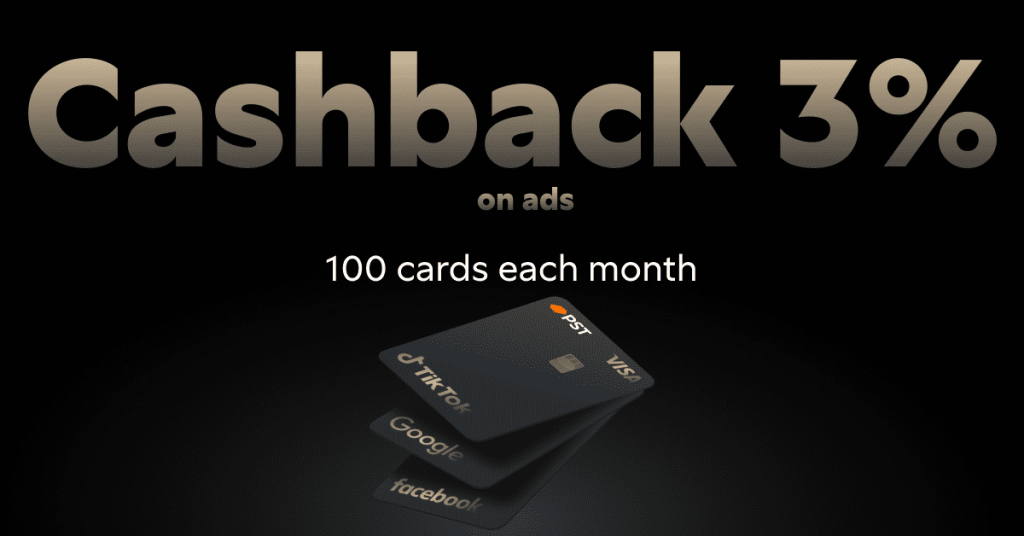 PSTNET offers the most advantageous conditions for subscribing to PST Private:
3% cashback on all advertisement spend
Up to 100 free cards each month
Only 3% top-up fee
For now there is a 50% discount for the first month PLUS you don't need to confirm your spend anyhow.
2. Brocard
Brocard virtual cards are suitable for working with Facebook and TikTok. Various tariffs, quick virtual card issuance, and funding options through fiat or cryptocurrency make this platform convenient. The reliability of payments is confirmed by the ability to conduct transactions with Google Ads, Meta, or other advertising promotion services.
This is an excellent indicator of Brocard's suitability for Facebook advertising payments. The only downside is a complex registration process. To start using the service, you will need to undergo an interview with a Brocard representative.
3. Spendge
SPENDGE is a service that provides virtual card issuance for traffic arbitrage and other needs. The platform has been operating since 2021 and allows the issuance of an unlimited number of cards, including those with 3DS.
Virtual cards are issued instantly, and among the available currencies are euros and British pounds. These credit cards are well-suited for working with TikTok Ads, Facebook Ads, Google Ads, and other advertising platforms.
Features:
Convenient functionality. All operations are conducted from a unified personal account, which is especially convenient for arbitrage teams.
Report downloading. Reports on transactions or transaction history can be exported in CSV format.
Flexible balance settings. Manage account balances and limits on issued credit cards.
4. Flexcard
FLEXCARD – virtual debit cards with unlimited issuance for Facebook, TikTok, Google, and other traffic sources. According to top arbitrageurs, it is a reliable payment service suitable for individuals and teams.
Features:
Many reliable BINs. New ones are launched every 3-4 months.
Unlimited fast issuance.
Top-up fee – starting from 3.5%.
Minimum top-up amount – $50.
Convenient team functionality.
Auto-replenishment.
5. 4×4.io
4×4.io is a service for issuing virtual banking cards for advertising payments on Google Ads, Facebook Ads, TikTok Ads, and other platforms. The service is available worldwide, and the accepted currencies include USDT, euros, and dollars. It offers sub-accounts, virtual and private bins, a tariff network, and 24/7 support.
Features:
Exclusive virtual and private bins
Official fully-functional app available on Google Play and App Store
Full functionality for teams
Agency accounts for partners
Flexible tariff grid for partners
Deposit replenishment with 0% commission
Minimum deposit of $500
Personal manager available 24/7
6. Karta.io
Karta.io is a financial operating system for electronic commerce established in 2019. The platform enables users to open accounts, issue virtual cards with trusted bins, and manage the finances of both companies and individual employees. Collaboration is possible with teams having a monthly turnover of $40,000 or more.
The service is suitable for team collaboration, providing the ability to set budgets for teams, projects, or individual advertising campaigns. Team leaders can establish specific rules for each team member, define roles, and set spending limits to prevent overspending. Team members can be grouped into budgetary brigades. All current advertising expenses will be reflected in real-time. Essentially, you replace cumbersome and error-prone manual accounting with a secure automated tool.
7. LeadingCards
LEADINGCARDS allows the issuance of cards from more than 12 issuers. It enables the issuance of cards in various GEOs, ensuring smooth payment processing for your company. Some of the service features include:
Rapid issuance of cards in USD, EUR, or GBP, depending on your needs and goals.
24/7 technical support.
Flexible terms and bonuses for loyal customers.
The option to fund the wallet through Bitcoin, Visa, MasterCard, Paypal, or WireTransfer.
8. eCards
The virtual card service eCards.cab entered the market in 2020 and has since established itself as a reliable partner. Users receive cards in euros, allowing them to work with any convenient currency, with payments processed at the conversion rate of the international payment system.
eCards are suitable for most advertising platforms, including FB, TikTok, Google, and the Apple developer account. Access to other advertising platforms is available through an additional request. The only fee charged by the service is for balance replenishment, amounting to 4.5%. It is also worth noting that depending on your rating, there is a penalty system for rejected transactions, ranging from 0.2 to 0.5 euros.
Choosing the right service to obtain bank cards for advertising on Facebook plays a crucial role in the successful launch of advertising campaigns. Considering aspects such as security, available features, fees, and other terms of use, you will be able to optimize your operations and achieve greater profitability in your advertising campaigns.
Read other similiar articles: